Fly Fishing for Tigerfish on the Upper Ruhudji
Categories: Uncategorized
In 2010 my friends Linda Newquist and Mark Del Frate joined me in the Amazon.  I had a large group so the only time I got on the water with Mark was for two hours dangling piranha heads for catfish.  The short session became memorable because I landed an impressive redtailed catfish.  Being there's just four of us this week I plan to fish with Mark at least twice and today was our day together on the Upper Ruhudji River.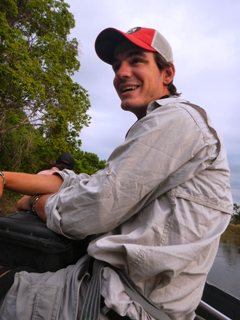 I jumped in with Mark and his guide Andrew Danckwerts from Choma, Zambia.  Andrew's a ripe twenty-one years but very quickly impressed me with his guiding skills and knowledge of birds, animals and plants.
Unfortunately Mark was moving a bit slowly.  He had stomach issues that kept him up last night and he's also having a reaction to his preventative malaria pills doxycycline.  Granny and I had the same experience with doxycycline on our three month journey through Africa in 2005 and ended up tossing the nasty pills down the toilet the second week.  Traveling Africa without malaria protection isn't the smartest thing but I can't handle the side effects.  The best protection of all is to avoid getting bit in the first place.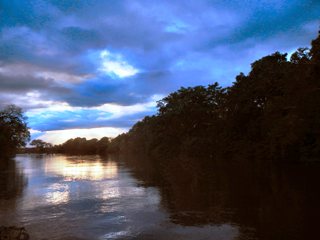 Dense cloud cover instead of a lovely sunrise was concerning.  We're near the end of tigerfish season because rainy season begins soon.  Once the rains start they don't stop until April or May.  All rivers rise way past where they can be fished.  Our fishing could be wiped out in a single day of heavy rain.  Deep inside I hate taking the risk of coming at the end of the season incase the rains start early.  On the other hand, if all goes well and you hit the lowest water levels of the season fishing can be beyond fantastic.  Fortunately after about 11 AM clouds once again gave way to rich blue sky.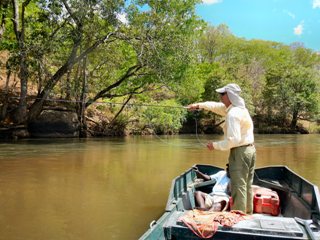 Our morning fishing was brutally slow.  Mark pounded deep clay banks and tigerfish structure with finesse all morning.  I was taking it un-Currier-like easy but fishing was so tough I said the heck with my shoulder and joined the game of relentless casting to help crack the code.  It wasn't until right before lunch that I sifted out a peanut of a tigerfish.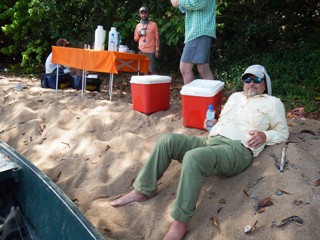 We met for lunch with Don, Linda and our other guide Mark.  Their morning was slow also.  Once lunch was over we kicked back in the shade to give the tigerfish time to wake up.
It seemed waiting was the thing to do.  As soon as we returned to the water Mark laid into a bad tempered tiger.  The fish jumped and ran ferociously up and down stream with leap after leap.  He was a sport fishers dream.  Every time Mark seemed to have things under control Andrew would break out the net only to send the tiger on another run.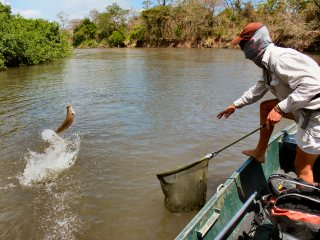 After a good five minutes, Mark finally got the tired tigerfish to the net.  Andrew leaned out and landed him.  Normally we pull to a sandbar to get out of the boat and take photos but at this piece of river there's nothing but steep banks.  You absolutely can't leave the boat and pose with a fish next to deep water or a crocodile is sure to eat you whole.  We wisely shot pics of Mark and his 10lb tiger in the boat.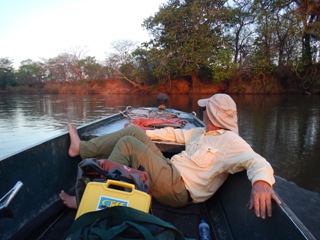 Despite the fish of hope, fishing hadn't picked up at all.  For the next three hours Mark and I didn't even see a fish.  It was so bad that because Mark was feeling poorly he reeled in and put me in charge.  I fished as hard as I could but it didn't make a damn bit of difference.
In desperation, Andrew went to my Cliff Box and picked out a great looking bunny fly with an older, heavy gage saltwater hook.  We were skeptical of the hook vs. a tigerfish mouth but we tried it anyway.  Sure enough a huge tiger ate and smoked me downstream.  Before a single jump the fly came loose.  There's nothing worse than losing a large fish before seeing him.  That is unless you lose another on the next cast.  And that's exactly what happened.  I went hours upon hours without a fish and now hooked and lost two pigs in a two casts without even the pleasure of seeing what they looked like!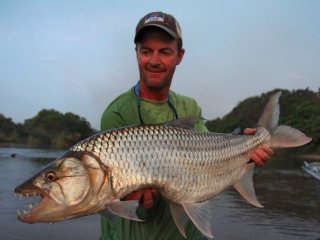 I went on to lose three major tigers without seeing a one of them on this fly.  Despite working like a champ, I took the fly off and replaced it with another with a more modern razor sharp hook.
You must pick up the pieces of frustration and keep on trying and that's exactly what I did.  I continued to cast and at last I connected and landed this 13lb brute.  It was nearly dark but I was glad to pose with my first good tigerfish of the trip.  These tigerfish are so good looking!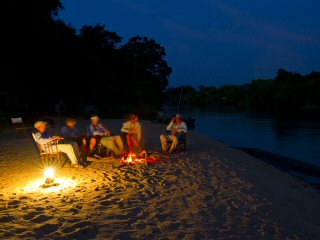 The Ruhudji River Camp is an incredible place.  We ate dinner under candle and campfire light close to the river.  The food was excellent and the beer was cold.  Fly fishing for tigerfish with Tourette here in Tanzania doesn't get any better.   Tomorrow it's to the Garden of Eden.
For information about this incredible trip feel free to CONTACT ME.
Be sure and visit Tourette Fishing – Fight it in Africa.
And ask about my future hosted trips through Yellow Dog FlyFishing Adventures.