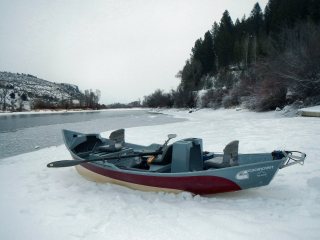 Its time to put the rod away.   My annual speaking season kicks off tomorrow traveling to the Denver Fly Fishing Show.  From now till April 10th I have at least a gig a week.  While most are appearances at the famous traveling Fly Fishing Show, I have a few one night presentations at Fly Fishing Clubs nationwide.  It sounds grueling but I enjoy getting out and seeing folks.  If you're wondering if I'll be in your neck have a look at my schedule.  Even better, if you need a speaker at your event Contact me.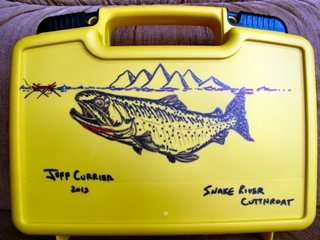 This weekend at the Denver Fly Fishing Show I'll have a table and I'll be cranking out my sharpie drawings on Cliff Fly Boxes.  Bring your box and I'll draw any fish you want for only $35.  Or I can do something a bit more elaborate and the worst it will cost is $75.
Even if you don't need a box, be sure and stop by and see some of the new product.  Sure, I'll have my famous coffee mugs, but this year I'll have beer steins and frosted mugs also.  Some of these items I saw for the first time this week and they are stunning!
Here's my presentation schedule for the Denver Fly Fishing Show.
Friday – 12:00 – "Warmwater Fly Fishing – Bass, Pike, Carp and More"
Friday – 2:15 – "Fly Casing 101"
Saturday – 4:00 – "Fly Fishing for Carp"
I hope to see you there!