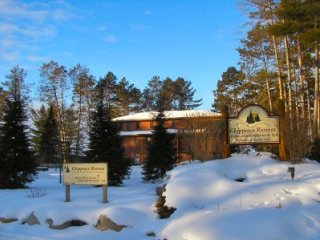 The temperature was 17 below zero in Jackson Hole, Wyoming this morning.  Cold enough that our A319 Airbus couldn't get its engines started.  We had to sit on the tarmac for 30 minutes while mechanics applied extra heat.  Finally we made it to Salt Lake City where we continued on to Minneapolis and then into Wausau, Wisconsin.
I'm presently based out of Northern Wisconsin at Chippewa Retreat in Manitowish Waters.  Tomorrow we start two days of ice fishing.  My love for ice fishing surprises my newer friends.  But the truth is I've been doing it since I was a kid and in my twenties and thirties I was hardcore.  In fact, the real charm about being up here in Northern Wisconsin is that these are my old stomping grounds.  I am a Northland College grad and ice fished these frozen lakes at least three days a week all winter long back in the mid 80's.
Thanks for those who tuned in to Fly Fish Internet Radio last night.  I had a great time and hope everyone enjoyed the show.
Stay tuned for the Manitowish Waters ice fishing report!
Jeff Currier Global Fly Fishing