Fly Fishing the Gourits River of South Africa
Categories: Uncategorized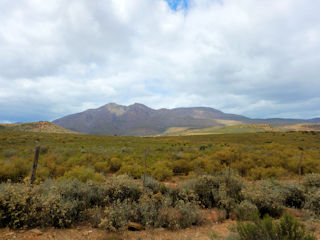 Our South African adventure isn't a week old yet and we've done lots.  We have our travel groove on thanks to Craig and Coreta Smith.  They've shown us a beautiful piece of the Garden Route along the coast of South Africa.  But today Craig and Coreta drove us north away from the sea and into the mountains to hand us off to another of my South African friends, Edward Truter.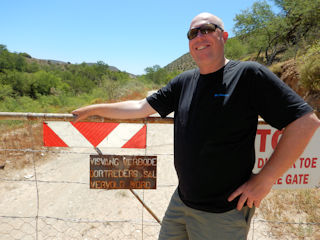 Ed and I met fishing the Red Sea of Sudan in 2014 when I was on an exploratory expedition with my friends of Tourette Fishing – Fight it in Africa.  Ed has been a long time fishing pioneer in Africa and advises and occasionally guides for Tourette.  He's written numerous articles for magazines and published the fantastic collection of African outdoor stories for his book, Fishing Stories for Africa.  Ed is one of those people that after your first ten minutes with him you feel as if you've been friends for years.
Finding Ed was no easy matter.  He was camped only an hour out of Mossel Bay up the Gourits River, the very river we fished the mouth of yesterday.  But once you leave north of the bustle of the Garden Route things get rural fast.  Craig, Coreta, Granny and I were deep in the boonies and backroads of the West Cape and despite excellent directions from Ed we got turned around fast.  Getting lost in a foreign country is rarely bad and today we saw lots of wildlife including the blue crane, South Africa's national bird.
After 50 km of dirt roads and a few farm gates we found Ed and his friend Anthony waiting for us.  Craig and Coreta have never met Ed so they had a chat then we transferred our bags from the Smith's Cruiser to Anthony's car and said our goodbyes to Craig and Coreta.  The Smith's took incredible care of us on the first leg of the trip and we can only hope they come to the US so we can return the favor.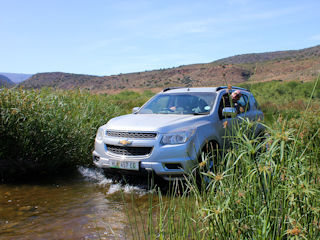 We were packed tight in Anthony's car but it was only about 2 km to camp.  It wasn't much of road and we drove through the Gourits River itself.  Then we rolled into camp where Ed and Anthony had a tent set up for Granny and I and a full on kitchen in the shade with coolers of food and drink.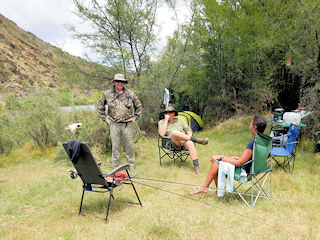 I began the slow process of setting up my freshwater rods.  We were about to fish for Mozambique tilapia, banded tilapia, smallmouth yellowfish, both smallmouth and largemouth bass and bluegill.  The latter three species are by no means native to Africa but were stocked here over 100 years ago and can be found throughout South Africa.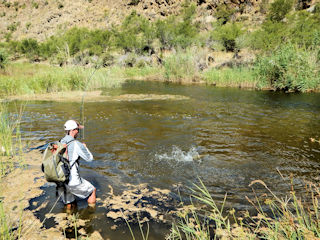 Ed is familiar with my love for catching new species and he knew that of the species in the Gourits River that I'd not caught the smallmouth yellowfish or the banded tilapia.  Being the kind of guy he is, he'd already planned that we start at one of his most reliable yellowfish pools.  Sure enough we could see a few of the carp-like fish prowling.  I put on one of his fly creations called the Swamp Donkey and I flipped a short cast upstream and as it sank and drifted towards me I watched for the tip of my WF5F fly line to stop.  It came to a halt and I set the hook and out thrashed my first yellowfish.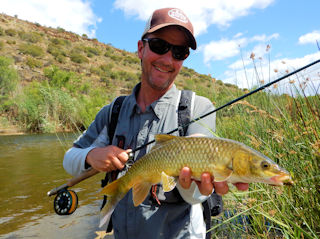 The thrashing only lasted a second before the yellowfish took off with a burst of speed downstream.  I was fishing 1X and glad to be doing so.  The Gourits is small up here and there's sticks, logs and rocks in every direction.  After the first surprisingly strong run I reeled the yellow half way back then he took off again.  Eventually I got him to hand and admired the first of what I'll rate for you as a terrific species to catch on fly.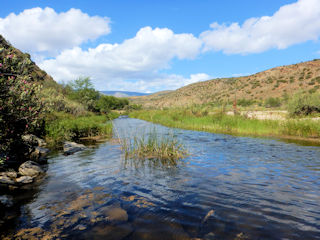 I caught three yellowfish from that pool on Ed's Swamp Donkey.  Then I played around with some dry flies.  I've heard the yellows eat dries but I couldn't raise one even on my best looking Chernobyl.  Ed observed my attempt then let me know that although at most places the yellows chow off the top that here they don't do it often.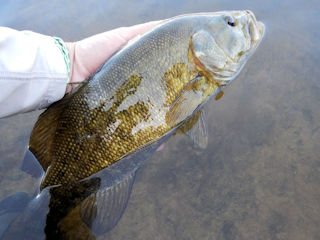 The wonderful thing about fly fishing the Gourits River is its sight fishing.  The river is small and clear up here and if you camouflage yourself along the bank you see lots of fish.  The yellowfish cruise around but the largemouth and smallmouth bass hold tight to the cover.  After my first yellowfish session, Ed, Anthony and I walked a short section of river and caught several nice bass including a smallmouth that would rival some of my best this year from Lake Winnipesaukee in New Hampshire.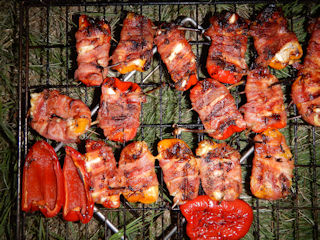 It's been a long day and we are presently sitting around the campfire.  The frogs are going off and I love it.  Ed has two other friends here and his brother and we are in the middle of yet another feast.  Ed made about thirty stuffed peppers and rapped them in bacon.  We'll follow the h'ourderves up with about twenty lamb chops.  Life is good!