A New Part of the Amazon with Untamed Angling – Kendjam
Categories: Uncategorized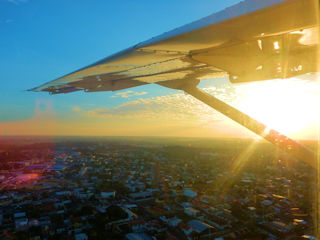 Ben Furimsky and I arrived in Manaus, Brazil last night and settled in the Caesar Business Hotel for yet one more overnight layover before reaching our final fishing destination in the Amazon.  This is my fifth time to the Brazilian Amazon.  My past trips took me north of Manaus to tributaries of the Rio Blanco.  This morning we headed south of Manaus to the Kayapo Indian village of Kendjam on the beautiful Iriri River for species endemic to this watershed.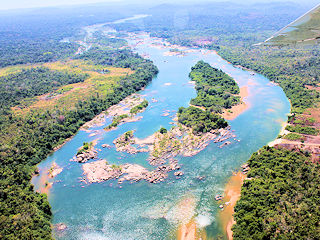 The 500-mile-long Iriri River weaves from the south near the Bolivian border northward through the Kayapo Native Reserve.  The Reserve is the largest untouched piece of rainforest left in the Amazon.  Its home to the Kayapo Indians and like the land they live on, their culture has hardly been interfered with by outsiders.  The fact that I find myself at another of the planets most inaccessible places is truly unbelievable and my thanks this week goes to Rodrigo Salles and Marcelo Perez of Untamed Angling.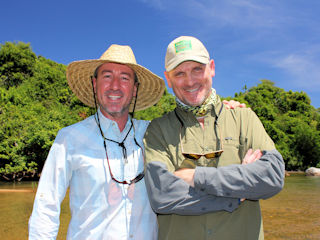 Over the last three years Rodrigo and Marcelo researched the area, negotiated with Kayapo Chiefs and explored the possibilities of running an adventurous fly fishing program in the area.  We can only imagine how difficult a mission this was but both guys have experience in such an endeavor.  Rodrigo and Marcelo are the founders of Tsimane golden dorado fishing in Bolivia where I fished in 2013.  A place where the indigenous tribes benefit from bringing in high paying tourists fly fishers.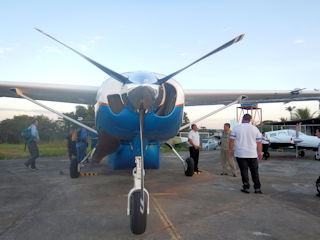 That tells you where we are and why we can be here.  You can read more by clicking the links I've provided especially the Untamed Angling website.  Furthermore, not only will you get to read about this trip on my blog over the next week, but we have a South American film crew with us to create a segment for the 2017 International Fly Fishing Film Festival which will tour throughout North America and many parts of the world.  If you make a trip to one of the Fly Fishing Shows this winter, you can catch the movie as an evening event on either Friday or Saturday depending on which city you're at.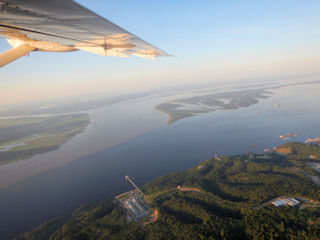 Today began with a painfully early wakeup call.  Manaus is three hours ahead of Idaho so when the call came at 5 AM it was more like 2 AM.  I didn't know where I was for a minute but rounded myself up like many times before and Ben and I boogied for the lobby where we were met by a vehicle that transferred us to a charter plane airport.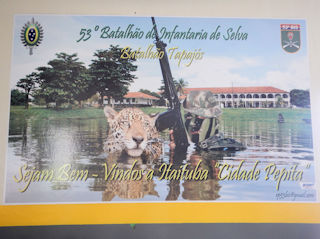 At the airstrip we met up with Marcelo and the rest of our group that consists of three clients and a film crew.  We boarded a Cessna Caravan C-280B and flew 2 hours to Itaituba.  At this off the beaten path town we refueled.  I stretched my legs on the runway then took peek inside the remote terminal.  Hanging on the wall was this bizarre photo.
We continued our flight another two hours to the Kayapo village of Kendjam (Kendjam is the name of this Untamed fishing program).  The jungle below us was so thick we never saw the ground the whole way.  Well before the village came in existence this incredible rock protruding from the jungle was named Kendjam.  It appeared out of place as we circled around on our landing approach.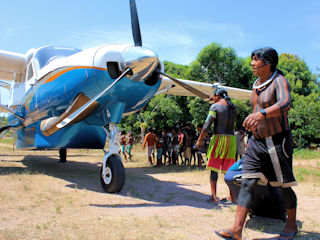 We landed on a dirt strip barely wide enough to serve our plane.  I've landed on a lot of hairy runways in my time but the way we bounced and swayed at 200 mph before coming to a stop was unnerving.  We endured and were immediately greeted by curious Kayapo Indians who made quick work of removing our gear from the plane on wheel barrels to awaiting boats on the Iriri River.
I wasn't in Idaho anymore.  As you know I travel the world and see a lot, but in an instant I felt far far away from home.  It's a good feeling however, I promise you.  One that makes you realize there's still a lot of wild in this world despite the fact that we often feel as though there's nothing left at all.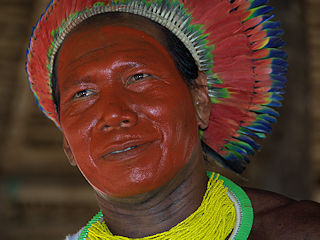 One amazing thing was to be greeted by the Chief of Kendjam.  He was in full headdress and his face was painted.  He doesn't speak a word of English however a greeting is greeting.  He was polite yet at the same time very quiet.  He shook my hand firmly and stared deep into my eyes.  He could clearly see I was in awe of him and I'll never know what he thought of me.  Rodrigo then appeared.  Remember, he and Marcelo know the Chief and villagers well and it turns out he was already here a week.  He smiled and shook my hand and said, "So Jeff, how do you like it so far?"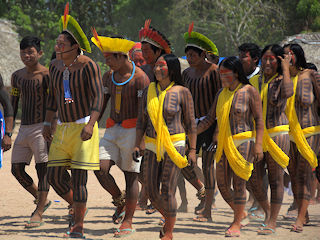 Fishing was the last thing on my mind as we followed the Chief into the village to enjoy a welcome dance.  It turns out we're the first visitors here since Untamed Angling ran an exploratory trip last August.  For that reason, we were a big deal for the 80 locals.  The ones not dancing stared.  I can't describe how culturally unique this experience was.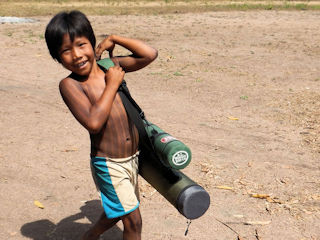 After the ceremony we headed for the boats.  There were few items remaining to cart down.  My Winston's always stay with me but this cool Kayapo kid insisted he carry them for me.  What was particularly nice was he didn't ask for money like locals in so many other "remote" places.  He simply wanted to be a part of the ordeal with the arriving aliens.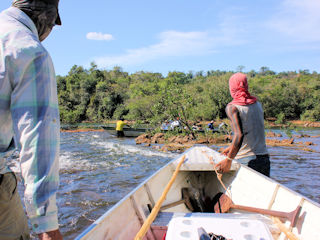 As if we weren't isolated enough.  Our boat ride downstream to the Kendjam Camp took another three hours.  I'm not sure what my travel time from Victor, Idaho was but it was approaching the 60-hour range.  That's a big one.  But I never noticed because the beauty of the rainforest was mesmerizing.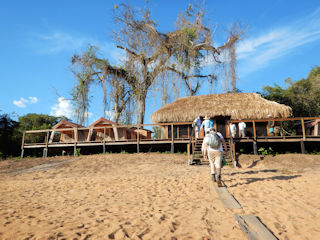 When we arrived at camp I was extremely surprised and impressed.  I envisioned sleeping in a pop tent on the ground with a campfire to cook on.  Instead Untamed has a comfortable room to relax and dining area and luxury tents with toilets and showers per two anglers.  And I should make note, we are the first ever group to stay in camp.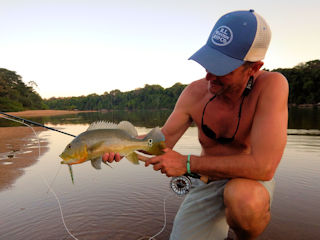 Nothing has changed since my first big international trip to Belize in 1989.  After greetings from the camp staff Ben and I ripped open our duffels and put together a rod.  I took my Winston 8-weight Jungle rod with a streamer and headed for the river.  I lucked into a small peacock bass – a species of them I've never caught before and only found here – (Chichla melaniae).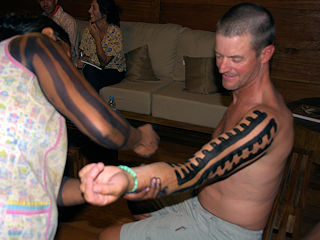 It was dark before 7.  Steaks were ready by the time we returned to camp.  I was starved.  I could have used a beer as well but there is strictly no alcohol on in Kendjam by request of the Kayapo.  Instead we had fun getting painted up like Kayapo warriors.  I just learned this tattoo lasts for about a month.  Hmmm. . . .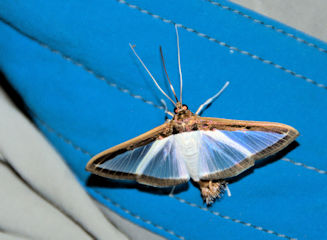 It's been an amazing day.  The travel here has been long but no doubt worth the time in gold.  I'm tired and just finished my mandatory tent inspection.  This is the Amazon and critters do exist.  Luckily our pets are friendly tonight.  Tomorrow the games begin!
A special thanks to my friends Rodrigo and Marcelo of Untamed Angling for making this incredible journey possible.  If you too would like to experience a similar trip to Kendjam feel free to contact me.