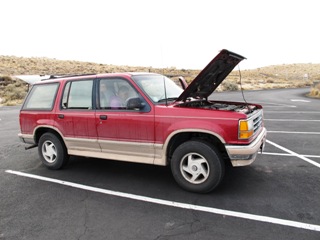 This trip has been rocking.  Granny and I have enjoyed some nice desert camping and last night we finally indulged the comforts of a hotel and a night on Flagstaff, Arizona.  But today, on the way to Show Low, Arizona where we intended on catching Granny her first Apache trout, things went south.
Our Exploder broke down in the boonies just outside Winslow, Arizona (yea the place in the song).  We were going to stretch our legs at Meteor Crater but they wanted $36.  We were ticked and I went to fire up the truck to leave and no such luck.  I used all my amazing car mechanic skills but still no luck.  Two hours later we were in a tow truck on the way back to Flag.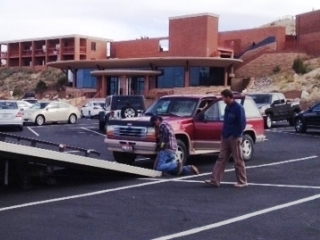 It's now 4 PM and $500 later and we have a new alternator and some battery cables.  We are no longer going for Apache trout but are rather headed to Phoenix to visit our friends Cinda Howard and Steve Berry.  All Granny and I want to do is settle down, take on some heat, walk in flip flops and fly fish for carp.  Two messed up car stories and less than two weeks – this has been a long hard day.