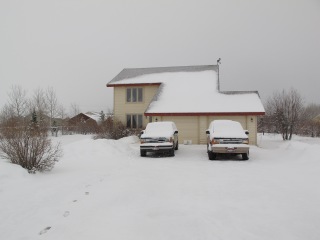 We're amidst a week of horrendous weather here in Victor, Idaho.  There have been a lot of days where the temps barely broke the 30ºs and there have been a few inches of wet nasty snow to shovel off the deck.  Granny and I planned to go to Yellowstone for our annual spring trip (See 2010, 2011 and 2012) to see bears and camp around Cooke City, Montana for the weekend but the forecast made us cancel.  But, at 3 PM Saturday after both working around the house on various things and freezing our butts off (we turn the heat off on April 1 no matter what) we decided a four hour drive in a nice warm car in the snow just might be a fun adventure.  We headed to Yellowstone on a whim.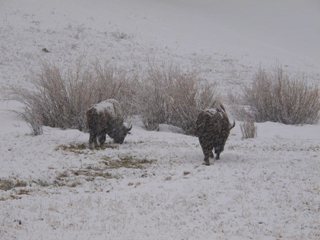 No doubt, about ten times as we drove up through Idaho past the Henry's Fork and to West Yellowstone we thought about turning back.  The snow and rain and sleet were horrible.  We entered the West Gate around 6 PM and the visibility was so bad the only animals we could see were nearly crossing the roads.  That included bison and more bison.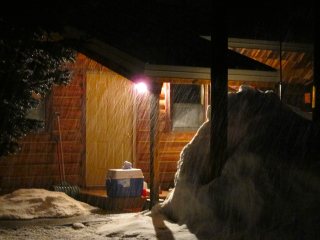 By the time we got up to Lamar Valley, our favorite bear haunt, it was almost dark.  It was before 8 but the clouds and crap falling from the sky were so thick they blocked out the light.  We rolled out the Northeast Entrance of Yellowstone at dark and stopped at the church between Silver Gate and Cooke City and borrowed their tiny porch to make dinner.  It was cold and damp to say the least.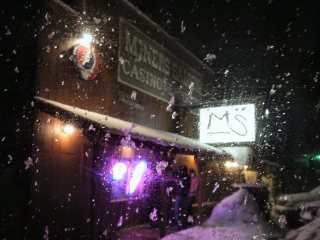 The reason we cooked dinner outside is because most years our favorite bar in Cooke City, the Miner's Saloon, isn't serving food during off-season.  We figured we'd eat a nice meal then head to the bar for a few drinks.  Let's just say in the future we'll check their website.  The Miner's Saloon was holding its end of the winter season bash with a band, tons of food and $3 micro brews!  The place was packed like the 4th of July!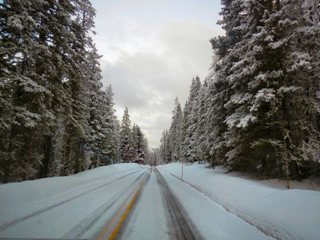 With a belly full of Granny's scrumptious Thai soup all we had to do is settle up to the bar.  We planned on a beer or two but it was much cozier in that bar than to rush for the back of the Exploder.  By now it wasn't just snowing out, it was dumping enough we thought it was possible that the Park would close and we'd be trapped in Cooke City a day or two.  Luckily when we woke up this morning that wasn't the case.  It was more of a drive the roads of Yellowstone at your own risk – I much prefer this option.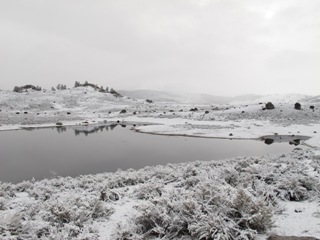 Our 24 hour adventure didn't produce a single bear this year.  That's our first complete skunk.  But we got out of town together and had a blast at the Miner's Saloon.  Sometimes it's a simple adventure like this gets you through the bad spring weather of April.  Now it's back to the paintbrush and writing a book. . . .