Fly Fishing for Spotted Grunter in South Africa
Categories: Uncategorized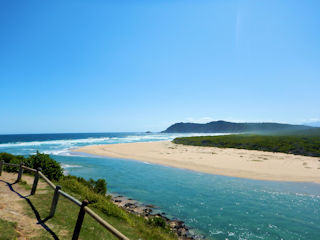 There was barely a cloud in the sky this morning when we left Craig and Coreta's house for fishing.  Today was an exploratory in search of tailing spotted grunter.  Craig knew of some flats about a half hour from Knysna, South Africa which put us at a river mouth and estuary near Sedgefield.  The entrance of this river to the sea was an amazing assortment of colors.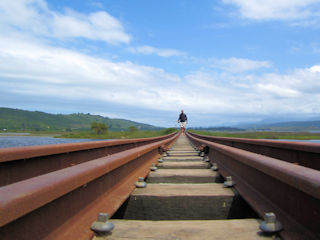 We tossed some casts for Garrick at the mouth unsuccessfully then quickly turned our focus for the spotted grunter.  This meant driving up the river to where it opened wide and flooded some tidal grasses over the flats.  This was a spot Craig knew of and to access it we walked up an abandoned railroad.  We soon found ourselves navigating over a precarious bridge.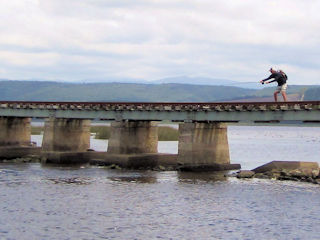 Up on the bridge balancing and crossing should've been the priority.  But the out of date bridge gave us access to the deep water in the middle of the river and one particular pool was too much for me to pass up.  I stopped and launched a cast with my 9-weight and the 300 grain.  On the first cast I raised a small Garrick but that would be all after a relentless half hour of casting and stripping a Clouser.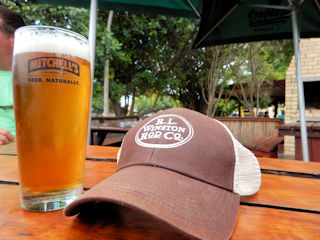 Like yesterday, we fished all morning without a fish.  The tide got very low around lunch time and drained the potential grunter flats.  There was no sense in fishing for a couple hours till the high tide returned us enough water so we headed to town for pizza and a couple of vacation brews.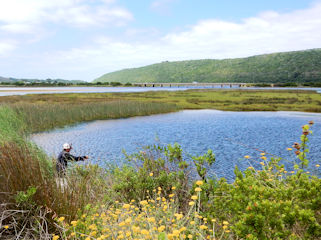 The afternoon session was equally as productive as the morning.  This being said however, we found grunter and many of them and now I'm a bit possessed by them.  Craig and I cast to numerous tailers and cruisers along flats and in holes.  I started with a shrimp pattern and changed variations many times.  I eventually went with a flats standby, the Merkin Crab but even that wouldn't entice a single fish.  Both Craig and I literally showed our flies to a hundred fish and nothing.  Finally, the tide got too high and the sun too low and we called her quits around 6.
The grunter is a unique looking fish with a small mouth designed specifically for blowing sand and mud shrimp out of their holes so they can make a tasty meal.  Usually the grunters hunt the shrimp on the shallow grassy flats so when they tip to blow into the holes they tail much like a bonefish or permit.  Naturally because of this tailing behavior fly fishers from all over South Africa are quickly becoming fans of the grunter and after today I can certainly see why.  But Craig and I have much to learn about a technique that works.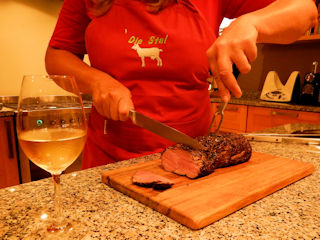 After we reeled it in we returned to Craig's house for yet another fine meal made by Coreta.  One of their neighbors joined and with dinner we enjoyed several bottles of delicious red wine.  Things are exceptional here in South Africa fish or no fish.  We'll try again tomorrow.