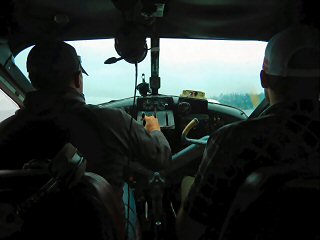 6 AM came early but we had a full day of flying planned to some special places, the Athabasca Sand Dunes and Hunt (Lefty's) Falls.  There was some fishing involved too.  The flats in front of the Sand Dunes for pike then Arctic grayling at the falls.  But the venture began flying out in drizzle in hopes things would improve.  They didn't.  Ten minutes in the air from Selwyn Lake Lodge we lost sight of the ground which in a De Havilland Beaver isn't acceptable.  We turned back and were soon taking naps at the lodge instead of gassing up in Stony Rapids.  "Monsoon Currier" strikes again.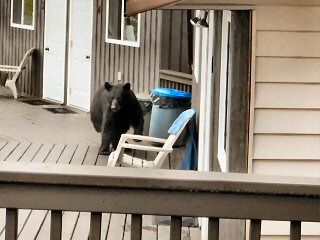 We hoped we'd wake in a couple hours to cleared skies but instead we awoke to a very mischievous black bear on the porch of our cabins.  He was looking for trouble by sniffing the screened windows and wouldn't leave until the camp manager shot at him with rubber bullets.  He retreated then swam to an island but unfortunately came back tonight.  Bad move bear.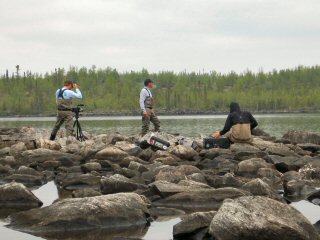 11 AM came and the rain stopped but we didn't have time to make the Sand Dunes.  Hunt Falls was possible but unlikely.  Instead, RA decided to get some interviews done for the film.  We headed to a quiet island and Ron and I talked about the great week of fishing we've had.  These interviews are what ties the film together when you see it at the 2016 F3T.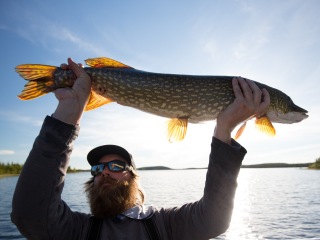 We didn't make the trip to Hunt Falls due to the threatening skies.  Instead our Lodge manager Greg took the evening off and took us fishing and for a shore dinner we'll never forget.  We headed out around 6 PM.  RA and I went with Greg then Ron and Austin in the other boat.  It was an unbelievable night of fishing with lots of nice pike from 30" to 40".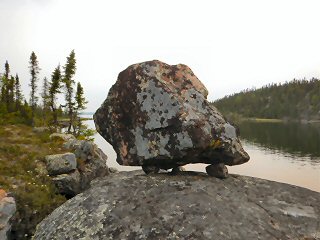 We kept three of the 30" class pike and pulled up at a place Selwyn Lake Lodge calls Alien Rock.  It's an odd rock for sure carefully balanced on three smaller rocks.  No one has any idea how this happened.  It looks suspicious to me but then again, ten guys together couldn't move this rock.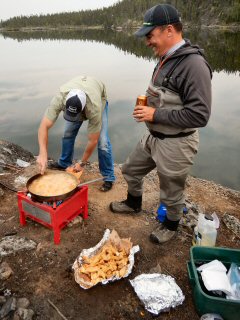 While we checked out the rock Greg fillet up the pike and fried up them up in three different recipes.  Along with the fish were five pounds of French fries.  All three recipes took me back to my Wisconsin days when I ate pike and walleye three times a week.  We washed the delicious meal down with a few Copper 16's.
We headed back for the lodge around 10 PM.  When we arrived here sunset occurred after 11 PM but in only ten days after the solstice, tonight the sun set at 10:10.  Nonetheless it was an amazing sunset.  The fires down south continue to rage and you can certainly see the smoke in the photo below.  Today was our last day at Selwyn Lake Lodge and tomorrow we'll fly with Ron on the Beaver to Stony Rapids.  Ron will put us on a commuter flight for Saskatoon and he'll head back for Thompson Camps on Otter Lake.  This has been and incredible trip!  Many more pictures to come in the next days.
A special thanks to RA Beattie Outdoor Productions and Adventure Destinations for bringing me along on this incredible adventure to Saskatchewan!