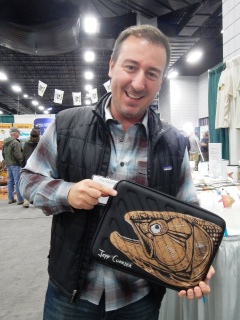 The Marlborough Fly Fishing Show was no less than superb.  This show has quickly become a favorite of mine.  It's the smaller of all the Fly Fishing Shows but that gives me more time to visit with folks, many of which I know from growing up in this area.  Despite being a smaller show I had big crowds at both of my talks which always gets me fired up.  Amongst all that action I made time to draw up fish on all kinds of things.  Rodrigo Salles, my Argentine friend and owner of Tsimane Lodge in Bolivia presented me with my most challenging surface of all time, a rough ridged computer cover.  Nonetheless I think the golden dorado headshot came out well.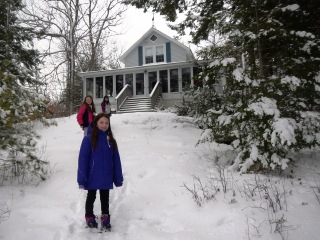 After the show Granny and I returned to Wolfeboro, New Hampshire and hung with the family.  I spent all of yesterday with my nieces.  We had a full day starting with a walk out on the ice of Lake Winnipesaukee visiting ice fishermen.  The girls have never walked on ice before.  That seemed crazy to me being my brother and I grew up on frozen lakes and ponds.  The girls loved the hard-water experience and got a full on clinic on how tip-ups work for ice fishing from one of the hardcore locals.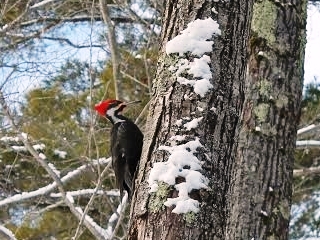 From there we walked downtown for hot chocolates.  A highlight on the way was running into this stunningly beautiful pileated woodpecker.  The pileated is one of the incredible birds of the Northwood's and it's very unusual to get this close.  My niece Sammy cracked off this spectacular photo with her new camera as he hammered away only a few feet above us.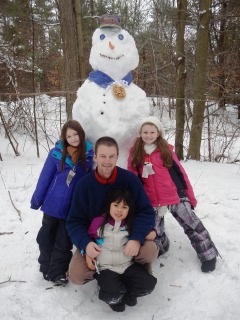 In late afternoon we rolled up a backbreaking base for what became a 6-foot plus tall snowman.  I'm sore as heck today from putting every muscle in my body towards the last few turns.  The midsection snowball was so heavy my brother had to come out and help me place it on top of the base.  The girls and I are extremely happy with the final product however.
The last move of the day was some candlepin bowling at the famous Funspot at Weirs beach.  Tossing the small balls down the lane is a favorite past time.  Even more fun was showing off my skillful hand-eye coordination on Space Invaders, Packman, Defender and my all time favorite, Crazy Climber.  There's no question about it, mastering these video games during my youth helped my fly fishing.
The kids are gone now and its time to prepare for the largest Fly Fishing Show of all in Somerset, New Jersey this upcoming weekend.