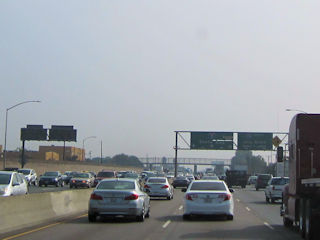 Time flies when you're having fun.  Granny and I have been in Southern California for nearly a week and I've given presentations to Santa Barbara Flyfishers, Fly Fishing Club of Orange County and the Pasadena Casting Club.  I'll continue my speaking tour next week but starting today, we have three days off so we hit the horrendous CA traffic of the I 5 and headed south to Torrey Pines State Beach with hopes to catch our first corbina on the fly.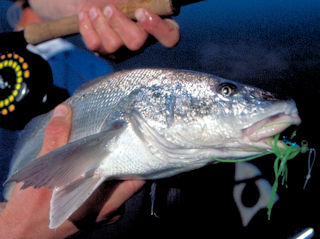 I've tried for corbina here in CA a couple times and once in Baja a friend randomly caught one while we were fishing the Pacific Ocean for spotted bay bass.  They cruise and feed in the shallow breaking waves along beaches and have a knack for being hard to see, finicky and spooky.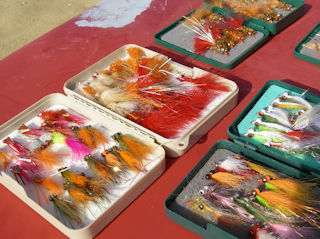 We arrived at the beach at 2 PM (100 miles in 3.5 hours!).  The tide was low and I rigged my favorite beach rod, my Winston 91/2' 8-weight and tied on a pink lead-eyed crabbish-looking fly recommended to me by a friend.  The best flies for the California surf are pink and orange flies.  I've fished here before and we went right to where I saw corbina last time.
There's a lot of people here none of them fishing.  It's a bit hectic for we spoiled "Curriers" who last year spent a month on the gorgeous empty beaches in Oman.  And not to mention my Gabon trip in March.  But Southern California is home to corbina so we just had to deal.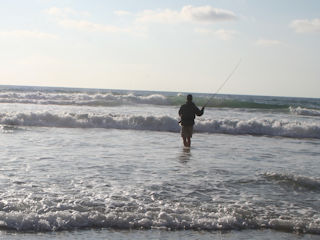 The waves were big and the water seemed cool.  I took a beating standing waste high in the surf.  I keep my core strong for days like these otherwise I'd havw face planted several times for sure.  Casting was tough but I had my new stripping basket to contain my loose line.  If you don't have a basket the surf and sand will hold your line every time you go to shoot a cast.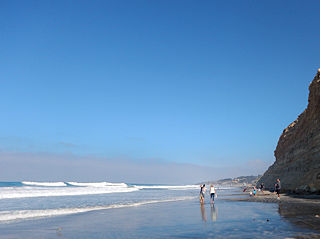 Rumor from the clubs are that surf fishing has been lousy this year.  I fished a solid four hours and saw two fish.  One was a definite corbina but he spooked before I ever got a cast.  The second fish may have been a smaller one however I thought it was shorter and stubbier and could've been a spotfin croaker.  Whatever it was, the spooky fish fled when my fly landed in front of him.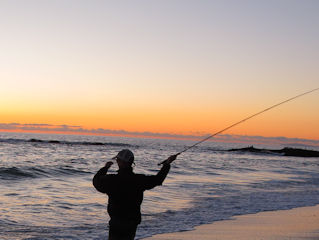 At 6 PM we packed it up because the light for sight fishing was gone.  Also the tide was moving in fast and pushed my back to the cliffs.  I had little room to cast and every 15 seconds a jogger would trot right into my casting lane.
We got a room here in Encinitas and we're about to head down town for beers and dinner.  We'll catch the end of the Blue Jays vs Indians game as well.  Tomorrow night we'll hit the bars in Encinitas early for the Cubs game.  I can't wait for that!