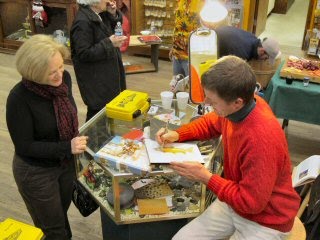 Tonight I made a guest appearance at the Jack Dennis Fly Shop where up until last year I worked for some 23 years. They asked me to come in and be part of a book signing with long time friend Scott Sanchez. The event took place from 4 – 8 PM and between book signings I drew fish with sharpies on Cliff Fly Boxes and even painted up a 7" x 9" Snake River Cutthroat for a former employee of mine, "Big" Willie Roth.
Although many longtime retailers complain about the hecticness of Christmas season, I used to love it. I particularly enjoyed the challenges of figuring out good presents for the fly fishers who have it all. There was nothing better than helping distressed customers nail down that perfect gift. In fact, although I cherish the freedom of self employment, tonight kind of made me miss working in a busy shop for Christmas.
I didn't know what to expect as far as turnout tonight, but I'm happy to report that the event was quite busy. Many of my old customer/friends made it in for a visit. It was fun to say hi and catch up. The shop sold plenty of my books and also my art related things including coffee mugs. It was a very worthwhile event for me and Scott as well as the Jack Dennis Fly Shop.
As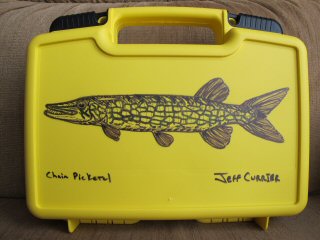 far as posting another fishing day before Christmas, it's looking doubtful. I'm hoping to sneak over to the South Fork for a few hours one afternoon and fish some midges, but we'll see. I'm still busy as heck. I have an invite to display two paintings in the Watercolor Magic art show at the Art Center, Theater Gallery in Jackson, WY January 14 – February 11th. This is a special showing only for the watercolor artist of the Jackson Hole area and it's an honor to be asked to participate. As always, I have little to no stock so I need to dedicate the time to do up two paintings and get them framed before I hit the road next month. That's a tall task when you consider I still have plenty of preparation to do on my presentations for the Fly Fishing Show circuit. Luckily the weather is lousy and daylight hours are at the minimum keeping me inside and hard at work rather than tempting me to the river!