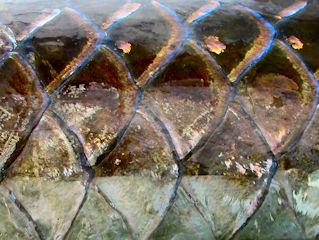 Our sleep was short but for me solid for the first time since I arrived in Gabon.  I hopped from bed and headed for coffee at 4:30 then before I knew it I was in the boat enjoying the stars on the way to the mouth of the estuary.  When we got there we parked the boats and walked out to the point where the ocean waves collide with the mouth of the estuary.  Daylight was overtaking darkness and the tarpon were rolling off the point.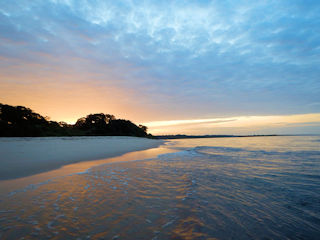 While my target fish on this trip is the giant African threadfin, I know when to take advantage of opportunity.  I walked to the point with multiple rods and one was my favorite tarpon set up:  12-weight Winston, a big reel (in today's case the Hatch 12 Plus Finatic) and the Scientific Anglers Intermediate Sink Tarpon Taper WF12I.  I grabbed the fish stopping rig and went to work alongside my friends.
Before I hardly stretched out enough line to cast Arno hooked up but on the tarpons fifth jump the huge silver slammer shattered his leader as we watched in awe.  This sent him running up the beach for a re-rig.  The rest of us continued casting with a gleam of confidence you can't believe.  That's when Conrad went tight and yet another tarpon went airborne.  This one stayed buttoned.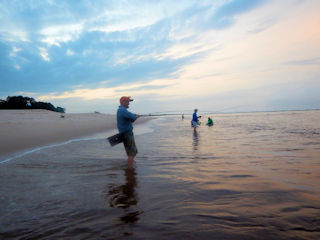 Conrad Botes is from Cape Town, South Africa and an expert on handling a fly rod from shore against some of the oceans most serious gangsters.  He knocked his tarpon down from his thrown so fast it was unreal.  Granted, we're all fishing very heavy leader of 80-100lb and this is a huge advantage.  But you still need to know how to use it.  Conrad landed this fantastic tarpon in less than 15 minutes.  May I add that a fast landing is of utmost important for a healthy release.
As John, Garth and I wrapped up the photo session then watched Conrad release his tarpon, Arno was back in the game and already hooked up.  His tarpon was sailing through the air down the beach towards us with Arno trailing behind.  John, Garth and I looked at each other like we should be charging to the point to start fishing ourselves but this huge tarpon's acrobatics were too splendid to stop admiring.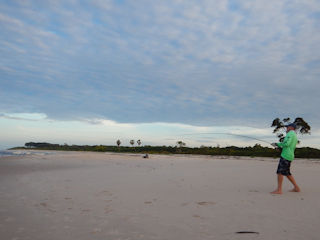 Soon the jumps stopped and it was a tug a war.  Arno backed way up the beach for height and leverage and put his straight 80lb leader to work literally pointing the rod towards the fish and reeling.  It's an incredible test of tackle especially because this was a fish of over 100lbs.
Despite the great battle tactics used by Arno, his fish was big and the jumps came to an end early.  When your tarpon doesn't jump enough the battle often goes on longer than you like.  We all gathered round in suspense to see if Arno could beach the beast.  After 30 minutes he did – UNREAL FISH!
Nearly an hour passed watching Conrad and Arno land their tarpon.  By the time I got back to fishing the low tide ended and slack tide was in place.  Naturally the tarpon called it a day at this time and the rollers were long gone.  We worked the point for 30 minutes but saw nothing so Mark pulled the plug and off to the estuary we went with the elephants.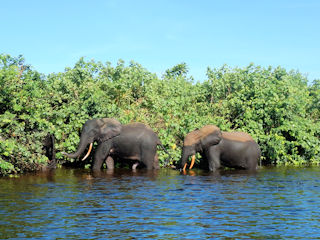 There was no wind and it was scorching hot and rainforest muggy.  There were some random pods of longfin jacks busting mullet and we chased them around for two hours.  I landed an average sized one, my first of this unique species while Mike put another nice one in the boat.  At 10 AM we called it and returned to camp for a late breakfast.
We have fun afternoons here at camp.  Everyone is pumped after the morning session so we eat and drink Régab beers for about two hours then take short naps.  Today the theme of course was tarpon and Arno cranked out some big dark flies.  Most our memorable fish have so far come on dark flies including my threadfin.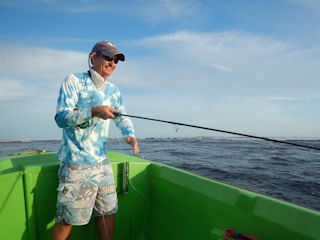 At 5 PM we returned to the mouth of the estuary.  Tonight we anchored one boat in the channel at the mouth.  Anchoring here is a sketchy move in a dangerous place.  Currents rage through here during prime time which is the dropping tide and big waves kick up.  The anchor doesn't grab well and when it does the boat gets tossed viciously side to side.  If the boat flips or if an angler goes overboard, its likely to be a sad ending to a fisherman's life.  The current would sweep you to open ocean so fast you couldn't blink.  And realize, this not like America where the Coast Guard comes to the rescue.  John Travis and I volunteered for tonight's shift.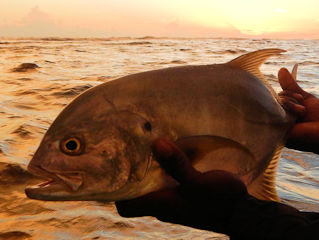 The danger factor did not let us down.  Immediately after we set anchor I swung my fly into a small jack.  During battle I nearly went overboard.  I think I was ok but just to be sure our boatman Paku grabbed me.  After I released the jack all of us put our lifejackets on and I adjusted my footing.
I nailed two more of the small jacks but after that things went dead.  We watched the guys on the point fish hard as well but nothing.  Worst of all not one tarpon rolled.  But the great thing about fishing a place like Gabon, there's always something to keep your interest.  Tonight was this magnificent sunset.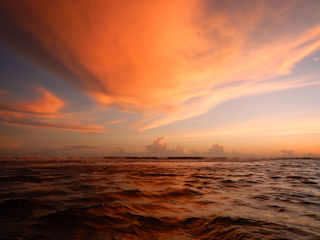 About a half hour after dark the light of the moon took over and I thought I heard a tarpon roll.  I hadn't been fishing hard due to the lack of activity.  I looked that direction and as I did Paku, who speaks hardly a word of English, simply whispered, "Tarpon".  I chucked a cast and at the end of the swing I hooked up and a gargantuan tarpon hit the air.  It wasn't one of those straight up head shakes.  This was the full body jump completely out of the water and parallel to the water.  This was an unbelievable sight with moonlight reflecting of his scales – an image I will take to the grave.
The monster remained on and ripped me 100ft into the backing and jumped again.  This time he was far away and we could hardly see but the splash sounded like the sinking of the Titanic.  Next, the angry fish rode the current and took off faster than any fish I've ever hooked.  I had my Hatch drag set tight but once the tarpon got it spinning there was no stopping him.  Line sizzled off and it was one of those rare times where I smelt things burning.
Lifting anchor and chasing is not an option here.  Paku put his headlamp on to see what I had left for backing.  There wasn't much and miraculously the tarpon stopped.  We could hear a distant jump session take place then off he went again.  Rather than get spooled, I stopped the spinning reel spool with my hand.  I took a knuckle bashing before I stopped it but finally did.  It was all I could do to hang onto my rig when the fish surged and he almost pulled me overboard.  It was terrifying and I prayed for something to break.  Finally, it did.
It took me five minutes to reel everything back.  It turns out my 450 grain fly line snapped two feet back from the tip.  I was lucky to only lose this much.  I shook for about five minutes then fired up the flashlight and re-rigged.  The first cast back in I hooked up again!
My forearms hadn't recuperated from the first round but I knew I needed to fight differently than before.  This time I attempted to stop the tarpons run sooner.  Instead of breaking me the hook pulled on the second jump.  I wasn't bummed because I got to see these jumps just as clearly as before.  I reeled in and took another five-minute breather.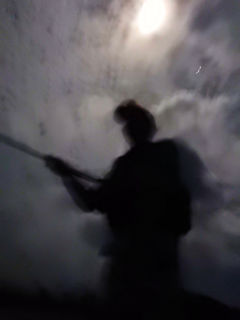 Either John's position in the boat, sink rate of his line or perhaps his fly wasn't doing it.  I offered to switch places but he was comfortable.  In all reality I desperately wanted him to hook the next tarpon so I could watch someone else face the behemoths.  Back I went into the depths and sure enough I was on again.
This was the one I wanted.  He looked to be under a 100lbs unlike the first two I hooked. Unfortunately, after about five fantastic jumps my hook pulled.  I was disappointed because after all the commotion I wanted to catch and release one.
At 10 PM fishing died and Paku told us to reel in.  We parked at the beach and joined the guys.  Not one fish was hooked by any of the four of them.  I was the lucky guy tonight I just wish I could have landed one.  To avoid the late dinner scene at camp, Mark brought a huge cooler packed with dinner and beer.  John and I got comfy and crushed several ice cold Régabs while watching the guys dredge for a threadfin.
Nothing happened beyond a tasty dinner and a few cold beers on the beach.  I loved it though with the moon bright and a sky full of stars.  I badly want to see more threadfin caught but I knew mine was lucky.  At 11:30 we returned to camp, had one more beer and hit the hay.  Gabon is incredible!
It A special thanks to my friends of Tourette Fishing – Fight it in Africa for inviting me on this unreal trip!