Sammy Vigneri Teaching the Roosters a Lesson
Categories: Uncategorized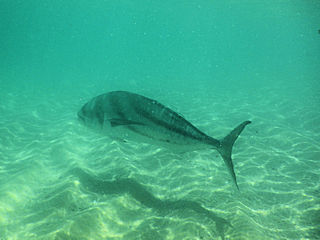 With all the action we experienced yesterday on the roosterfish beach we headed right back early this morning.  Indeed, we got our butts handed to us and didn't catch any but that's the way roosterfishing goes sometimes.  Seeing them is half the battle and we saw more than normal.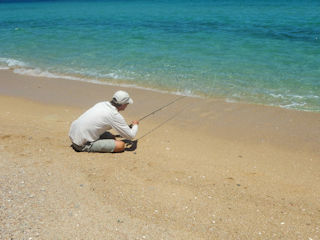 When we arrived the bait balls were moving and sure enough a hefty rooster was pushing the tiny mullet.  I sprinted to position and crouched into action.  Just like when trout fishing, it's essential the rooster doesn't see you.  I laid out a perfect cast and the fish started chasing but like yesterday, the fish turned at the beach and the experience was nothing more than a vicious tease.
Over the next two hours the opportunities kept coming but I couldn't seal the deal.  After my fourth refusal I was ready to put my head in the sand when I heard Sammy let out a cheerful "Fish on!".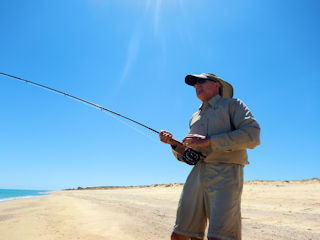 Grant was with Sammy and I heard him as well.  No one goes more ballistic over roosterfish than Grant.  He wildly shouts instructions to Sammy every time he hooks a fish. Grant has a tremendous amount of experience at this and has probably caught more big roosterfish on fly than anyone.  It's worth listening.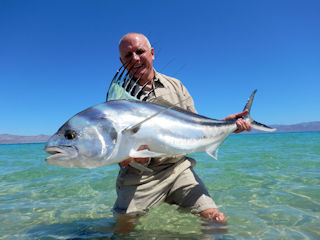 Roosters fight hard.  A lot of people put them at the top.  I admire their first backing stealing run but after that I get control.  Usually you fight them nearly all the way back to the beach over ten minutes then get two or three more shorter runs then the fight is over.  Honestly it's a perfect contest from one of the most impressive gamefish in the ocean.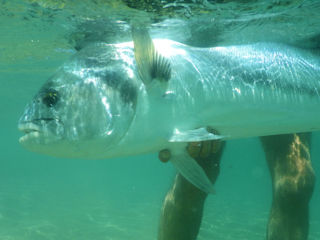 Sammy fought his fish like a champ.  I was disappointed not to be with him for his rooster two days ago so it was nice to be here this time.  Sammy played him down and dirty and broke the roosters spirit in less than ten minutes.  Once Sammy corralled and posed with his rooster he said, "Believe it or not Jeff, this one's half of the one I caught two days ago".
Grant gave me the nod agreeing with Sammy.  "Holy cow", I thought, "Sammy's first fish must have been a beast!"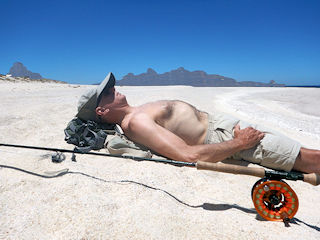 Grants nod was also a way of telling me to get my act in gear.  I'd had exactly nine close calls with big roosters this week and nothing to show for it.  I went to work but unfortunately it would be a long hard afternoon under the scorching Baja sun.  While Sammy went into full on relaxation mode I kept marching the beach through foot-singeing sand with high hopes.  But Sammy's catch must have told the rest of the roosters to beware.  I never had another cast to roosterfish all day.
Regrettably, Sammy must leave tomorrow.  That leaves me and Grant.  We'll be heading far north to a beach he hasn't fished in years.  Stay tuned for what I hope is something I'm quite familiar with, last day good fortune!