No Rain & a Fine Day on the Idrijca River in Slovenia
Categories: Uncategorized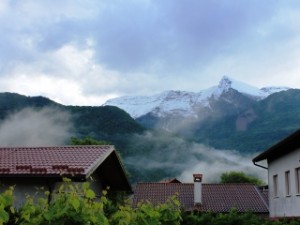 This morning wasn't sunny, it wasn't warm, but it wasn't raining.  It was hard to tell because the trees, houses, electric poles and etc were dripping so much, but finally it's not raining.  The unexpected mountain view from the Pri Jazbecu is incredible.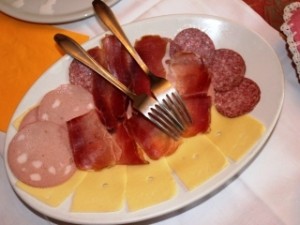 The break in rain instigated an early start for Vladi and me.  We munched our B & B breakfast fast and headed out for some fishing before 9 AM.  This may not sound early but after Day 1 & 2, 9 is early.  All that said, the rivers are still very high.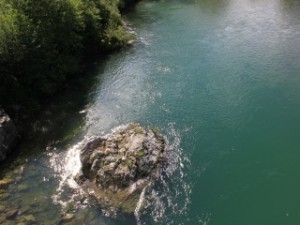 Vladi and I made an immediate run for the upper Idrijca River, exactly where I caught the dozen rainbows and my first marble trout.  But as if last night was a story from the Twilight Zone, the pool was lifeless.  From there we went to the place where I caught the hefty marmoratus to end the day but it too was deadsville.  We could only assume the fish weren't awake yet.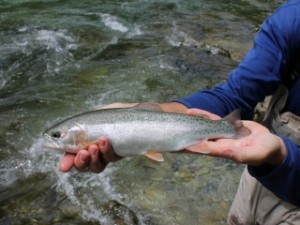 We slowed down our pace and I started my slow prowls through the forest studying every inch looking for bank feeders.  I spotted one small fish, a 12" rainbow which I caught on an elk hair caddis.  The silvery rainbow wasn't our target but a sign trout were waking up.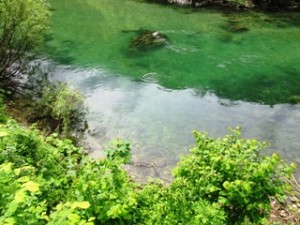 30Km up the Idrijca River, nearly to its headwaters, even in high water the swift river became small enough to consider wading.  We pulled off at a deep slow pool and sure enough there were fish rising.  From our perch up a high bank all the trout looked like rainbows.  But these were some big boys.
I insisted that Vladi start his license.  He's been avoiding it because of the horrible weather.  But the stubborn 66 year old wouldn't go for it.  He has gone another day as spectator and now I worry he has an ailment he hasn't told me about.  Eventually I eased my way down to the edge of the hole and proceeded to knock off almost every rainbow in the pool.  One of the rainbows was a surprising fish of nearly 20 inches which Vladi shot this long distance photo of from the road.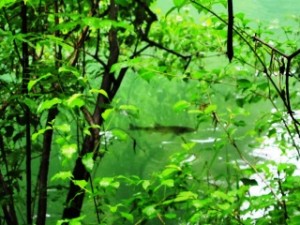 The highlight of the day wasn't those rainbows nor would we find any marble trout.  At the end of the day I spotted a group of European chubs.  I've caught them before in other parts of Europe and what I remember best of them is that they are spookier than a trout, much like carp actually.
Naturally I couldn't resist the challenge and worked my way into position.  This was not a cast situation.  These chubs were nestled under bushes and trees and I literally dapped for them with a mere two feet of leader out the tip of my rod.  I moved my rig over them inch by inch so they would not notice my rod as more than a branch.  Once out over the chubs I lowered my nymph even slower and it sank right in front of this one and he crushed it!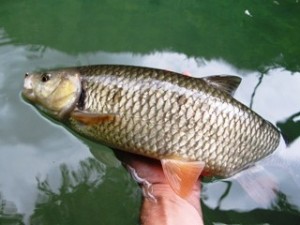 I'm sure there are mixed feelings about celebrating a victory over a chub but trust me, although I got lucky and got this guy with ease, many Euros prize a chub like this one – especially on a fly.  I was extremely stoked!  What a way to end another great day in Slovenia.  Oh, it's raining again.
Jeff Currier Global Fly Fishing