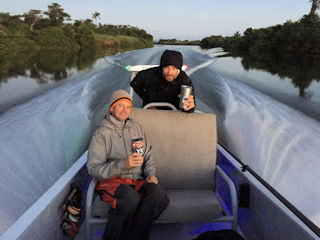 Todays blog starts with a travel tip.  In the northern hemisphere, even in tropical destinations, December is December.  Its winter and it can get far colder than you may expect.  At midnight I turned the fan off over my bed here at the Belize Permit Club.  At 2 AM I added a blanket.  And at 3 AM I wished I had another because I'm already sick.
At 4 AM when it was time to head for the flats it was 55°.  One of the coldest days in Belize in years.  The last item I tossed in my bag were my Simms bibs.  I typically use them in cold drizzle back home when I'm bass fishing.  Thank god I brought them.  In fact, as Wil Flack, Taylor Brothers and I made the crossing from the mouth of the Sittee River to the flats it was so cold I found myself wearing the Simms Beanie I wear skiing back home!
Regardless of the cold today was a far kinder day than yesterday.  The sun was out and as we fished we could see the mountains of Belize.  The visibility for spotting fish on the flats was excellent.  The only negative was another day of extreme wind.  Yesterday blew between 25 and 30 mph.  Today was less but still over 20 much of the day.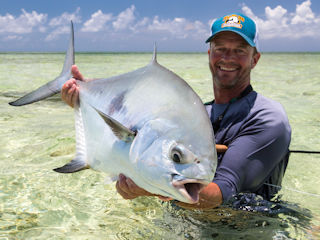 This week is a full-on fly fish for permit trip.  I've caught a few permit over the years.  Most recently this one from Grand Bahama in July.  But I'm not a dedicated permit guy.  However, part of the reason I jumped on this last-minute trip is because Wil is a hardcore permit angler and taken well over 100.  No doubt – this week I'm going to learn more about chasing permit on the fly.
I wish I could tell you we caught one today.  If you count the number of permit we saw, alone, in pairs and schools we saw about 30.  I can't recall seeing so many in a day.  I was psyched.  Wil on the other hand said it was fair at best.  Furthermore, likely because of the extreme cold front, the at least ten good presentations I made were ignored.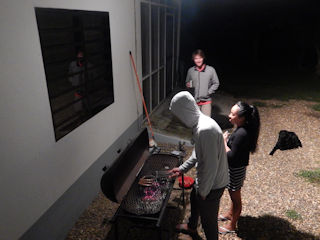 The forecast gets better by the day as our week continues.  If we start seeing more than 30 a day and get more than ten chances in a day, we should stick one.  Tonight was dogs on the grill.  Not only was the weather Idaho-like, so was my usual Idaho fishing and camping food!