Half Way to Fly Fishing Paradise – the Seychelles
Categories: Uncategorized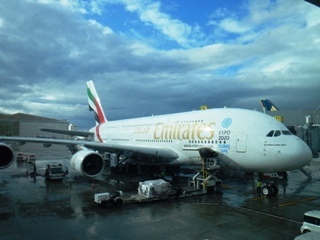 Travel was hard yesterday.  The stress of flight cancellation fear from Jackson Hole to Salt Lake City from the terrible storm we were having kept me awake for 36 hours from Friday afternoon till Sunday morning.  I couldn't even drive to Salt Lake City to by pass my JAC to SLC connection because of a road closure.  Anyhow, I made it out yesterday morning then connected SLC to Los Angeles.  Once in LA I relaxed and had a nice lunch in the international terminal.
Last night I took the 16 hour direct flight on Emirates all the way to Dubai.  This is my second trip through Dubai this year.  (If this is news, you need to check out my fishing blog from Dubai back in March.)  What was special about last night was that I flew on this Airbus 380-800 jet.  This is larger than a Boeing 747 and I believe it's the largest commercial jet in the world.  Notice the double deck goes the entire length of the plane.  Just to give you an idea the size, I was in row 80 and I was not in the far back of the plane!
I'm presently in Dubai and in four hours catch a 5 hour flight to Mahe, Seychelles.  Once I load this blog I'll track five of my clients that are hopefully in the airport here somewhere.  In case you're not up to date, I'm doing an emergency host job to the Seychelles for Yellow Dog Fly Fishing Adventures.  Be ready for a blog about some incredible saltwater fly fishing!