Morning couldn't come soon enough.  My long-awaited host job to Farquhar Atoll in the Seychelles began.  My group and I loaded our bags in a minivan taxi and drove to the IDC charter plane airport.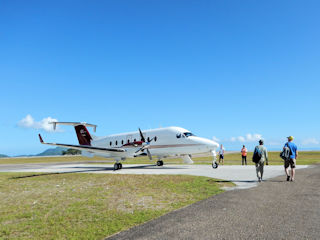 At 7:30 IDC weighed us in.  We weren't close to overweight because of being short my two friends from home.  One last time, this is a heartbreaker in that my friends had a flight cancel on the way to the Seychelles and had to miss the trip because they couldn't make it here in time to catch the charter.  At 9 we boarded the Beech 1900D airliner.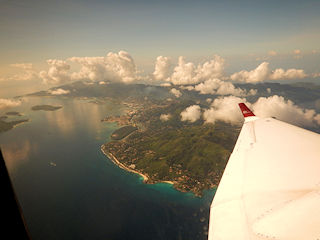 The charter flight from Mahe, Seychelles to Farquhar Atoll takes 1 hour 45 minutes.  Leaving the tropical paradise of Mahe is a sight to behold.  Lush jungle mountains make up the area with numerous islands.  You can only imagine how many fish once prowled its waters.
This is the second time I've hosted at Farquhar Atoll.  My first was this exact same time two years ago.  There's been a drastic change to the atoll since then.  In 2015 one of the worst cyclones in the history of the Seychelles made a direct hit on Farquhar.  It was so bad that most palm trees were uprooted or snapped and the lodge was completely destroyed.  To give you an idea how bad it was, here are some pics from before and after.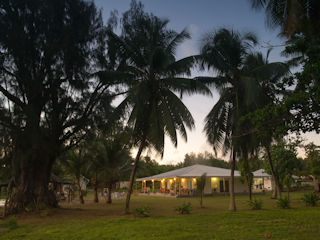 The lodge and grounds in 2014.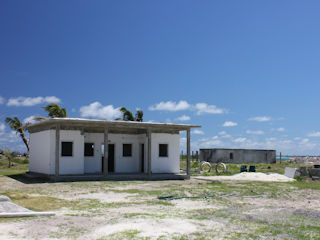 Now the lodge is missing and this is one of the few buildings left.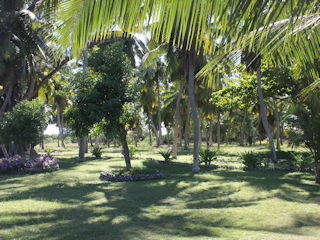 The palm forest and lodge grounds were spectacular.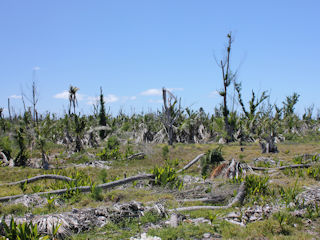 Today most trees are gone and the landscape looks like a warzone.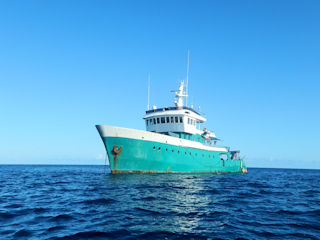 Farquhar has been closed for nearly a year.  A new lodge is scheduled to open around October of 2017.  Because we don't have a lodge we will be on a liveaboard ship named the Maya's Dugong.  It's a beautiful vessel and we are anchored a short distance offshore.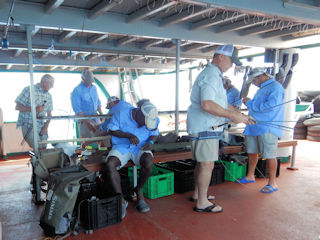 Our plane landed on Farquhar at 11.  We were met by our fishing guides.  Two are good friends of mine that I met last trip.  We took a tractor ride to meet the skiffs which shuttled us to the Maya's Dugong.  Head guide Matthieu Cosson gave us orientation then the guides went to work readying everyone's tackle.  They check your equipment from flies to leader to reels and rods.  Then they check every single knot in your system.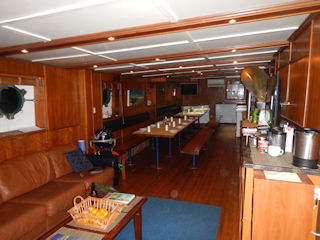 The Maya's Dugong is big and comfortable.  Though cabins are small, each has its own bathroom and shower.  There are two outside decks.  The lower deck is where we keep all the tackle.  Upstairs is an outside seating area nice for beers at night and coffee in the morning.  Inside we have a dining room and lounge.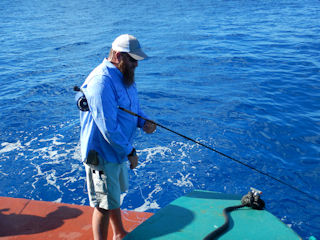 The most important thing for me on this trip is for my guests to have a great time.  We're off to a good start here.  I have a good group and they have been fishing off the back of the boat since we got here.  I have some personal fishing goals as well.  I'd like to catch either a milkfish or a dogtooth tuna this week.  Both species have troubled me over the years.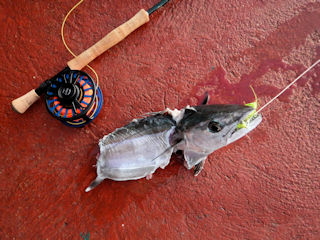 Amazingly, I went to the back of the boat at sunset and sunk down a Clouser minnow.  It was literally my first cast and I got ripped.  As my fish began to give up it was taken by another fish and eventually I brought up this half-eaten dogtooth tuna.  I'd later get a whole dogtooth to hand.  Doggie species done!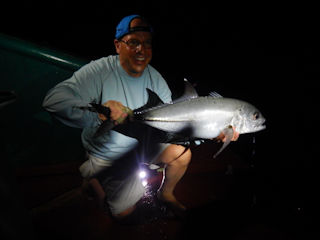 Today was not a guided fishing day.  We hung out and took turns fishing from the back of the boat right up until around 10 PM tonight.  We caught a few more small dogtooth tunas and a heap of bigeye trevally.  Some of these were nice size like this one Lance Tomar is holding.
That's all for today.  Tomorrow the games begin with six full days of fishing here at Farquhar Atoll.  The way our fishing started today from the back of the boat I suspect this will be a great one!
The Seychelles are truly one of the great saltwater fly fishing destinations left in the world.  To learn more or even better, join me on my next trip here, contact me or Yellow Dog Flyfishing Adventures!