Ending Big on the Last Day of Fishing 2015
Categories: Uncategorized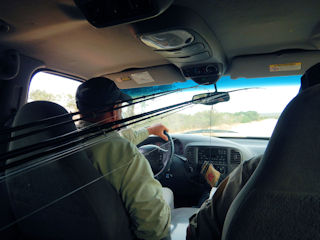 It's been a good time on Grants boat all week but today our feet were on the ground.  It's Sammy's and my last day here in Baja and we fished from the beach.  Grant, who was not guiding but rather fishing with us, picked Sammy and I up from Cerritos very early and we drove nearly four hours north towards Magdalena Bay.  Shortly after daylight we arrived on one of Grants top secret beaches.  A beach he never guides on and can count those he's take here on one hand!
We hit the sand and converted to beach driving mode.  This means is we let some air out of Grants tires so we can drive on the sand.  Then we drove another half hour and arrived at a place where if we got stuck or broke down I'm certain we'd miss Christmas.  The day was cool and dreary but the swells of the ocean were gentle.  Perfect for fly fishing off the beach.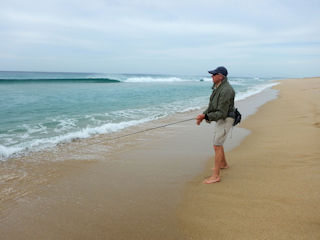 Not only were the swells gentle but the wind was blowing from behind us making it easy to cast.  This is so rare that it almost felt unnatural launching 90' casts with little effort into the surf.  Sammy was fishing my Winston 10-weight and I continue to love my new Boron III Plus 9-weight.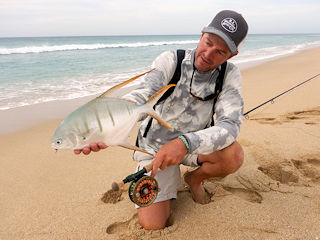 It didn't take long to connect to some fish.  I was fishing a tan Clouser.  My preference of line would have been an intermediate sinking Tarpon taper but Sammy had that on the 10.  I was fishing the same 300 grain Sonar I fished for tuna.  It turns out this heavy sinking line helped get my fly down deep beneath the surf and I was picking up one of my Baja beach favorites, the handsome looking gafftopsail pompanos.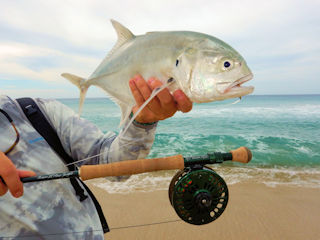 My luck didn't stop with the pompano's.  Mixed among them were a heap of small Pacific crevalle.  Some were tiny little guys that still pull pretty hard but it was the ones like this that really give you a run for your money.  Like the Atlantic crevalle these jacks can get big.  I've caught some over 20lbs off the beach near Los Barriles.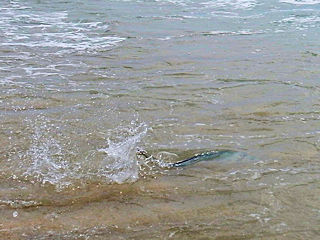 Sammy wasn't having such good luck.  He caught a couple mini jacks but I was worried he wasn't getting deep enough.  I switched rod outfits with him so he'd have my fly and the 300 grain sink.  Then I walked with him and showed him how to read the water so he could concentrate on the deeper troughs.  Then I turned him lose and naturally, as soon as he was off on his own I caught a glimpse of a large fish ripping through the shallows between the waves.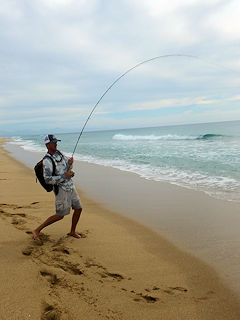 There's not time to call your buddy over in a situation like this.  The streaking fish disappeared behind the next big roller wave so I launched the direction I thought the fish was headed.  It was no less than amazing how fast and hard the fish ate my fly.  He was on the instant my fly hit the water as if I hit him in the head.  And while some big fish sit there a few seconds wondering what's stinging their lips, this fish took off with vengeance.  I was deep in my backing to the point of concern.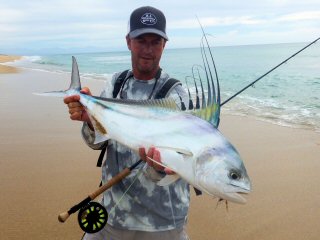 Grant came running to help.  He could see my bright orange 30lb backing streaking out to sea.  There wasn't much he could do other than cheer for me.  Meanwhile with the concern of running out of line I started putting on the heat.  Luckily it seemed my fish had run the gauntlet and started coming in easy.  Five minutes later I was smiling with this unexpected roosterfish.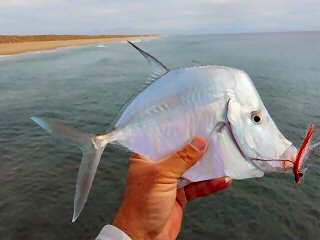 Every good trip provides at least one great day.  What's incredible about this trip is before today I'd already had two great days.  When next I started crushing the lookdown fish around an old dock piling on almost every cast the ruling became this was my third great day.  Sure, the lookdown fish isn't a species to write home about and I've caught plenty before but what the heck, all fish are fun.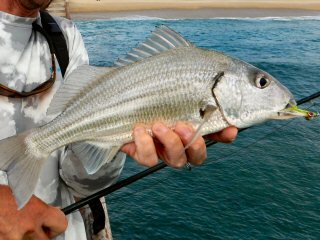 In fact, my persistence on enjoying the cartoon-like lookdown fish led to some other species including several yellowfin croaker and a new species for me that has taken me all evening to identify.  I've concluded that he is the raucous grunt.  Another for the list!
Out of nowhere on this beach protrudes a decrepit old dock.  It's huge extending out a tenth of a mile.  The end of the rickety structure is easily sixty feet above the water.  Its railroad tie beams are rotted and not connected anymore making going on the dock treacherous which likely explains the no trespassing signs.  But that didn't stop us.
Unfortunately to get on the dock you pass through a large rusty old metal door.  I passed through no problem but as my rod came behind me the wind smashed the heavy door shut.  My Winston didn't make it.  That did knock my third magnificent day down a notch!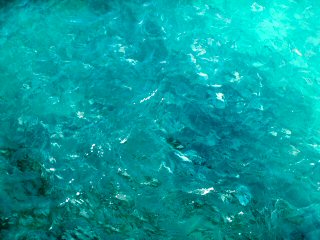 At first Sammy wouldn't join Grant and I up on the dock and watched from the beach.  When he saw me shatter the 10-weight in ridiculously stupid fashion he insisted I take my 9-weight back and head out on the dock.  I was reluctant to leave him empty handed but at the same time the 300 grain needed to dredge out deep.  Once Grant and I made it out there we saw a school of huge orangemouth corvina.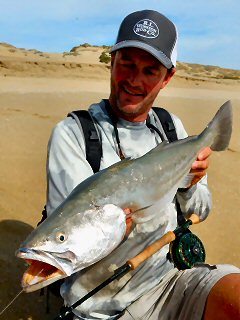 There were so many corvina that it looked like we'd catch a fish on every cast.  But in fishing it seems whenever it looks easy it's not.  Grant and I cast for at least a half hour before we both hooked up.  I got my eat when I switched to a chartreuse Clouser.  There was no way to land this fish off the dock with the 60 foot gap between dock and water so I walked this bad boy all the way back down the dock and beached him for the photo.  Sounds simple, but it was actually an absolute rodeo that I don't have time to get into!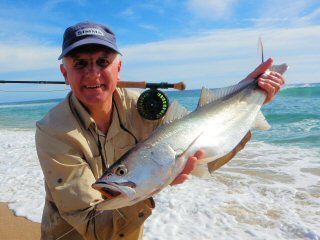 My corvina was a monster fly rod corvina.  It wasn't hard to convince Sammy to take the risk of heading out on the dock with me to catch a nice corvina for himself.  Now that we had the right fly, it only took Sammy about ten minutes to get his first hook up.  He lost that one but minutes later hooked into this beaut of his own.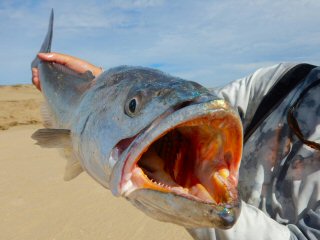 With a four hour drive to get back to Cerritos we packed it up shortly after the corvina action.  This has been a spectacular week in Baja.  And what a way to end a truly incredible 2015 fishing year.  Last day, last cast, a new species of corvina for the list and a big one at that.
We fly home tomorrow.  After Christmas I'll rap up some of the highlights from this year.  There were lots so it won't be easy.  But that's a good thing.  Happy Holidays everyone.