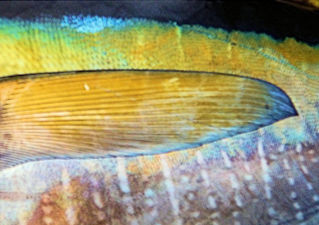 If you know me, you know that I'm stubborn.  I love a challenge and I'll stick to almost any challenge until I succeed.  I had my butt absolutely handed to me yesterday in a full day attempt to catch a yellowfin tuna on the fly.  While I tried, I watched Sammy catch a sailfish and three yellowfin tuna on bait.  Regardless, I didn't budge from the fly and got right back to work first thing this morning.
I had some new confidence because Grant tied me a special fly called the Squiggly Squid that's proven itself over the years.  Grant also told me he's seen more tuna caught just dangling the fly rather than stripping it.  The truth of the matter is that tuna like the fly either ridiculously fast or ridiculously slow.  It's much easier to do the slow.  The bottom line for catching a yellowfin tuna on the fly is get the fly as deep as possible and as you wind drift along add a slight twitch to the fly on occasion.
Like yesterday, I got my fly down and when I gave it that first twitch I got rocked.  The strike happened so fast and the tuna tore away so rapidly that I broke him off.  Despite a life time of knowing what to do with a big fish I messed up.  I'm not exactly sure where my error happened but my 22lb tippet broke in the mono of the loop knot to my fly.  The same as yesterday, disaster happened on my first cast.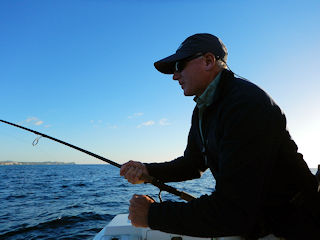 As my mind twirled replaying what happened I re-rigged.  My hands shook from a combination of anger with myself and the simple fact that I was rattled.  Twice my new knot to the fly failed my test.  About the time I was ready Sammy's live bait got eaten and line scorched off his spin reel.  I watched in awe thinking this could be the same fish that escaped me.  Sammy had absolutely no control for five minutes and then his too snapped the line.  We had some big fish around.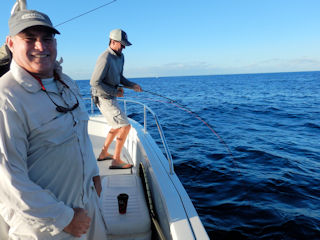 You can't look back.  Today's break off and yesterday's sea lion mishap were in the review mirror.  I recomposed myself and my 300 grain line with the new Squiggly plunged back down to the tuna haunt.  Five minutes, ten minutes, twenty minutes went by.  About when the thought of the old "first cast" jinx entered my mind I felt a light tap.  I braced myself and then it happened.  Line screamed off my Abel reel and in three seconds my 30lb backing was hissing into the depths of the Pacific.
I cranked my drag a couple clicks when the tuna stopped.  Then I wrenched and reeled fast and hard.  22lb tippet is strong stuff when you have a bent 9-weight and a full fly line and backing between you and a fish.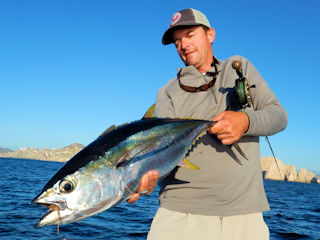 Grant thought it was funny to yell sea lion each time the tuna ran again but I was watching and the coast was clear.  Faster than expected I gained back my fly line then got close to the leader.  We looked down and there was that famous blue color all fish have when coming from the deep.  Then the true colors formed and we saw the yellow.  I had my yellowfin tuna!  Soon Jacob scooped this gorgeous king of the bluewater in the net and I hoisted him with a massive smile.  Not only a new species for my list but a long sought after one as well!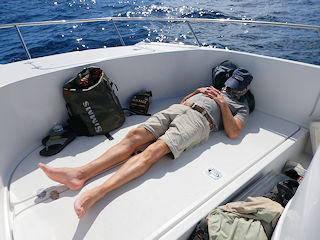 Sammy connected with another shortly after and this time he landed his as well.  But then like the flick of a switch the tuna bite was over.  At around 10 AM it was time to search for marlin on the fly.  Remember, the theme of this trip is to break my marlin on the fly curse.  Unfortunately, we trolled teasers for an exhausting six hours and never raised a single fish.  This curse is looking more like the Cubs trying to win a World Series!
Tonight was more sushi and tuna steaks and a few beers at Sammy's.  Life is good down here.  Tomorrow will be a short session to try and get Sammy his tuna on fly then hardcore teasing for marlin.  This curse must be broken!