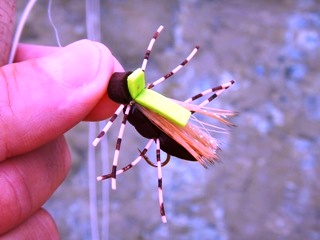 Today I fished with customer service manager of Scientific Anglers, Phil Cook, and again with old friend Brad Befus.  Fishing conditions went from bad yesterday to worse because it rained all night and on and off throughout the day.  Hopefully I'm getting all the "Monsoon Currier" out of my system before leaving for Canada next week.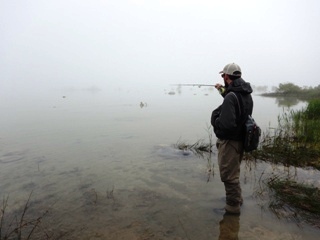 Due to these nasty conditions, most rivers are high and blown out.  Clear and fishable waters are hard to find at the moment which put us either back to the Au Sable where we floated yesterday or on a long drive north to the carp flats of Lake Michigan near Traverse City.  Who could pass up the unique idea of flats fishing one of the Great Lakes?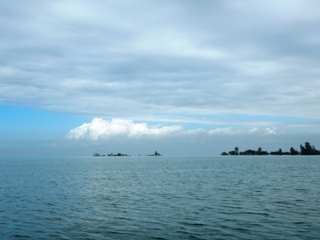 It was more than a two hour drive from Midland, Michigan to the pretty area of Traverse City.  This is an area where Lake Michigan takes on some neat character with bays and fingers and miles of shallow water.  The region was green like a jungle from all the rain and pretty houses and vineyards border both sides of the road.  Puffy white clouds that looked like they belong over saltwater were floating low in every direction.
When we started the fishing conditions were glassy calm and foggy, so foggy we waded out into the obis.  The light for spotting fish was terrible and Phil, Brad and I were hoping to see carp tails.  Although we didn't run into the tails we hoped for, Brad and I miraculously found a school of cruising smallmouth bass.  The bass were milling around a rock traveling between us.  We each caught one of the nice fish.  Brad took his underneath and mine munched a Chernobyl like dry fly.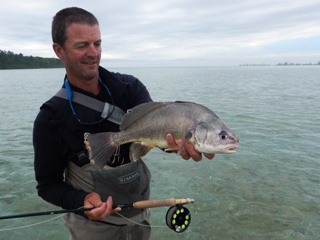 Not long after we released our smallies another warmwater species that I haven't caught in years meandered between us.  It was the unusual freshwater drum.  It took Brad and I both a minute to identify him in the bad light.  It also didn't help that neither of us are used to seeing them feeding.  All freshwater drum I've caught came blind in murky water.  I tossed a carp crayfish his way and let it sink on his nose.  He by no means crushed my fly but rather waddled behind it and as my leader entered the tip of my rod he ate.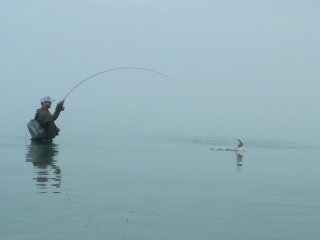 Phil had to leave early.  Brad and I fished till 7 PM.  Conditions remained calm but the clouds stayed overhead and spotting fish was nearly impossible.  We both hunted for more smallies.  While I got a few casts at a spotted gar Brad landed one more smallie in the fog.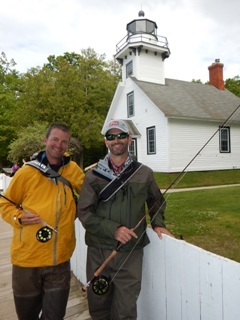 Today was a unique experience.  When I studied in Wisconsin thirty years ago the word "flats" on the Great Lakes didn't exist nor were anglers chasing carp on purpose, let alone using fly rods here.  I enjoyed the day so much that I'd rate this as a must do for anyone who loves to fly fish.  It was so cool that because of the weather and blown out rivers throughout Michigan right now, I may in fact find myself here again tomorrow.