Back to Pennsylvania for Fishing and Football
Categories: Uncategorized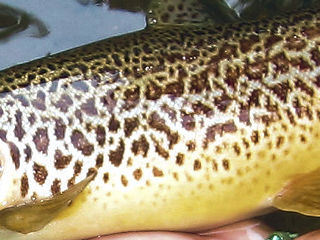 I could see the lights of the scoreboard at Wrigley Field last night as my plane took off from Chicago to State College, Pennsylvania at 6 PM.  Even a mile in the sky I was tense with excitement for the Chicago Cubs to keep up their fight in this NLCS.  Unfortunately, by the time I arrived in PA the Cubs were nearly blown out and an hour later the season was over.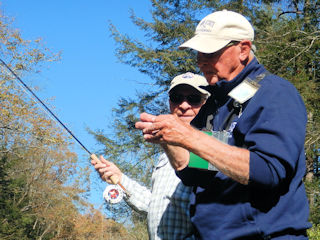 No better way to take away my pain from the abrupt Cubs season end than to visit fly fishing legend and friend, Joe Humphreys, along with Fly Fishing Team USA leader and friend Jerry Arnold.  We're here in PA to repeat the great time we had last year fishing and catching a Penn State College Football game.  This year's game is a big one.  A "White Out" against Michigan that takes place tomorrow night.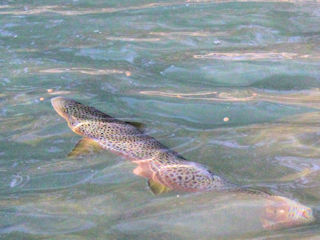 We went straight from the airport to a delectable dinner at the Adams Apple in downtown State College.  After, the three of us retreated to Joe's house for sleep.  We got up early this morning and with coffee in hand, fed Joes pet trout then headed to the well-known Corner Room restaurant with a few of Joes fishing pals for a hardy breakfast.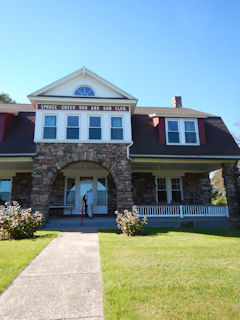 By noon (sounds late but this is a short vacation) we found ourselves on the famous Spruce Creek on the Spruce Creek Rod and Gun Club waters.  We fished here together in September of 2016.  Lucky for Jerry and I, Joe is a lifelong member and we have the privilege of being his guest again.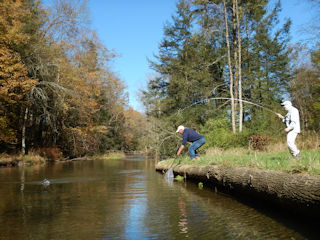 Spruce Creek is a striking little spring creek nestled between the mountains.  It's especially spectacular in October with the hardwoods a hundred shades of red, orange and yellow.  Spruce Creek is a manicured stream much like the famous Test River in England with an easy walking trail, mowed lawn to cast from and picnic tables and benches to relax at.  Oh, and in every turn of river there are numerous brown, rainbow and brook trout.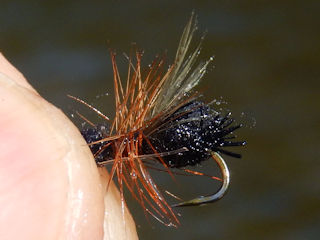 Joe grabbed his net from the car and announced he wasn't fishing and it was Jerry's and my job to catch some fish.  Furthermore, three of the fish needed to be rainbows 13" on the dot.  These three rainbows were to be thumped as part of an onstream dinner.  Although normally catch and release guys, we did the same last year and I remembered how delicious Joes fresh trout were.  I tied on a fly that always works for me, a size 16 flying ant.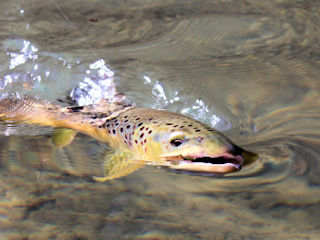 I believe fishing on Spruce Creek is always fantastic.  Last year was insane excellent and today was perhaps even better than last year.  While Jerry vacuumed the river with one of Joes secret nymph patterns, my ant was irresistible even to the big browns of the river.  Fishing was unreal again.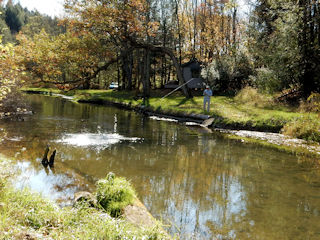 We only had a couple hours to fish because Joe had us hooked up for a special pregame event in State College and we needed time to enjoy the streamside meal.  Plus, two hours was fine with all the action we had.  I was just reeling in to head down and help Joe prepare dinner when I heard Jerry from the other side of Spruce Creek roar with excitement followed by a bowling ball sized splash.  I looked only to see a leaping rainbow of outrageous proportions.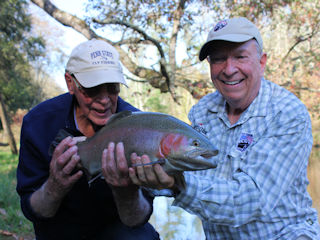 Jerry had done it.  He'd hooked the biggest rainbow in Spruce Creek.  I picked up my pace and bolted downstream.  I'd have crossed over immediately to help but that spot was too deep and muddy.  I tossed our one net javelin style all the way across Spruce Creek while meanwhile Joe was on that side and on his way to help.  A few minutes later the boys prevailed!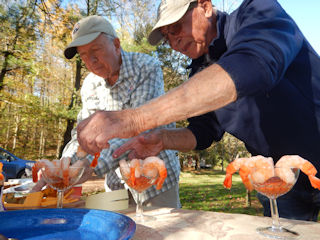 That was a perfect fish to call it a day – for the fishing that is.  One of the highlights for me, based on last years experience, is Joes streamside picnic.   Joe's picnic entails a table cloth, a cocktail hour of champagne with whipped cream and strawberries, homemade shrimp cocktails followed by some chef style grilling.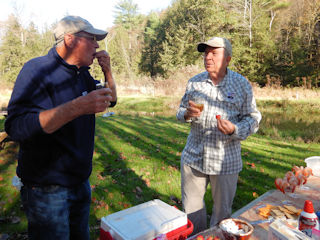 I'm not necessarily a champagne drinker but toss in the strawberries and whipped cream – the stuff is unreal!  We knocked off the entire bottle in short time.  I mostly kicked backed as the 74-year-old and the 89-year-old weaved some fantastic yarns.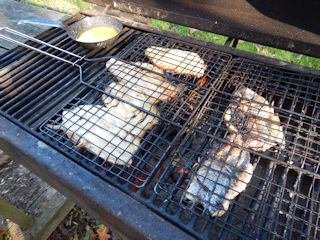 To say Joe Humphreys knows how to put on a good streamside picnic is an understatement.  After the champagne was gone and the shrimp were devoured, Joe cooked the trout and steak to perfection under a pound of drizzled butter.  I've had the good fortune of a few fresh fish dinners the last two weeks but this one took the crown.  What a day!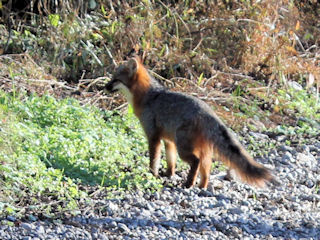 Last was a rush from the river to make downtown State College for the Nittany Lions parade.  Joe said it started at 6 and we had an invite to enjoy it from a premier viewing balcony.  While we made it on time, it turns out the parade is actually scheduled for a homecoming in November.  Ha!  Joe felt bad but honestly, it made our trip to town all that much more fun.  We stopped in the Adams Apple then headed home for a good night's sleep.  Tomorrow will be a full day of fishing and then. . . . the White Out!
The animal in the photo is the seldom seen shy gray fox.  We saw him on the drive out of Spruce Creek tonight.