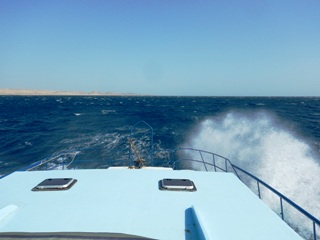 The wind was light out of the east when I put my head down last night here in Sudan.  At 4 AM the Scuba Libre started to swing on anchor.  A massive wind picked up from the northwest.  It came on so strong that as the boat spun around the waves slapped the side of the boat so hard water came over our bow and I felt spray from my bed up top of the boat.  Once we swung into place everything was ok but that craziness woke everyone up and now the wind was cranking.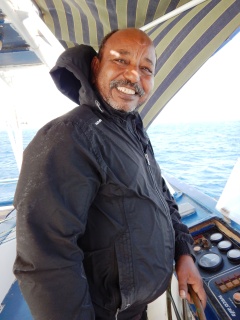 The wind was so strong at sunrise that all plans for the day were cancelled (of course Mike and I had a full day of dogtooth dredging set with Fede!).  Adel, our captain wisely made the call to return to the shelter of Snake Island.  We don't get forecasts out here and the bottom line was that if the wind got stronger things could get ugly.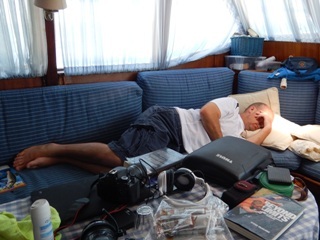 Travel back to the shelter of Snake Island was violent.  We're on a big boat and waves rolled over the top of us.  Two of the South Africans got seasick.  Nonetheless, once behind Snake Island we were anxious to at least try fishing so we all took off on a treacherous skiff ride to another nearby island to fish the flats.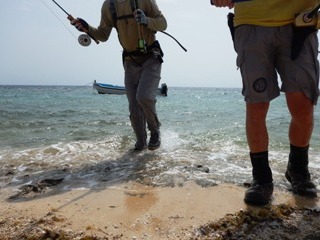 It was Mark, Mike and Fedes girlfriend Frederica and I on one flat.  I like to flats fish alone quite honestly.  Four is like stomping around so Mark and I let Mike and Frederica walk ahead.  This left us with sloppy seconds but it was still the more enjoyable choice for me.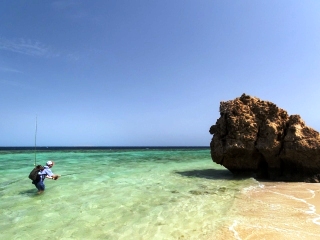 Mark and I let them get exactly one hour ahead of us hoping the fish they messed with would be ready for action.  As feared however, the triggers we saw didn't even allow me to raise my rod before spooking.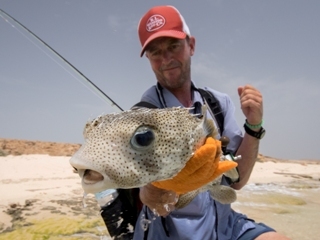 With the triggerfishing awful, Mark and I made an effort to catch all other fish.  The first I worked was a tailing puffer – and a monster.  This one looked at my fly first cast and I set the hook and had him.  Unfortunately he was foul hooked in the pectoral fin –a fun pic nevertheless!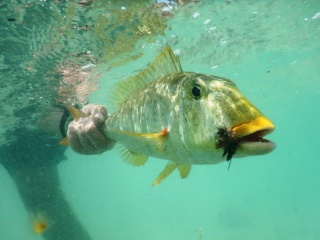 Mark and I went on to land several bluefin trevally, a houndfish and a spotted emperor.  The day wasn't bad under the circumstances.  The fish of the day was this unique species of emperor fish.  There are many species of emperor and I think this one is either a yellowlip or a sweetlips.  We'll find out later.  Whatever, he was a gorgeous fish and changed his color while we played with him.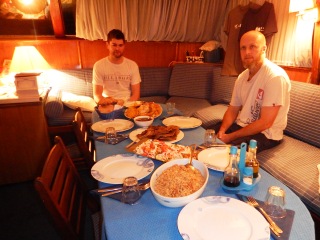 The wind was terrible today.  Our skiff ride back to the Scuba Libre was a wave-soaking-teeth-shattering ride – torturous.  Then over dinner the wind cranked even further and unless it settles we won't be able to fish at all tomorrow.