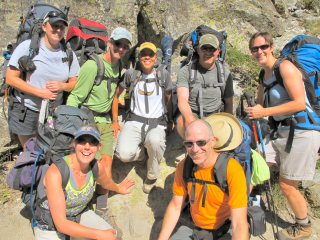 August 13 – 15, 2013
Not sure how it came about, but during our annual Christmas Eve party friend Jessica Chitwood suggested we all go on a backpacking trip into the Tetons this summer.  The thought was a great idea and Granny and I were on board immediately.  We haven't been backpacking since we trekked to Mount Everest in 2002.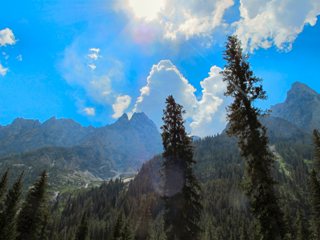 August 13
There were nine of us for this week's adventure that started at String Lake in Grand Teton National Park.  We left with heavy packs (including fly rods) at 10 AM and headed west along Jenny Lake and up Cascade Canyon.  As you would expect the scenery was no less than phenomenal.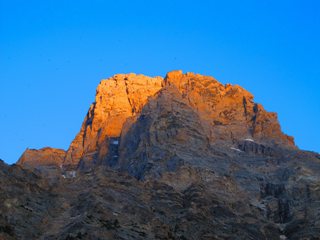 We covered about seven miles and camped above South Cascade Canyon in a group site.  When we arrived we had thunderstorms all around us but none centered on us and we enjoyed some light drizzle for a few hours before the sun broke back out.  Then we sipped our favorites and watched the sun rays light this unusual view of "The" Grand Teton.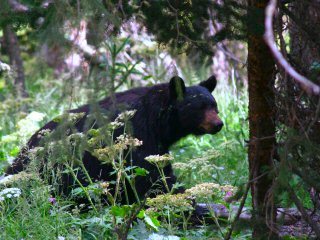 August 14
I heard a robin scolding outside our tent before sunrise.  The shrill went on for ten minutes or so.  It was time to get up anyhow and I saw Andy and Leslie waving to me when I poked my head out of my tent.  I crept speedily over and they were watching a black bear chowing on huckleberries.  I'm glad we took care of our food properly or it would likely have been gone!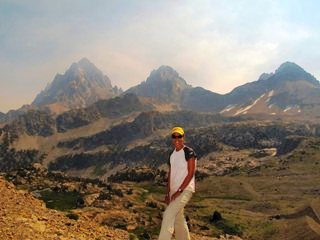 After breakfast we hit the trail again.  We hiked about eight miles that included crossing over the steep 10,000 foot Hurricane Pass.  On the top is one of the most incredible Teton views of all.  The Grand, Middle and South Tetons shoot high above all other mountains.  Unfortunately the west is full of forest fires, especially in our area and what is normally jaw dropingly beautiful was only ok because of the haze.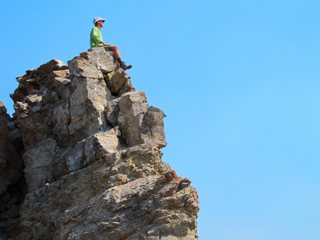 As always, I took my view a step further and climbed a pinnacle to get higher than the trail over the pass.  I hope my mom doesn't see the picture as I was not exactly in a safe place.  Nor was the scramble to get up and down safe.  In fact, an older couple passed us later.  They saw me from the distance and the lady gave me an earful of how crazy and dangerous the move was.  She even went as far as to say my mom wouldn't be happy.  She's right, but I'm a thrill seeker.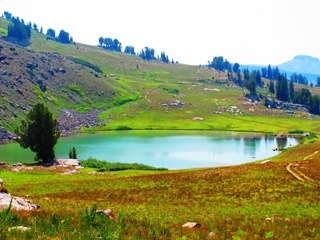 We ended the day in the Alaska Basin and camped on one of several Alaska Basin Lakes.  These lakes are why we all packed fly rods.  Unfortunately, no one strung up a rod.  We didn't see a fish or a rise and word is that the fish were frozen out last winter.  High mountain lakes are always unpredictable.  What a drag!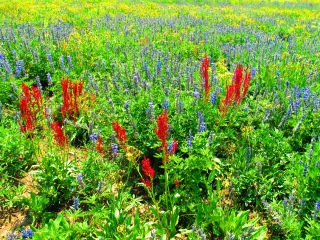 August 15
The hike out today took us to the Teton Creek Trailhead just east of Driggs, Idaho.  It was smooth sailing with much lighter packs.  The wine was gone, most of the food eaten and the hike was downhill most of the day.  The highlight for me were areas of incredible wildflowers.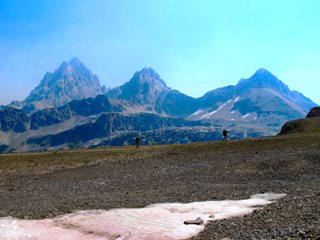 The older Granny and I grow the less walking for fish we do.  Honestly we end up in the boat more than we should.  I think everyone is guilty of this. Regardless of the lack of fish, I'm glad we got the backpacks on.  The change of pace was refreshing and the hike was no less than spectacular.  In fact it was so fabulous that Jess will let us know what next years expedition will be at our Christmas Eve party.  I'm sure it will be good.