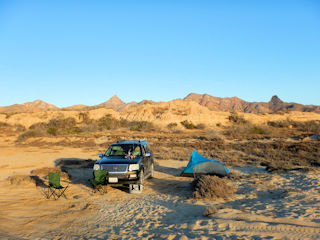 Granny and I woke up at our beautiful campsite on a remote Baja beach with high hopes of her landing a roosterfish today. Maybe even a big one. But as we finished off breakfast during sunrise the wind started. And this wind would be more serious than yesterdays.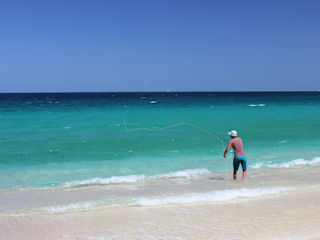 There were a few roosters around. I spotted her several before noon. Granny got down in the surf and did the best she could to present a fly. She made good casts but roosters aren't only hard to reach with a cast from the beach, but also finicky. Granny had a monster fish follow her fly to the rod tip but didn't eat. It was no doubt the most exciting fish follow of her life.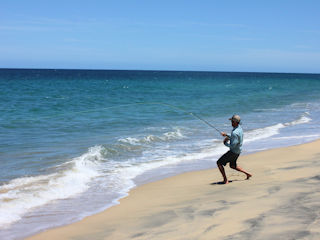 By noon the wind was so horrendous Granny decided to chill out again like yesterday afternoon. The rooster seeing went down the tubes. From noon till 2 not a one. The sand pelting wind began to settle by 3 but still no roosters. About that time a bait ball appeared and without thinking twice I ripped a Jason Burris popper over the top. That crazy looking fly, originally designed for a 2008 taimen trip, was soon zipping out to sea.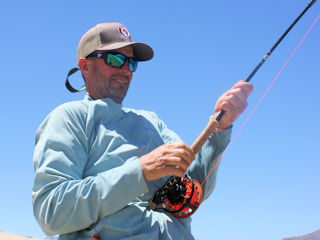 I was pretty sure what lifted from the bait ball was a Pacific jack crevalle. Roosterfish usually show their combs when they eat a popper and also at the beginning of every fight. This fish took off light lightening for the deep blue and it was all I could do to wrench him back in on my 9-weight Winston.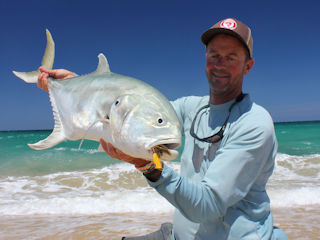 It's amazing what you can do with 25lb SA Fluorocarbon tippet. I heaved on this fish with all my might for the better part of five minutes and soon had Mr. Crevalle on the beach. This species of fish doesn't get the respect they deserve. I love them and always have. Today this big boy made the day!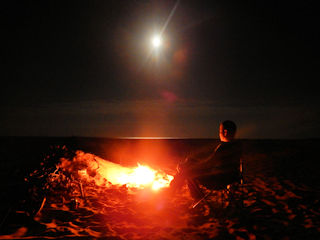 It was another one fish day for us and today not even a rooster. But anytime you pull a 20lb fish off the beach with a fly is a good day. Once again Granny made magic food from nothing and we sipped beers around the campfire. A full moon rose tonight. Life doesn't get any better than this.
We will fish this beach hard again tomorrow.