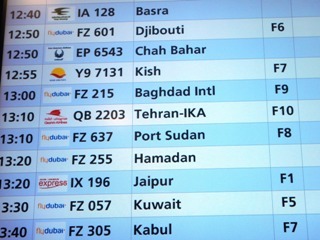 Mike and I relaxed this morning for the first time since we left the States.  We sat with Nick Bowles and visited over coffee.  I watched the play by play of the Cubs Cardinals baseball season opener on my computer.  It was Sunday night in the US and here in Dubai it was 5 AM.  This Cub fan has high hopes but today's game had the ever so often unhappy ending.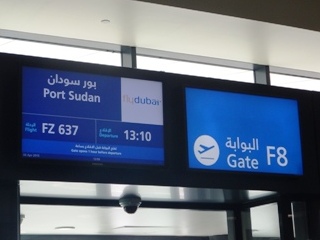 At 9 AM Nick took us to the airport to head for Port Sudan, Sudan.  Mike and I gave our Sudan Visas, showed our trip itinerary and passports and cleared entry requirements to Sudan.  The terminal for Sudan is wild for people watching.  The array of cultures in the same room waiting for flights to the most unheard of and heard of places is amazing.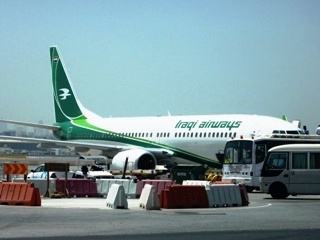 After we boarded our plane the pilot announced an hour delay because the radar was down.  We roasted in the plane before the good news that we were on our way.  Luckily during the down time, out my window the plane watching was pretty cool.  We were parked next to an Iraqi Airways jet.
We arrived in Port Sudan, Sudan at around 6 PM Sudan time.  Last year this place was total havoc but it was more organized today.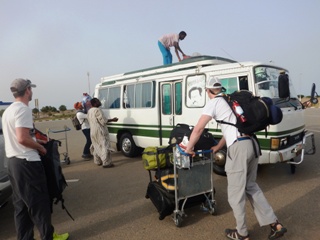 Once we made it through immigration an agent from Tourette – Fight it in Africa collected our passports and led us to a bus.  We loaded and drove north with a few stops for supplies.  At one of the stops I wandered out for a visit with the locals.  Despite what US news would like us to think, the folks here are as friendly as you can imagine.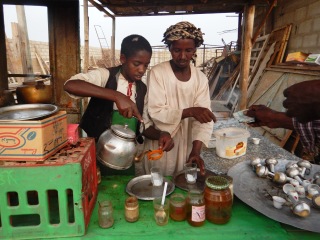 We headed north for three hours.  We went through a few checkpoints and half the drive was in the dark.  I don't like driving in the dark at home let alone in a place like Sudan.  We dodged a few camels and oncoming trucks with no lights.  It wasn't the least bit enjoyable.  Eventually we made our destination and were met by our boat staff on the Red Sea.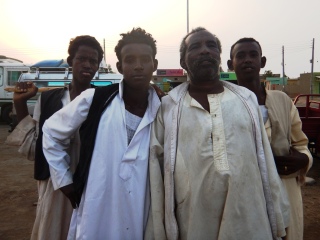 There are three other anglers on this trip all from South Africa, Andrew Early, Mike Murray and Conrad Botes.  They seem like great guys and this should be a fun week.  Once we were met we boarded pangas and headed to our mother ship which is an old but nice cabin cruiser named the Scuba Libre.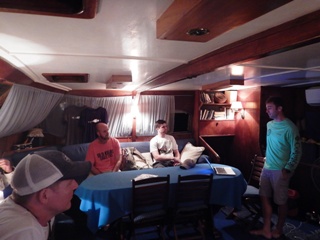 On the big boat my good friends Mark Murray and Fede Castignoli were waiting.  I met Fede here last year and Mark has been a main character on my blog both in Tanzania tigerfishing and last year in Sudan.  He's been a top guide for Tourette for several years and is making a career of it.  Mark and Fede will be hosting and guiding us this week on the Nubian Flats.
It's been a long day of travel once again.  Rather than sleep in the cabin below the deck, just like last year I've staked out the real-estate up top of our boat under the stars.  There's hardly a light in sight.