Double Trouble – Fly Fishing for Mahseer in Bhutan
Categories: Uncategorized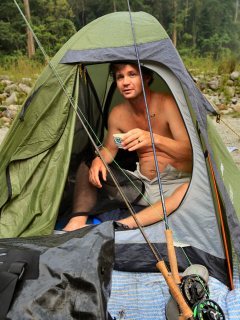 As suspected everyone woke up a bit slow today.  We had a big fun night around the campfire after a wild and sketchy day on the river.  Although we had a clear water tributary to fish it wasn't that great looking so sleeping in to a whopping 6 AM wasn't a big deal.  Plus, there's a small village nearby and we've seen a few locals wander down for water and we're guessing some illegal fishing on occasion.  They also came for a glimpse of their surprise guests.  To them we're like aliens.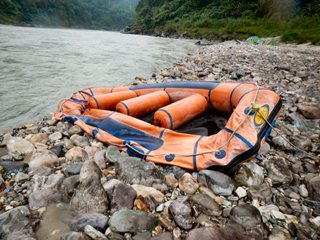 I noticed one of our rafts isn't doing so hot.  It's the one that gave us problems yesterday.  The crew was working hard to blow it back up and find the hole.  The river seems gentle compared to yesterday and according to what we remember from home and Google Earth, we have a very short float to where a large river enters the river we're floating.  Given the condition of the one raft and the short float, Dawes and I decided it was time to give our raft a try again.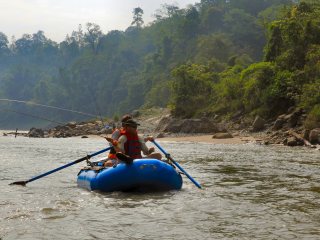 The float went well.  We floated down two miles of mellow current, so gentle that I broke out some casts as we went.  How cool would it be to learn you can catch mahseer floating along like you're brown trout fishing?  But, nothing happened so perhaps the method won't work.  Soon we arrived at the conjunction pool where our murky river met the other large river.  The other river was much clearer!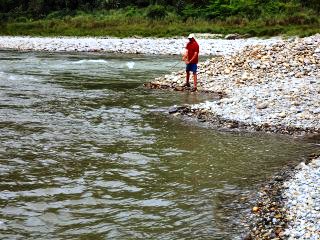 We beached the boats and everyone charged to hit the clear water.  So far every fish we've caught came from pools where clearer water enters.  Dawes and I tossed a few casts then decided to leave the upper side of the conjunction for Jon and Niel and float down and fish the other side.  We beached the boat below there and while Dawes retied his flies I walked up.  Visibility wasn't great because a cloud was overhead but as I peeked over the edge I swore I saw a large streak of glimmering gold.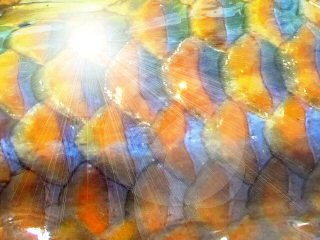 I threw a cast with my two fly rig.  I had the Warpath special as my point fly and a Kreelex as my dropper.  The second my fly hit the water the enormous streak of gold surged and ate the Warpath fly.  All hell broke loose!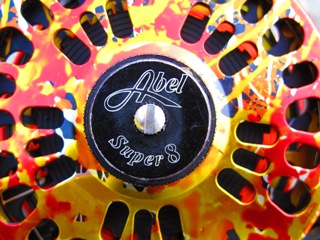 The spool of my Abel reel spun violently and my Winston 9-weight creaked because it was bent so firmly all the way down to the cork.  I had the drag so tight I constantly got pulled forward and had to dig my heels in for battle.  Dawes was walking my way and saw the havoc in place.  He dropped his rod and ran back to the raft to get his camera gear.  Several minutes passed and he was by my side.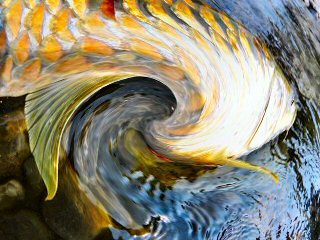 The golden mahseer went deep in my backing but like we've seen already, their not big fans of leaving the clear water for the raging river so I retrieved my Streamer Express back on the reel quickly.  After about eight minutes the fish seemed beaten and I started to muscle him in.  That's when the ***** hit the fan.  My second fly, the dropper Kreelex, was flashing in the middle of my leader, sort of going side to side as my monster fish made his final head shakes.  I could see it sparkle and that's when I saw a streak of gold again.  A 5lb mahseer attacked my dropper fly!
"Oh **** Dawes!  Another mahseer grabbed my dropper!  I've got a double!  This wont be good! I screamed.
And it wasn't.  The freshly hooked 5lb mahseer spooked the big mahseer and they both went opposite directions.  The big mahseer broke off – saved by his smaller friend.  A true disaster.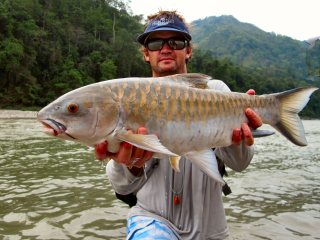 I landed the 5lb mahseer disrespectfully.  My leader was hashed and I was as upset as I've been fishing in a long time.  Dawes knows the feeling and he started to walk away to give me some "alone time".  I needed to re-rig so I told him to make a cast.  There had to be more in this pool.  On Dawes's first strip he laid into this fantastic chocolate mahseer!
Two big fish hooked and one landed all in a matter of fifteen minutes.  Dawes and I figured we had the pool of all pools.  We fished and fished it for hours and landed two more 5lb goldens and a small chocolate.  Then by lunch time it was obvious the big fish of this pool were on to us.  We had no more bites.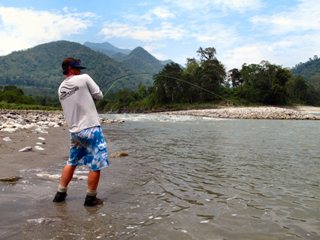 We had a nice rice and potato brunch and decided to camp here.  This would allow us an evening of fishing and an early morning.  Starting at around 4 we took turns working the hole which had now been rested all afternoon.  Each pass we made we all tried different techniques.  We were stripping fast, slow, jigging our flies and for the most part letting them get deep on our sinking lines.  Between Dawes, Jon, Niel and I, I'll bet we snagged and lost a dozen flies.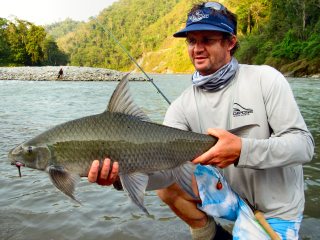 Our efforts were worth it however because Dawes hooked into another great fish.  This was not a mahseer although we were unaware of this until I scooped him up.  Let's just call it a mystery fish because I can't find a name.  Interestingly, I have met him before back in 2008 on the Ramganga River in India.  There, they called this emerald green carp/sucker like fish kalibaus.  Today our crew called it ther or a thed – not much help.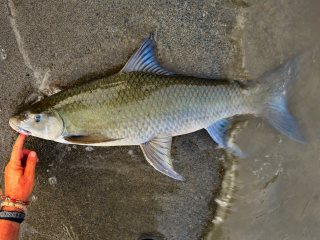 I can not find ther or thed on the web but I found kalibaus.  I'm not sold on the kalibaus on the web because he has barbells and I swear this fish Dawes caught did not.  Whatever it is, it's a spectacular fish and a great way to end our most successful fishing day on the float.
If there are any computer savvy Google wizards out there I'd love you to do some research and help Dawes and I come up with the name of this unique fish!