Another Exceptional Day Flyfishing in Kendjam Brazil
Categories: Uncategorized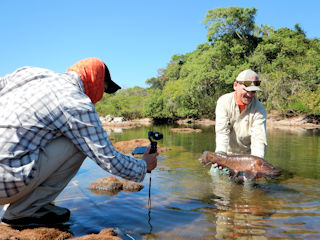 Today was our last day of filming with Rodrigo and Marcelo of Untamed Angling for a possible segment for the International Fly Fishing Film Festival.  Ben and I are only a small part of the clip and we did our part catching pacu yesterday.  This morning we both hung back behind the guys while they finalized some footage of Marcelo catching wolf fish.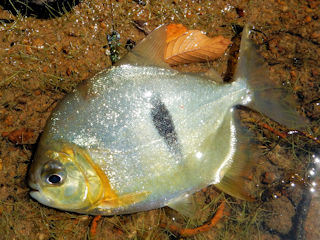 We did the entire morning on foot working our way upstream.  This is the exact type of fishing I love to do best at home.  For Ben and I it was tough because we were behind Rodrigo and Marcelo and the film crew.  This made it nearly impossible to capitalize on the already spooked larger gamefish like peacocks and wolfs.  So for fun I sight nymphed some nifty little exotics like this disk pacu (Myloplus schomburgkii).
The aquarium like fishes were tougher to catch than expected and I got so engrossed while trying for a smaller cichlid species that I nearly ended my trip being careless as to where I set my foot.  While backing up to sit on a rock to change flies I stepped on a freshwater stingray.  All stingrays in the Amazon have poisonous barbs in their tails and if you get hit – the trip is over.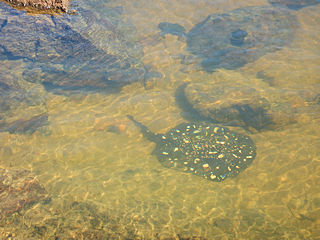 Though unlikely to cause death, the pain from a stingray is described as the worst in the Amazon.  I felt the squish under my foot and knew right away.  Somehow I escaped without getting hit but I felt the tail graze my calf.  Luckily I was protected by my Simms wading shoes and a very high riding wading sock.  My heart skipped a few beats and I sat on that rock for a long time catching my breath.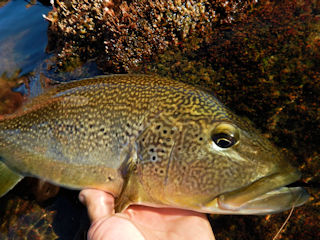 Eventually Ben and I caught up with the filming and they were finishing up.  This was the beginning of getting serious as they say.  The cameras went off and Ben and Marcelo worked up one side channel while Rodrigo and I fished together up through a rapid and proceeded to knock the heck out of some nice peacocks.  All the small peacocks in this area, though not a different species, had this gorgeous spot pattern and backs with vermiculation like on a brook trout.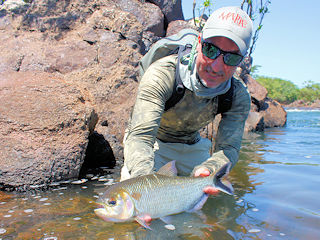 Rodrigo and I also had a nice run in with matrinxã.  I've taken a few this week but this particular rapid had a school of nice ones that literally hit the fly when it hit the water.  These silvery omnivores are one of the great kept secrets on the fly of the Iriri River.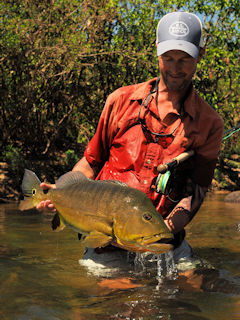 At the top of the run in the tailout I got my surprise of the day.  This type of water is more like a steelhead run but of course I tossed my fly while walking up to more promising looking water.  I didn't even make a strip and a huge peacock shot out from a boulder and devoured my fly.  This was the hardest fighting fish of the trip yet and he smoked me to mid river and touched my backing to the tip of my rod.  It was a grunt for the next few minutes but I landed this peacock of 11lbs – the largest of this species so far.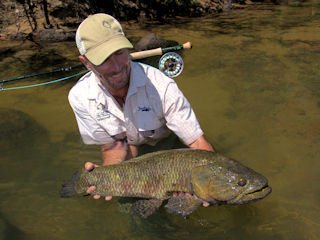 Funny how things happen.  While the guys were shooting photos of my big peacock Rodrigo spotted the tail of a wolf fish sticking out of rock right where we were working.  Ben put the camera down and grabbed my Winston with the same fly I caught the peacock on and danced it down deep.  This trairão shot out like a lightning bolt and in a matter of five minutes and ten feet apart we landed two great fish!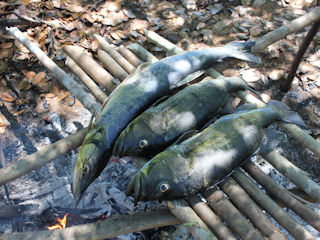 At lunch we put the final touches on the film with interviews.  Mine was short and I simply talked about the great fishing here in Kendjam.  This place really has blown my mind so far.  Once done we ate a favorite of mine – fresh peacock bass and a bicuda to try.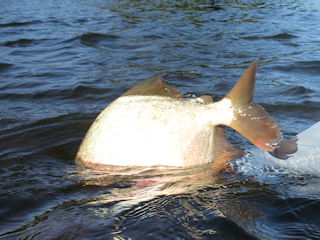 There wasn't much time left in the day.  Ben and I went to a pacu run to finish up with some Chernobyl's.  I've been doing well with the pacu until late this afternoon.  I had about eight eat my fly and only landed one.  A pretty rough stretch that happens to the best of us.  I'll get em tomorrow.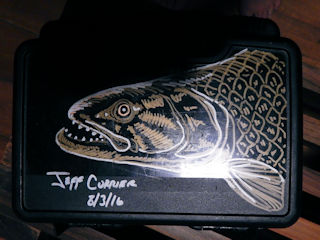 It got out that I'm an artist amongst the staff here at Kendjam.  I drew a payara on a dry bag, several fish on phones and the head of a wolf fish on Rodrigo's fly box.  It's another fun day in the books.  Tomorrow morning Ben and I are going out early with Augustin to try for some payara.
A special thanks to my friends Rodrigo and Marcelo of Untamed Angling for making this incredible journey possible.  If you too would like to experience a similar trip to Kendjam feel free to contact me.