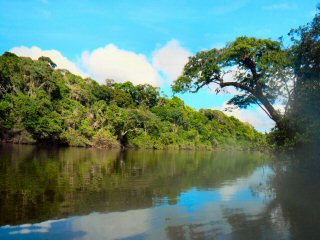 At dinner last night Matt Breuer announced that today we'd be hiking 30 minutes into the Caiman Pond.  The significance here is that Caiman Pond is the best arapaima location Rewa Eco-Lodge has discovered.  More than half the arapaima caught since this fishery was revealed came from here.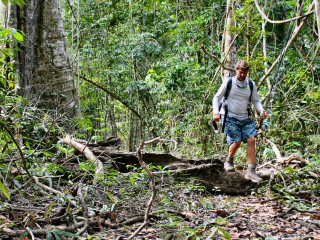 Caiman Pond is in fact the place where my partner this week, Tim Brune, caught both his arapaima last March.  He told me long before we left Victor that if we were struggling at all on this trip, Caiman Pond would produce us our arapaima on the fly.  This is all good news but the pressure was on.
Upon arrival at Caiman Pond the name was obvious.  From one side to the other black caiman lurked.  All sizes, facing the same direction waiting for an easy meal.  There were hundreds of them.  If it was your first time around these intimidating reptiles you'd undoubtedly be freaked out.  But my experience is they always move away and there's nothing to fear from the boat.  Amongst the caiman were numerous rolling arapaima.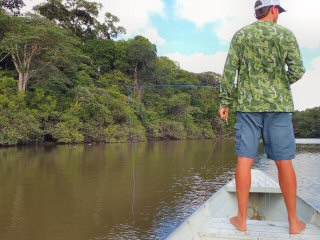 Tim wants me to get my arapaima out of the way so he generously gave me the bow first.  It was already scorching hot and as I yanked fly line from my big F1 reel to get ready, it kept slipping through my sweaty hands.  I dried them on my shorts the best I could but no doubt, clenching the line and driving a hook into the rock hard mouth of my first arapaima wasn't going to be easy.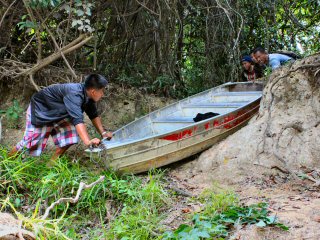 Jim and Alex were in the other boat.  These are the same boats we used yesterday at Grass Lagoon. The kids from the nearby village make a small amount of money dragging the boats through the jungle all the way to these back county ponds.  The boats were ready when we got there.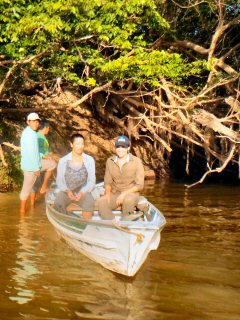 On shore the Scientist crew Dr Lesley de Souza and Jaclyn Mellini patiently waited.  This is the first time they've followed anglers around to catch arapaima for tagging.  In the past they've netted them but I it's a major rodeo because of numerous other species to deal with.  By now they had to be wondering if we were ever going to catch a fish for them to tag.
Things looked good.  I didn't go five minutes without an arapaima to cast at.  But after 45 minutes of laying my brightly colored peacock bass imitation in front of many without an eat, ideas of a fly change crossed my mind.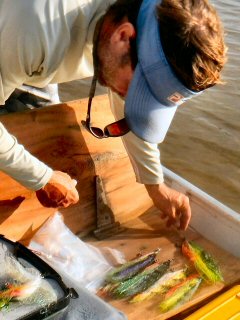 Tim took over.  I looked in my fly box.  My colorful 7/0 Warpath fly I'd been fishing since day one is a work of art.  But it was time for a change.  I needed the opposite.  I went with a no name fly that was darker and smaller.
Tim too presented his fly in front of arapaima continuously without a strike.  I voiced my thoughts about a darker fly and he agreed and tied one on.  It didn't take long for him to get the first strike.  Sure enough, at 10 AM it happened.  Tim stuck one solidly.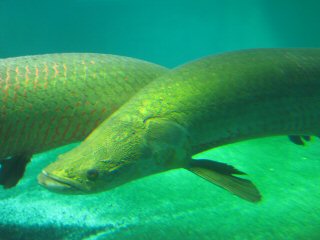 Arapaima must be gliders.  What I mean is, I picture them taking the fly head on, clamping down and then continuing to glide towards you.  You strip set like mad but regardless of how hard you strip set you have trouble getting tight because the fish is still coming towards you. Meanwhile your fly sits lose in the monster fish's mouth.  If you're lucky he finally turns and that's when you get tight.  Sometimes you stay tight because you strip set at the exact right time and catch a soft spot.  Realistically however, most of the time the arapaima opens up and the fly pulls out without ever hooking any part of the boney mouth.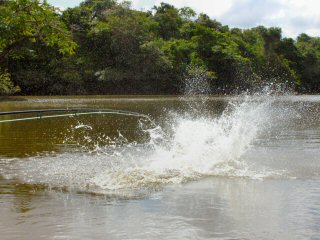 Once you hook up hang on for dear life.  This eel-like fish isn't going to fight you long, but his burst of strength is one where the 12-weight feels under gunned.  The surge of power takes all the fly line then the heavy weight contestant puts all his energy into a jump.  About half his body leaves the water and crashes down with the largest fish jump splash you will EVER SEE IN YOUR LIFE!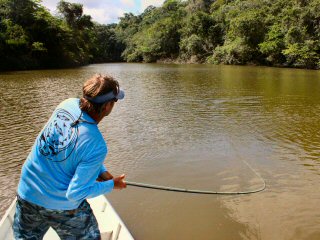 By now he's on the reel and with your straight 100lb test leader you heave and gain back the line as fast as you can.  These lagoons are littered with fallen trees and numerous other tangling dangers.  Don't give these fish any more chances than they need.  Tim put ten minutes of relentless pressure on his arapaima and soon the bizarre fish was towed to the shallows.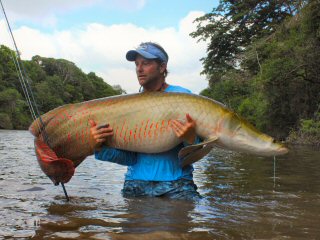 Out hopped our guides and thanks to years of experience they quickly contained the fish.  As the guides held on, Lesley and Jaclyn waded to the excitement and took length and girth measurements of the 65" fish, implanted a tag and took a blood sample from just behind the elongated dorsal fin.  Then Tim reluctantly got in the water for what turned out as amazing hero shots – the arapaima skunk was out of the boat!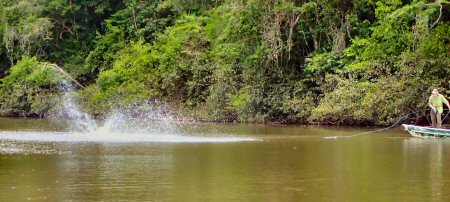 As we headed back out the other boat hooked up.  Jim was on a big fish of his own.  Unfortunately you can't see the fish, but again, the splash is one to remember.  Jim's fish measured 66".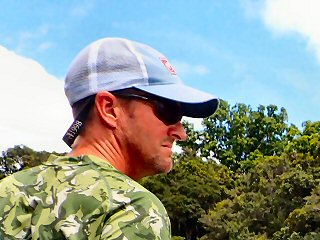 It was my turn and I was determined to make it happen.  But the more you want something the harder it can be.  My casting could have been more precise and my concentration didn't seem at its best.  And when I finally got that memorable touch, so light it's hard to believe it comes from a monster fish, the line slipped on the strip set.  How could this be happening I thought?  A half hour later I got hit again and despite three or four good jabs my fly pulled free.  You can only imagine the frustration.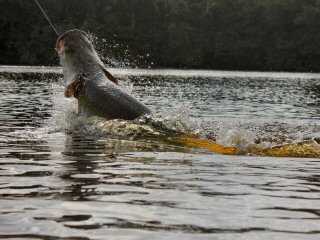 The third time seemed like the charm.  I did as a major leaguer and slowed the game down.  I felt the touch and watched my hands not the fish.  I concentrated like my life depended on it.  I watched my left hand grab the line from below my stripping finger and struck as hard as I could.  Then I reached back up again and again.  Finally I came so tight I couldn't pull anymore.  The fish ran and loose line bounced off the deck and through my guides.  I made a few more hard jabs sinking the hook even deeper.  As the backing to fly line knot entered the rod my arapaima leapt and to my dismay, the fly and line sprung back at us.  Another one lost.
The lunch time brews weren't as tasty as they normally are.  I couldn't get the image of my loaded fly line and fly zipping back at me.  And then that Volkswagen sized hole in the water with droplets thrown so high it looked like rain.  But I had to keep my confidence and go right back out there.  The arapaima wasn't going to be a nemesis fish for me.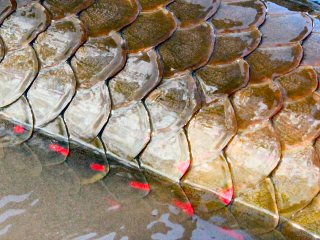 If you've read this blog over the years then you know what happens next.  Only minutes on the water after the lunch break, with the pressure heavy upon me, I cast to a fish with scales the size of the top of a coke can.  My fly landed in front of his face and he engulfed it.  I went tight and knew on my first hook setting jab that I'd connected.  I went on to jab a few more times then waited for the jump.  But my line hardly went out and there was no jump.  No jump and not much of a run from a fish that normally does both usually means one thing – the fish is disgustingly huge.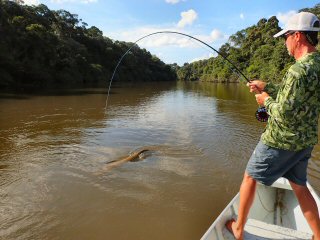 With full confidence in my knots and tackle I reefed on the fish (may have been the other way around) furiously.  The idea with any fish is get him in fast to limit his time for escape and also so the fish won't be too exhausted for release.  In less than five minutes I had him just off the bow.  The water is murky so I didn't see him until I lifted my tip high to get him up (I was no way reeling my line to leader knot in my rod).  When I saw him I couldn't believe my eyes.  How can a fish this big be from freshwater?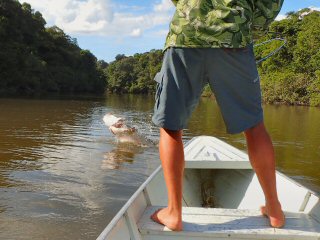 The grandfather arapaima didn't like the surface.  Surely the sight of me meant death and he looked me in the eye and thrust his heavy body to the air.  He didn't even make it half way out but I can tell you it was uncomfortable to be standing precariously a rod length away.  If he propelled his 200lb body my way I'd have two broken legs.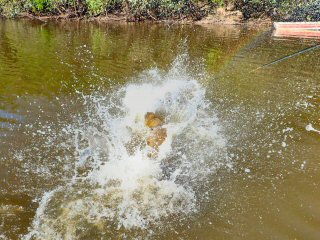 I got several more short runs and two more jumps.  I felt the arapaima tire.  We thought we had him and the guides back paddled us towards shore.  In turning the boat the fish obtained an advantageous angle and shot completely under the boat and back out to center lagoon.  My Winston passed the test of all tests and survived the angle and pressure.  I shoved my entire rod and arm under the boat and worked my way around the bow.  The fish exploded so viciously the splash formed its own rainbow! It was a tense moment but once there I regained control.  That was close!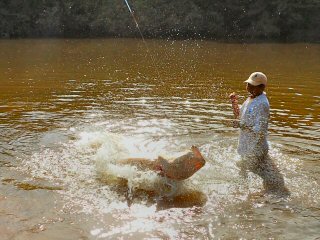 When we got the fish to the shallows it was evident how huge it was because everyone lost their mind.  First of all, one of the boat draggers ran out to help.  A guy with not nearly the experience of the guides.  He lunged at the arapaima only to be nearly taken out.  If you take a shot in the chest from a hot arapaima say goodbye ribcage.  You'll look and probably sound like an accordion.  After that mishap everyone joined in and it was complete Circus O Lay.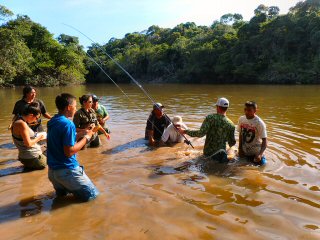 Miracles happen all the time in fishing and this fish got landed.  I'm serious, so many hazards available to this fish yet he stayed on.  He didn't tangle around someone's leg and breakoff.  He didn't leap into someone's face or break someone's leg.  But it was a rodeo I hope we don't repeat again.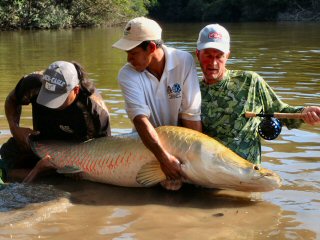 After Lesley and Jaclyn got the tag installed and a blood sample I was allowed near my fish.   Unfortunately the chaos continued and this is the best photo we got.  The 79" long with 40" girth arapaima was simply too much to handle.  As I settled in to position for a couple quick photos the arapaima exploded violently and got away.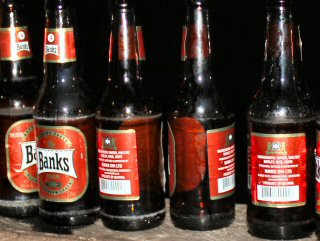 I think more so than a "hero" shot I just wanted to be that last to touch that incredible creature.  I wanted to release him.  I'll make a wild guess – this fish will be the largest of my entire life.  But you can't always have it the way you want and I can add an amazing species to my list.  Today I'm the luckiest man on the planet.
The only one not to catch a fish today was Alex but he doesn't seem to care.  We rocked one heck of a party at camp tonight under the near full moon.  It was fun.  Things are good in Guyana.