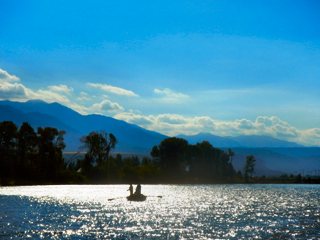 When I got home tonight Granny started to tell me something and I interrupted her to say – TODAY was the best *** streamer day on the South Fork I can remember.  I was amped.  I caught three fish over 20 *** inches!  And it's true.  Gary Eckman, my One Fly Captain, took me on another One Fly practice guide day with Zach Peyton and we had a truly epic streamer day – EPIC!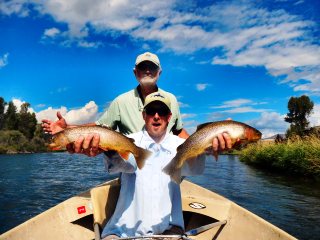 My normal streamer set up includes the Scientific Anglers Intermediate Sinking Stillwater fly line and three flies attached to straight 0X Flouro.  In the One Fly you aren't allowed a sinking line and obviously not three flies so I thought it was a good idea to practice with a floater and one fly.  It's a hard thing for me to do and as I made my first few casts and watched that floating line land softly and then only one fly plunk I couldn't stand it.  But that changed quickly as I hoisted in three nice cutthroats and a huge cuttbow in the first five minutes.
To say the fish were on the streamers would be an understatement.  Everywhere there should be a fish whether it was an undercut grassy bank, a woodpile, a gravel bar or a drop off – there was.  I honestly don't think the fly color mattered.  I tried light ones and dark ones and they all worked. And they didn't just follow or take a quick swipe at the fly; they crushed it almost every time.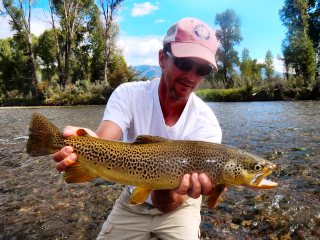 The biggest fish was this brown trout.  Pictures never do a fish justice but trust me, this was a beaut.  Other fish worth mentioning were two slab cuttbows that were so fat they looked to be about 18" but the truth is they were more like 20".  You can see one in the photo of the next paragraph.  The smaller fish is a nice cutthroat but he doesn't look so great next to the beast.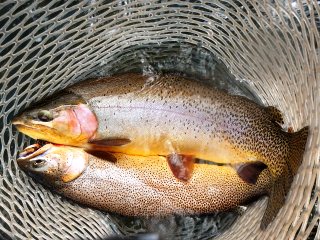 I was actually hoping for more of a less than average day of fishing today.  Sounds like a strange thing to hope for but I never like to destroy it just before a tournament.  If you have a day like today in this weekend's Jackson Hole One Fly Contest, you win.  I wanted to save such a day.  But it happened and I'll do my best to repeat on Saturday and Sunday during the contest.
Tomorrow is practice day on the Jackson Hole side of the Snake River.  It will be my first time on the Snake this year as I simply have not had the time to get over there.  I don't plan to fish too hard as I want that "subpar" day under my belt to make room for a dandy this week.  Ahhhhh the superstitions of we anglers.