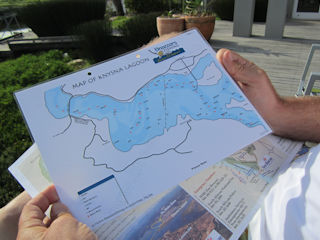 Granny and I awoke to a spectacular morning here in Knysna, South Africa at our friends Craig and Coreta Smiths house.  It's nice to be here for many reasons but the first that crosses my mind while in the Southern Hemisphere in November is that while the days are short and wintery in Victor, Idaho they are long and summery down here.  This brings a big smile to my face as I sip my coffee outside in shorts and t-shirt under sunrays at 6 AM.  Today Craig took us on Knysna Lagoon in search of Garrick (locally known as leerie) and the elusive spotted grunter.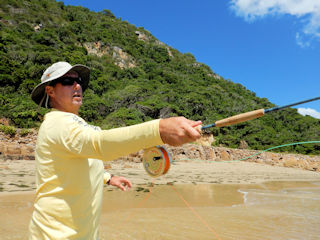 I mentioned yesterday that Craig and I met fishing in Egypt.  Craig is a well-travelled fly fisher and fished all over the world but admittedly doesn't spend enough time fly fishing his home waters.  This being said, Craig has his own boat and knows where the fish live.  His targeted fish today was the queenfish-like leerie that can reach huge sizes that call for the 12-weight.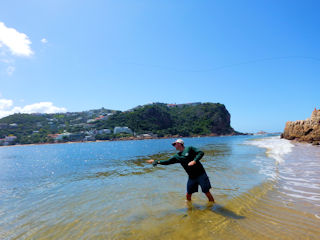 My rod of choice was the new 9-weight Winston Boron III Plus Jungle Rod.  Although not a jungle situation, I played around with the rod on the flats a couple weeks ago and loved it for the bonefish.  I rigged up Granny with my 7-weight, a Scientific Angler WF7F Bonefish Taper line and a Clouser.  The three of us chucked flies all morning on gorgeous looking water just in the lagoon between what they call the Heads but had no results.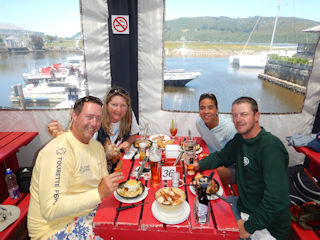 By noon we worked up an appetite and boated to the Knysna waterfront and met Coreta at a restaurant called Tapas.  Seafood is as fresh as can be here and very reasonably priced.  We crushed some lobsters and more calamari and a heap of slop chips.  And of course this is vacation so we washed the delicious meal down with a few Black Label South African beers.
After lunch we went right back to our fishing and we still couldn't buy a fish.  There are lots of shore anglers here and honestly we didn't see the first person reel in a fish until about 4 PM.  It was exciting enough that Craig drove us by for a look and to my surprise it was a bluefish which here they strangely call them elf.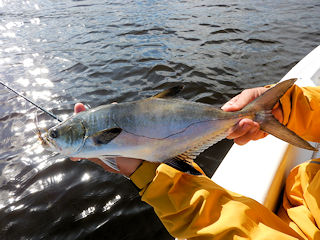 As you guessed we didn't give up casting till the bitter end.  Craig has a friend that recommended one last spot to try for leerie.  By now the wind was howling and the temperature had dropped to the low 60s.  The three of us were underdressed.  As we pulled up to the spot we saw some feeding fish boiling.  I got my Clouser on them fast and hooked up to my first leerie and ended up with three of the feisty hard fighters.  They were by no means of size worth mentioning but for us it was a good tug and a new species to add on my species list.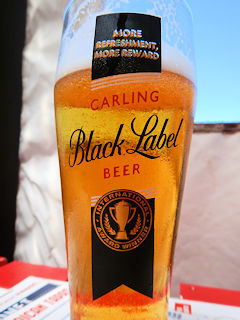 Day two always causes me the worst jetlag.  Fishing allowed me to fight through the day but afterwards Craig took us to watch the sunset at Brenten Blue on the Sea.  I drank another Black Label and despite watching a whale it was a struggle to keep the eyes open.  From there we returned home and we just finished up an incredible meal that Coreta made for us and poured through two bottles of fine red wine.  I suspect tonight Granny and I shall sleep like rocks.