August 22, 2017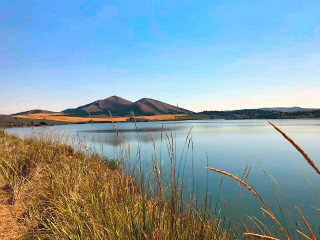 It was early to bed early to rise after the Total Solar Eclipse yesterday.  Then today Granny and I took the family to Blackfoot Reservoir for a night of camping and carping.  For years this annual camping trip has steered up the Gros Ventre River but I felt it was time for my nieces and nephew to see what a big fish looks like.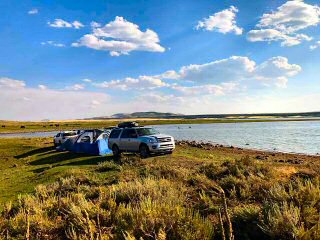 It was the usual, a beautiful August day.  There was hardly a cloud in the sky.  The temperatures hovered in the high 80°s all day.  It was perfect for carp however the past few days must have been windy at Blackfoot Reservoir.  The water was extremely off color and it was impossible to see the fish or even their feeding mud trails.  Our only option was to fish blind and hope.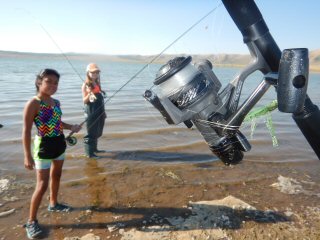 The kids have their own fly rods.  Ely has a colorful 71/2' blue rod and the girls have the same in pink.  But these rods have no chance conquering the pull of a Blackfoot mirror carp.  This meant I provided the gear.  Because I was essentially guiding four kids (it ended up only three because my 15 year old niece wasn't into it), I was a bit nervous having four Winston rods rigged.  Instead our arsenal included only two Winston's, a 5- and 6-weight along with a spin rod.  I thought the spin rod would be great for them but instead they tangled the line beyond repair.  I guess this was their way of saying. "We don't like spin fishing Uncle Jeff!"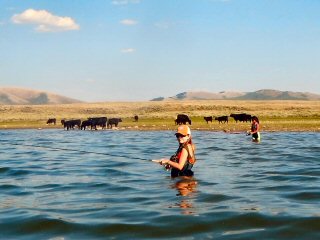 Carping with the fly can be slow and in no time Ely dropped out.  It was just the girls, 10 year old Sierra and 13 year old Montana.  They both have a life history of never giving up when it comes to fishing.  Hours went by without a bite.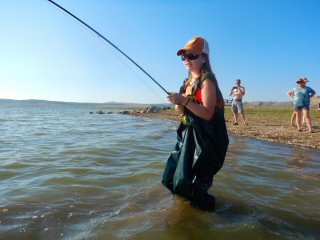 But then, as it always does, it happened.  Who cares if I was the one casting and stripping, the girls were wading by my side when the small carp struck.  I handed the rod to the nearest niece which happened to be Montana.  The fight was on.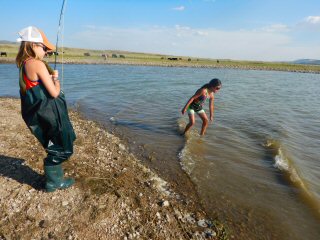 If you haven't caught a carp on fly yet I'm not sure what you're waiting for.  The fish species snobs are really missing out.  It took the girls a mere 15 seconds to ask "Why don't we always fish for carp Uncle Jeff?  This fish is huge!"  After about five minutes of coaching I stepped from the water and asked Sierra to help Montana land the carp so the mirror carp could be their prize together.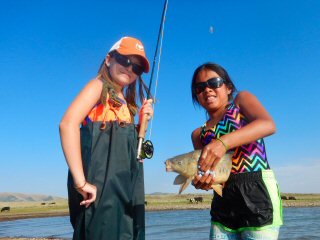 The young ladies would fish together deep into the evening.  I let them do their thing which included falling in the mud and undoing tangles.  But you need to learn some things on your own.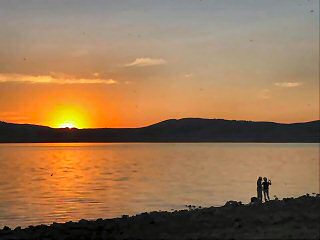 We adults settled into our camp chairs and beers just fine.  My brother enjoys his campfires so he tended it with the same enthusiasm I have walking a saltwater flat.  We ended the great day with a feast.
August 23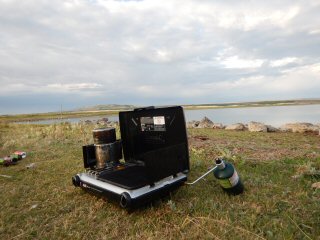 I sprung from the back of our explorer early this morning.  I was surprised to see thick clouds and rain to the south of us.  Knowing my family was leaving after breakfast I prepared some early morning coffee then woke Sierra and Montana for fishing.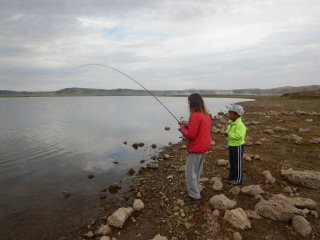 More surprising than the rain were the trout feeding voraciously on emerging Callibaetis.  I quickly rigged a size 6 Grand Hopper like it was an indicator and put a gray Hare's Ear Nymph three feet below and stripped them at a snail's pace.  I stuck a couple and handed the rod to the girls but they never got one all the way in.  Then out of the blue, a monster mirror carp ate the Grand Hopper!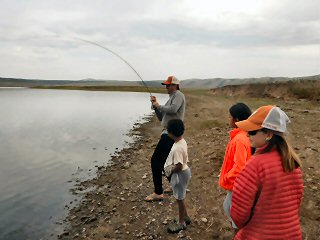 I like handing over the rod to the kids but it took me a half a second to realize the kids were no match for this fish.  My fly line sizzled off the reel fast followed by 50 feet of backing.  So fast I had to slap myself – where am I?  Then it was all I could do to hoist and turn this beast back towards shore.
The kids were asking for my Winston.  Sierra had waited so patiently to reel in a carp like her cousin Montana did last night.  But I made a decision – this fish had to be landed so the kids could see what a big carp looked like.  We were running out of time.  I kept the rod and told Sierra she was in charge of grabbing the golden fish and carrying him up the beach when the time came.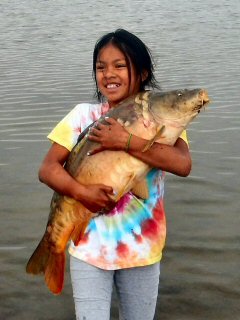 From my hopper to my nymph was 3X Scientific Anglers Flouro but to my Grand Hopper was 0X.  0X is amazing stuff and it was time to put the heat on Mr. Mirror.  In less than five minutes on my 5-weight Boron III I had the giant carp grounded on his side.  One nice thing about Sierra – when you ask her to do something she gets it done!
I made the right choice being sure to get this hefty carp in rather than let the kids have at it.  No doubt they were in awe that such fish exist in Idaho.  After some fantastic photos the kids up righted the carp in the shallows and gave him a nudge.  Seconds later all three were doused by the rooster tail the massive carp left on his return to Blackfoot Reservoir.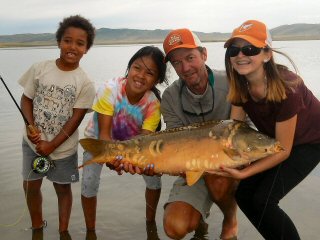 It was mission accomplished.  The kids got to see a spectacular creature they are sure never to forget.  After the family left Granny and I hoped to fish ourselves but the rain came and that's useless for sight fishing carp.  We headed home.
I'm not sure if I'll get out again this week.  As usual, I be packing.  Next week I'll head for Costa Rica to be part of an amazing Castaway Films project titled – Atlanticus.  Stay tuned for what is sure to be another action filled week of blogs!