Indian Summer Lake Trout Fishing On Jenny Lake
Categories: Uncategorized
I struggle with self-employment in October.  This is the best time of year to fly fish my home waters.  Furthermore, this week we're having one of the nicest Indian summer weeks of all time with temps in the 70°s.  Today I said screw work and headed to Jenny Lake in Grand Teton National Park with Josh Gallivan and his photographer pal Ryan Sheets (enjoy Ryan's photo below and be sure to check out his website!).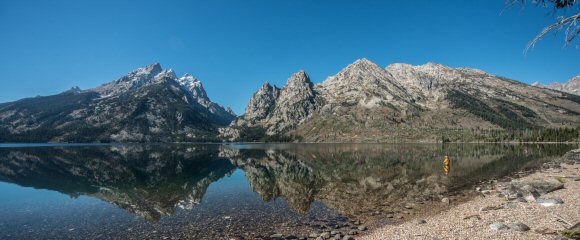 Most fly fishers hate lake fishing for a lot of reasons but I think it's because of wind.  I like at least some wind otherwise the fish are far too spooky.  But today was the average anglers dream.  We didn't have one ounce of wind the entire day.  Jenny Lake was absolute glass.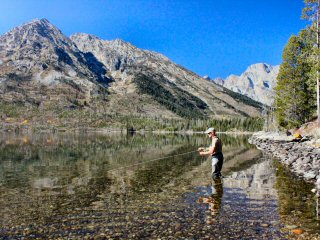 We could have fished from Josh's boat but its lake trout on the fly season.  I prefer to fish fall run lakers from shore.  This time of year the fish are in close.  We slipped into one of my favorite areas and sure enough there were lakers patrolling the shoreline. We could see them plain as day with the undisturbed surface.  And sure enough, they were extremely spooky.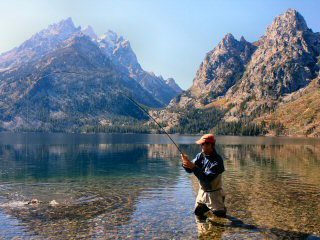 We arrived at 10 AM and for the next six hours we cast to cruising lake trout.  Actually, they were so spooky that we had to cast out when no fish were in sight then wait till we saw one.  It was tricky because sometimes you waited too long and got snagged on bottom.  When everything worked you could strip your streamer, or in my case, hand-twist my nymphs to them.  The method didn't work every time but by the end of the day Josh and I landed about 25 fish.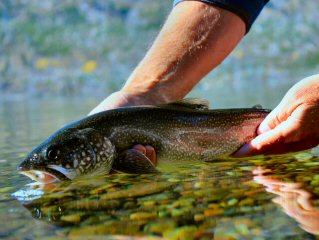 While all of our lakers were small as far as lake trout go, it was still great fun.  We'll never know what the deal is, but we see hundreds of these tiny 18" lakers and a few that look to be around 25".  Seeing and casting to a real trophy is rare.  That being said, Josh and I chased three different big ones that I'd estimate in that 12-15lb range (still small for Jenny).  They were awesome fish and evidently much smarter than we are.  We each caught their attention a couple times but to no avail.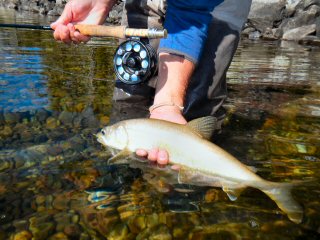 One of the most interesting fish of the day was this very light colored lake trout.  When I saw him swimming I thought that I might be seeing some freak albino cutthroat or something.  But nope, he's just a freaky pale laker that has somehow survived even though he stands out like a sore thumb to every eagle in Wyoming.
Granny and I have fresh lake trout for dinner tonight.  I rarely kill a fish but the lakers melt in your mouth and there's plenty of them.  In fact they are so delicious I just might had back to Jenny again this week!