Flight Layover Leads to Flyfishing Key Biscayne
Categories: Uncategorized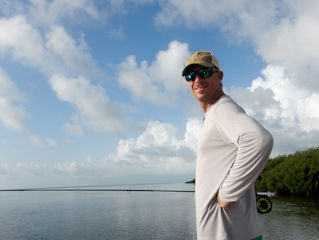 I arrived in Miami last night around 10 PM and began the 18-hour layover before heading for Brazil today.  After collecting my luggage, I tracked down my friend and partner on this trip, Ben Furimsky.  Ben has never been on the blog because despite being friends we've only worked together and never fished.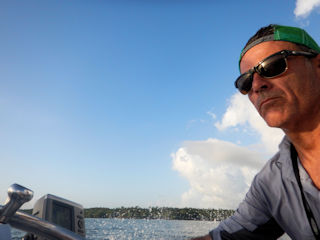 Ben runs the famous Fly Fishing Shows where I present numerous of my fly fishing seminars during the winter months.  Ben was finishing up dinner with our mutual fishing guide friend Martin Carranza.  It turns out Martin generously volunteered to take us fishing for a few hours before our flight tomorrow (similar to my layovers in Dubai on my way to Sudan or Seychelles).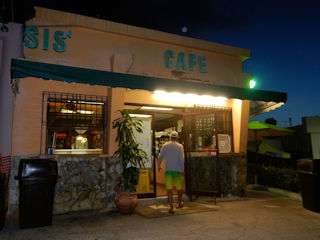 6 AM came early.  For Ben and I it was like 4 AM with the time change and that's after a long day and a late night.  But like any fishing day, once I get the coffee going all is good.  And Martin indeed got us some good coffee at a tiny hole in the wall Cuban café.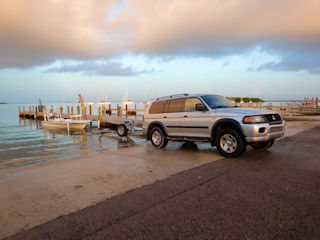 We launched Martins Beaver Tail skiff into Biscayne Bay.  Of all my trips fishing in Florida this was my first time here.  It was a calm and peaceful morning despite being before the huge city of Miami.  While the highways were clogged with traffic, Biscayne Bay was void of much human life.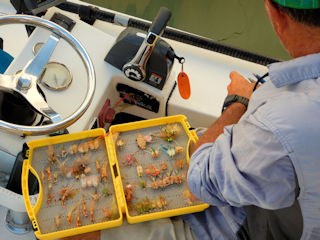 Martin fired up the engine and after fueling we headed out.  Like any guide he stopped almost immediately and had us poke a few blind casts in a sand divot along a beach for bonefish.  Martin picked out a slick little bonefish fly and Ben tied it on.  I think it was the usual old "lets warmup my dudes for the day and see if they can cast".  Nevertheless, it was fun to loosen the casting arms.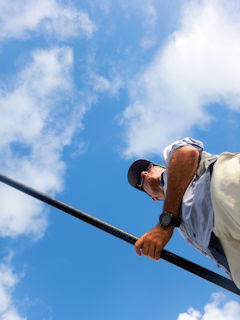 Minutes after the first casts Martin said let's make a run.  We traveled fast for about a half hour and came to two islands and a strong current from the dropping tide dividing them.  Martin poled us straight into the current and through the cut.  We came to a beautiful sand flat and I got several casts at bonefish that were right up there with some of the biggest I've ever cast too.  Unfortunately, they wouldn't cooperate.
I know when it's time to pass the rod so I asked Ben to take the bow and dove into my morning sandwich.  I hardly took a bite before Ben was dropping a cast a mere 25 feet to 11 o Clock.  "There he is", shouted Ben.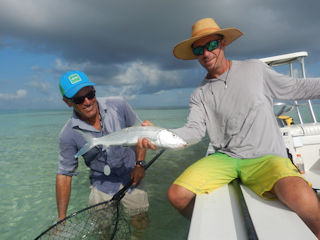 It was just that easy for Ben.  Once cast one bonefish.  Although not a Biscayne Bay lunker the silvery torpedo bolted off most of the fly line before Ben turned him to us.  Soon Martin had the pretty fish to the net for a classic "flight layover catch".  Life was good!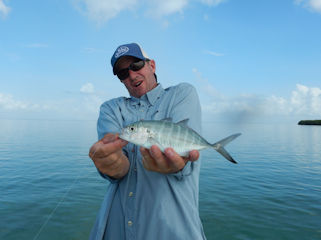 I got back to the bow and had one more good shot at a school of big bones.  They were close before we saw them and although my cast looked decent I made one strip and they all took off for the deep.  I may have been stripping too fast or perhaps they sensed the boat.  Regardless, my bonefish magic didn't work out so when a school of blue runners began to terrorize pilchards within my casting range I plucked one off just for fun.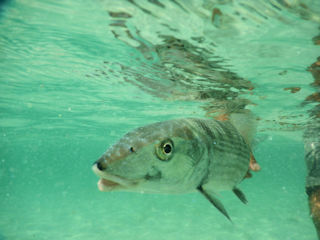 We ended the perfect morning on the flats with shots at baby tarpon but had no luck.  It may have very well been too calm by that time.  Calm enough that the fish were on full alert.  At 11 AM we headed full throttle back to Key Biscayne.  Ben and I collected our bags and went to the Miami airport smelling like fish.  We checked into our five-hour flight for Manaus Brazil on time.
That's how I like to do a layover.  Ben and I are presently 37,000 feet over the Venezuela Brazil border.  We land in Manaus in about an hour than its to the Tropical Hotel for a short night of sleep before an early morning charter flight to Kendjam.  The next post should be full of cool looking peacock bass and other exotics!
A special thanks to my friends Rodrigo and Marcelo of Untamed Angling for making this incredible journey possible.  If you too would like to experience a similar trip to Kendjam feel free to contact me.