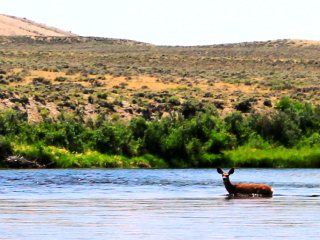 July 2 & 3, 2013
The camping, the wildlife and the scenery are equal to the actual trout fishing for Granny and me these days.  What I mean is if fishing is great but a river is crowded with boats, we'll leave that for those who don't fish as much as we do.  If a river is fishing mediocre and there's few to no other boats, we go.  We really enjoy a river to ourselves.  That's why our annual two day float on the lesser known ordinary fishing Nunya River is our favorite trip of the year.
We generally head for the Nunya in mid to late July.  But water levels are lower than normal so although early, this week seemed ideal for our float.  We planned it a week ago and wouldn't you know, Monday the water levels spiked everywhere due to this tremendous 90º heat we are experiencing.  So much that a friend of ours that lives close to the Nunya warned us our float could be a complete bust.  We decided to go anyway.
July 2, 2013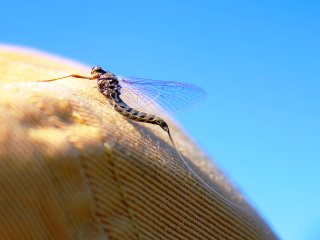 We camped at the boat ramp Monday night and pushed off Tuesday at 7:20 AM.  Temps were already warm and swarms of gray drakes buzzed over head.  Granny jumped a 17 inch brown on a Chernobyl within seconds of starting but then we went a half mile without a strike.  That's when I spotted a nice head break the surface and dropped the anchor.  I handed Granny her 9' for 4-weight Ross Diamond with gray drake parachute attached.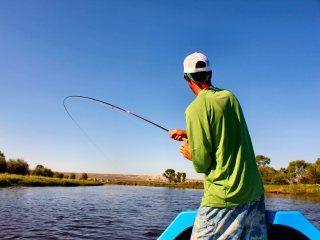 Granny can twitch a Chernobyl like no other, but presenting a smaller dry across fast current to slack water to a rising fish from an anchored boat is a different story.  She had a lot of trouble getting the right drift and when she finally got it and the fish ate, she stung him only enough to send him on his way.  Then I got up and lost not one, but two good fish after short battles.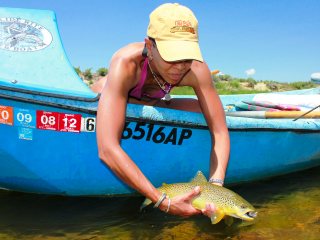 The fish were there so it was time to concentrate.  Granny went back to her double Chernobyl rig and in the next good place she nailed this dandy brownie.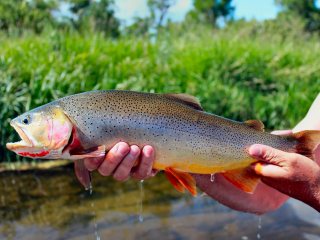 Despite the scorching heat, our fishing remained steady all day.  We landed five respectable brown trout up to 18" and this thick bodied cutthroat.  I caught this cutthroat on Grannies 4-weight and it was one heck of a skirmish.  Cutties rarely jump but this boy hit the air when I hooked him and then he smoked me down stream.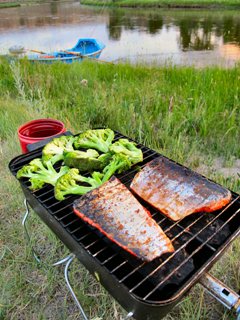 We pulled into one of our favorite places on earth at about 8 PM.  We put up the tent minus the rain fly.  We wouldn't have put it up at all if it wasn't for a good bunch of feasting mosquitoes.  Then as always, Granny made a meal that would beat any dish from a restaurant in Jackson Hole.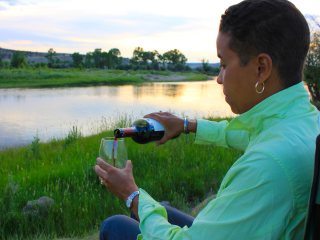 The sun didn't set till almost 10.  That gave us plenty of time to knock off a bottle of red and take in the sights and sounds.  I counted more than 21 species of birds without leaving my camp chair ranging from meadowlarks to great horned owls – incredible spot!
July 3, 2013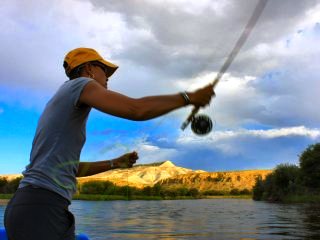 We got an earlier start on the water today.  Only the mountain tops were in the sun.  It was cool and we knew the fish would be on.  Sure enough Grannies skittering Chernobyl's drove the 16" class of brown trout mad.
Grannies biggest fish came at about 10 AM.  There is this very inconspicuous trough that I stumbled into years ago.  Every time we pass it we catch a big brown.  I prepared Granny 100 yards before we got to it.  I had her hold her fly in her hand till the place was in range.  When it was time I had her launch the cast and feed her fly into it.  Then came the fantastic slurp and Granny set like the pro she is.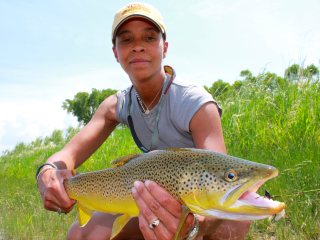 Funny thing, the big browns on the Nunya don't fight as hard as some of the smaller ones.  I guess their old and either know the deal or their just lazy.  Granny's respectable brown came to my net with ease.  He's by no means a monster brown but exceptional nonetheless.  His colors were absolutely vibrant.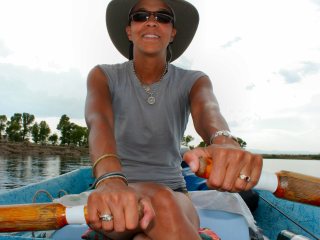 We ended our 32 mile float at 6 PM tonight.  Not sure how many times we've done this trip now but I'll estimate at least 20 times over the last 15 years.  We loved it just as much as our first time here.  And we lucked out this week.  The weather, other than hottest in years, was fabulous.  We avoided the ever so common violent thunderstorm this are loves to deal and had very little wind to contend with.  It was spectacular.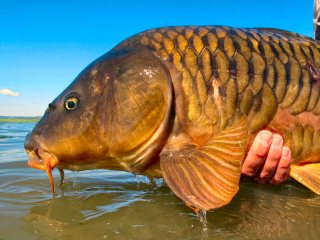 Next on the agenda is a little carping with my California friends Tom Hansen and Skip Brittenham.  You'll get to know these guys the end of the month as they are the generous friends taking me to Bolivia.  With this heat the carping should be better than the trouting.