I apologize in advance for the limited photos.  Sometimes when working on a filming project there's little time to grab my own camera.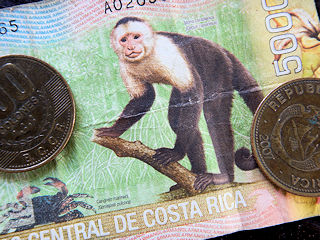 I arrived in Costa Rica this morning at 7 AM.  Hard to believe Granny and I woke up in the back of the Explorer yesterday at Blackfoot Reservoir to the sound of a loon.  I was absolutely knackered from lack of sleep because I stayed awake almost all-night during my flights writing Tuesdays carp blog and catching up on other things before heading off the grid.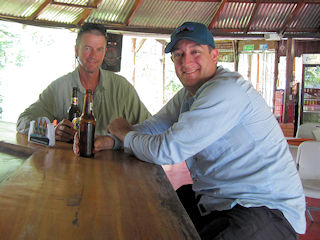 After going through customs, I met up with one of the others from our crew, Dylan Rose.  Dylan and I had a driver waiting for us and for the next five hours we traveled in a car northward to Jungle Tarpon Reserve.  We made a couple food stops and arrived at 2 PM.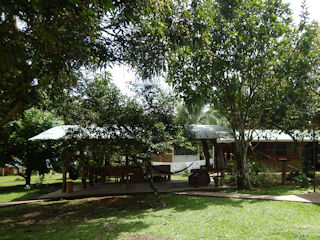 At the lodge we were greeted by Grant Wiswell, the filmmaker behind "Atlanticus" (a film about the passion of fly fishing for tarpon), and Tom Enderlin, the founder of Jungle Tarpon Reserve.  Grant and Tom had a few days together to organize what needs to be done for the shoot we're doing.  So you know, "Atlanticus" will be one of the films for the FT3 film tour starting in January 2018.
Grant has been working on "Atlanticus" for three years.  Most Fly Fishing Film Tour fans have no idea the amount of work that goes into these short movie presentations but I can tell you, to produce a good one takes a ton of heart and soul.  Grant has filmed for his tarpon movie in the Key's, Mexico, Panama, Gabon and this will be the second shoot here in Costa Rica.  I hope to catch a nice fish for the film however most of the fishing parts have been shot.  I'm here mainly to be interviewed about my tarpon experiences.
Tom Enderlin is a well-traveled hardcore fly angler.  He's lived in the US, parts of Europe and mostly in Costa Rica.  He presently lives full time in Costa Rica and spends the entire tarpon season (August to December) running his fishing program here at Jungle Tarpon Reserve.  His fishing program is three years old and they have plenty of success with big river tarpon.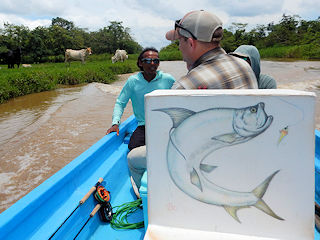 You may remember I mentioned you don't sleep much on these film shoots.  I meant it.  By 2:30 we were in the boats off to chase tarpon for the big screen.  The hunt started with a 45-minute boat ride downstream on a twisting river with banks intertwined in rainforest then cattle ranches.  Along the way Grant gave us the rundown on the plans for filming.
We arrived at a classic jungle river pool nicknamed "The Arena".  The river appears muddy but is actually much clearer than it looks.  It wasn't more than a few minutes when the first tarpon rolled.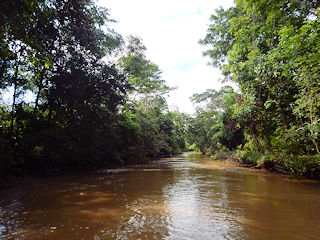 Costa Rica tarpon fly fishing is done with 12-weight rods – period.  This tiny Central American country holds gigantic fish.  Tarpon of 150lbs are common and you could hook a 200lber any day.  The unique thing here at Jungle Tarpon Reserve is how small the rivers are.  Imagine hooking a 200lb fish in a river the size of your home trout river!
As usual, squeezing afternoon fishing in upon arrival wasn't successful.  But I'll always do the same fishing routine because although we didn't catch a fish, we've worked out the bugs.  I have an idea what to expect tomorrow and my gear is rigged and ready.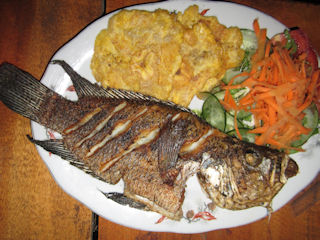 It was a long boat ride home because it was straight upstream and through a major thunderstorm and torrential rainstorm.  Luckily, when we returned to the lodge in black dark, cold and wet, a dinner of fresh jaguar guapote was waiting.  Jaguar guapote is a beautiful fish that alive reminds me of a black crappie.  It's been years since I caught one myself but hopefully I'll catch one to show on the blog in the next few days.
Until tomorrow. . . .
A special thanks to Grant Wiswell and Castaway Films for inviting me along and to Jungle Tarpon Reserve and Tarponville for making our visit possible!