Bad Luck and Another Night in Labrador, City
Categories: Uncategorized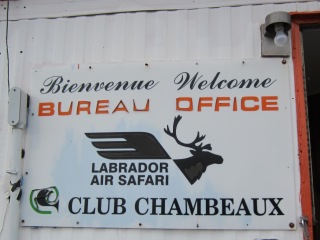 I'm sorry to say we didn't make it to McKenzie River Lodge and we are right back in the same hotel we were at last night in rainy Labrador City.  Things were looking good.  We went to the airport to meet Paul Ostiguy arriving from Sept Ilse.  But on one short flight – Air Canada lost his luggage.
In any normal situation, lost luggage gets delivered by the airlines a day or two later.  But we're flying in to a backcountry lodge on a private seaplane charter – the airlines won't charter a plane to deliver luggage.  Paul decided to send us to McKenzie without him and he and his son would fly in to the lodge a few days from now.  Paul drove us to the seaplane air service and we got all ready to fly.
Our plane, the Otter, was out dropping other anglers off at another lodge.  We waited and waited for it to return and take us.  Well, unfortunately it never made it back as it had an overheated turbine and couldn't return from wherever it was.  At 2 PM we were told we couldn't go and got rescheduled for tomorrow weather permitting.  Yikes!
It's a real bummer but when you travel you never know what might happen.  These bad luck deals are rare but when they happen you take a deep breath and hope for the best.  We have me, Granny, Paul, his son and three other clients all on standby for tomorrow.  We just had dinner and a few beers and now I'm watching Sunday night baseball.  I seriously doubt I'll be in this hotel tomorrow night but rather at McKenzie River Lodge catching brook trout!
I don't think we have internet from here on out so day by day accounts will post starting August 9th.
A special thanks to Paul Ostiguy and McKenzie River Fly Fishing Lodge for bringing Granny and I to Labrador!