Fly Fishing in Pennsylvania from Trout to Bass
Categories: Uncategorized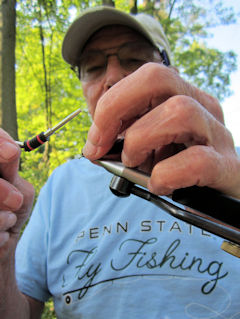 Joe Humphreys took Jerry and I to a completely different section of Spruce Creek today.  The attractive creek was more winding and the pools were deep.  Before we wadered up Joe broke out the fly tying vise.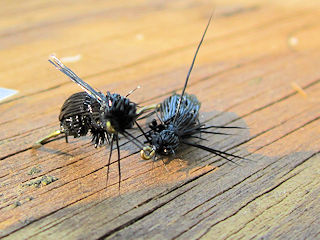 The best flies for the creeks here in Pennsylvania in late summer are terrestrials.  I caught most my fish on my Aussie friend Mick Halls Chopper Hopper yesterday but my ants weren't doing the trick.  Joe prefers a more chewed up looking pattern and he tied several for Jerry and I.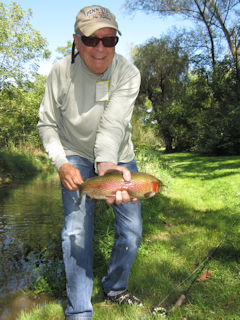 Without wadering up, Jerry walked right out from Joes tying picnic bench and caught a nice rainbow.  He made it look easy and proceeded to catch a few more then disappear upstream walking the manicured creek bank in jeans.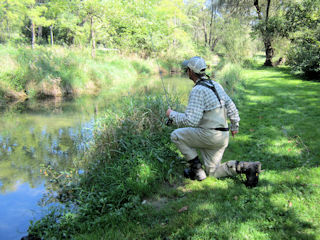 Joe and I walked a long way downstream to his favorite pools only to find a couple other members already fishing.  It turns out they'd been out since early this morning and hit most of this lower section of river.  This made things tough for Joe and I.  Fished over fish are not a big deal on the big western rivers back in Idaho but here on this tiny creek – we had to break out the A game.  For me that means stealth.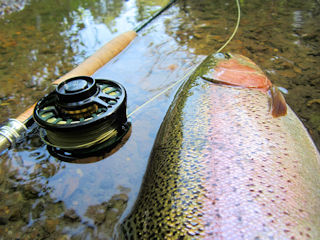 I scraped up a few but I'm not going to exaggerate, fishing was tough.  Even the fish I found rising were on the lookout for the next anglers to arrive.  One cast and most went down.  I managed a few however and all came on Joes sexy little ant pattern.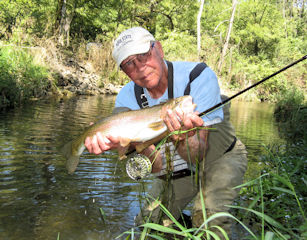 Joe had exactly the same luck.  He caught several also but it was tough to fool the already awakened trout.  This photo of Joe is a beauty but one of the few.  In hindsight we should've gone with Jerry upstream because it turns out that Jerry smoked the place!
We packed it up around 5 then went back to the Spruce Creek Rod and Gun Club for dinner.  We didn't stay the night however, instead we went to the cabin of Joes girlfriend Ann.  It was a short drive and we got there with about an hour of daylight left.  The picturesque cabin is spectacular.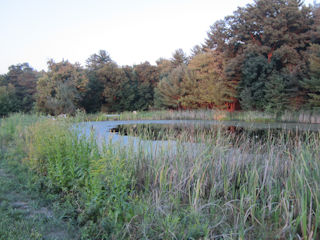 Joe was rummaging in the back of his car and came out with a bass popper in hand.  He told me to hike up the hill behind the cabin to a pond and try for some crappie.  This was a pleasant surprise for a warmwater fly fishing guy like me.  When I got there I could see it would be a challenge to land a decent fish.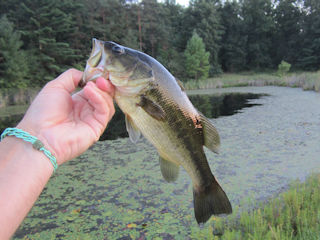 The half-acre pond was choked with weeds around its entire shoreline.  It looked hopeless but you know I tried.  I was hoping for the crappie Joe mentioned but it was a small bluegill on every cast.  I was just giving up at dark when a wake ripped across the center of the pond and devoured the popper.  It was a chore to get this feisty largemouth across the weeds without him burying himself in there.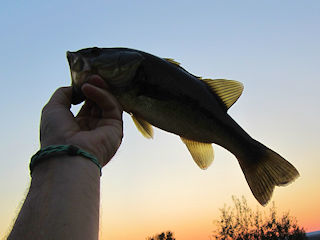 Another great day is in the books here in Pennsylvania with Joe Humphreys and Jerry Arnold.  We just finished two bottles of red listening to the deafening sounds of crickets and frogs from the rustic porch.  It's wonderful here.
One more fishing session tomorrow before flying home tomorrow night.