October – Best Fishing and Baseball of the Year!
Categories: Uncategorized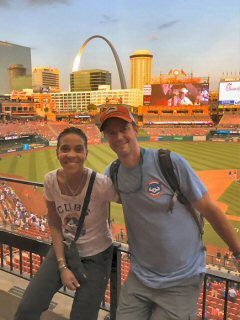 Lots of catching up on art, writing, organizing for the show season is in the rearview.  Not done but enough finished to have some fun.  This past week Granny and I went to Busch Stadium in St. Louis, Missouri and watched two Cardinals vs Cubs games.  The Cubs lost for us on Tuesday night but they clinched the division before our eyes on Wednesday night.  We had the best seats at a pro-game of our lives.  Right next to the Cubs dugout.  Playoff baseball begins with Wildcard Games on Tuesday night.  I can't wait!
We are home sweet home now and tomorrow the October fishing begins with Kubswin Lake (2015, 2014, 2012, 2010).  The weather is horrific.  Snow is in the yard today.  Seems to me big brookies and brown trout should be feasting before winter!