August 2, 2013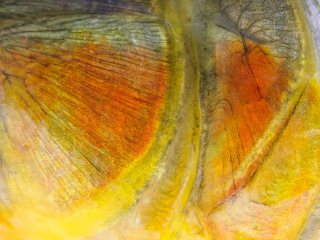 The last day on any great trip entails some anxiety, especially when I don't feel like I've met my goals.  This last day in Bolivia had me thinking more than usual because this could be the last day fishing in Bolivia of my life. Would I ever have another chance for a pacu?  A big dorado?  It's a sad thought, but today may have been it.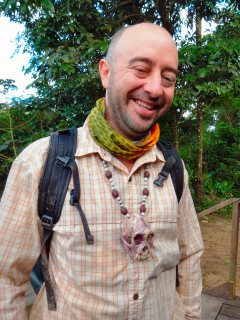 Tom and I headed for a long eight mile hike to the Upper Pluma River with legendary Amazon guide, Chucky.  I met Chucky in the Brazilian Amazon in February.  We didn't have much time to meet as you may remember the plane crash that day, but Chucky told me one thing, "When you come to Bolivia in August it will blow your mind Jeff!"  I hadn't forgotten.
Chucky may perhaps be the best guide here.  Not to take away anything from the others, but Chucky and I fish the same.  He has gut feelings about where to cast, when to cast and if fish are around even when you don't see one.  Chucky is good.
Chucky was also fully aware of my personal goals.  The guides know what's been caught and who's caught it.  And Chucky was as determined as I to get me both my first pacu and a larger than 10lb golden dorado.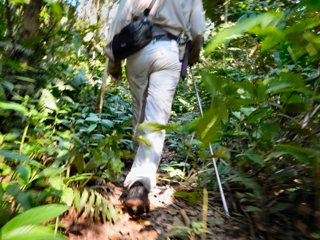 Chucky, Tom and I walked up the Pluma River for four miles.  It took us almost three hours due to the terrain.  The rocks are brutal on the feet, river crossings are slippery, you must be careful with shortcuts through the jungle and also it's hot.  The cold front from the start of the trip is long gone and days are humid and in the 90ºs.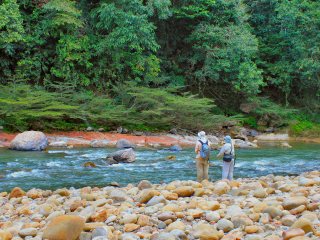 At 11 AM we were there, a half mile above Camp 1, another option for fishing when staying with Tsimane Lodges.  We had a mere four hours to fish before the long walk out.  Like everywhere we've been this week the place was stunningly gorgeous.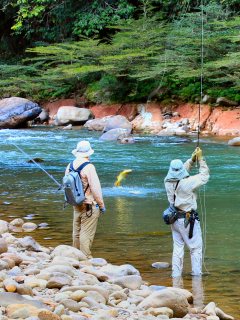 It turns out the plan was good.  On the first run I fished I landed a stout 10lb dorado and so did Tom.  Tom also landed a couple 5lbers and jumped a large fish.  At the time he jumped his pig I was tossing to a rock wall in hopes of a pacu from one of Chucky's pacu places and heard the splash.  The fish sounded huge but unfortunately he came off.  After that I put down my rod and set up my camera.  Then I followed Tom and Chucky to the next pool.  Tom made one cast and jumped another nice fish and I got this really cool photo.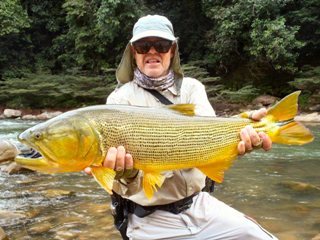 I followed Tom with my camera for two more pools and he caught another great dorado.  Then Chucky informed me the last pool was for me.  We were five miles from the Lodge and we were about to head back.  This was my last chance for a big dorado.  I started to pack up my camera but then something hit me.  Why put it away if I'm going to need it in a second?  I turned the dial to the face like preparing for a hero shot and stepped up to the pool with my 9-weight Ross RX.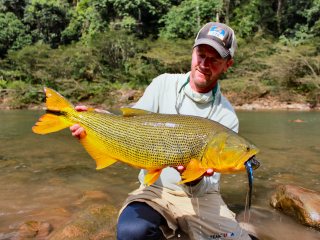 I made several cast to good looking places but nothing.  There was one really good looking place however against the far bank.  There was a rock and in front of it a deep trough started – always ideal for any fish.  I ripped off a few extra feet of fly line and landed my fly a few feet above the rock.  I let the fly sink as it approached then started stripping fast.  Not one, but two large dorado came charging.  When a big dorado is hot for your fly its hard to screw up let alone when there are two.  A second later I had a teen sized dorado bouncing all over the place.  Moments later I was hoisting my biggest dorado of the trip.
As always the walk out was far longer and harder than the walk in.  During the walk my mind was spinning.  Was I really happy with my best dorado of the trip?  Indeed it was a nice fish and only someone very spoiled would fret.  But again, was this trip my best chance at a big dorado or a pacu on fly?
I can't look back and no one can look into the future.  I've now fished in Bolivia, caught a handful of incredible fish and best of all made some new friends while spending time with old ones I haven't seen in awhile.  This was an incredible trip.
Tomorrow begins the long journey home.  At the moment we are scheduled to leave here at 10:30 AM.  It gets light at 6.  Does that leave me an hour of fishing before I pack up?  I'm presently drinking good red wine with the staff so it looks unlikely, but you never know.  We'll see tomorrow.