Last night all went smooth speaking at the Santa Barbara Flyfishers.  I've spoke there before and have gotten to know many of the members.  Our host was Joe Narkevitz and during dinner before the meeting he offered to take me fly fishing in the surf early this morning before I head south to speak in Anaheim to the Fly Fishers Club of Orange County.  I took him up on his offer.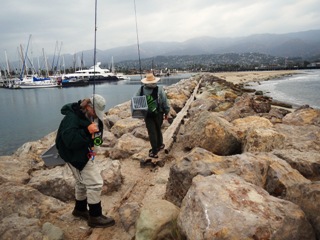 I was tired when I woke up.  Yesterdays early morning flight from Idaho followed by driving in Los Angeles traffic and finally speaking at the club took its toll.  Nonetheless I was up and ready when Joe pulled into the parking lot of the Franciscan Inn.  I bought a season license to have for this trip and we walked down the town pier and then balanced the plank to the beach.  The weather was a rare cloudy, drizzly and the coolest temps Joe and his friend Mark had seen since last winter (Monsoon Currier strikes again).
Expecting to be lucky with a surfperch, I didn't over do it in rod.  I've packed an 8-weight Ross RX along for this trip but this morning I grabbed my 7-weight rigged with my Uniform Sink.  My leader was my usual level one of straight 16lb tippet.  Joe gave me this delicious looking fluorescent orange Mole Crab pattern.  Orange is a good fly color for surfperch.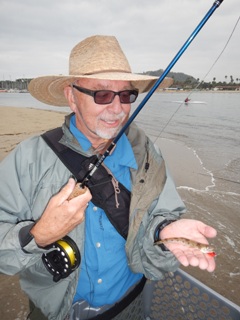 Let's just say the bright fly worked.  The three of us worked along a drop off that's actually the manmade channel for boats.  And although we didn't catch a bunch of glamorous fish, we got into a bunch of tiny California lizardfish.  You take what you can get!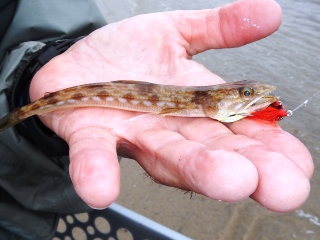 It was a vigorating morning.  I love a change of pace and already I'm looking at the map for this trip to see other beaches I might try.  But now its focus on the brutal drive to Anaheim where I'll speak tonight followed by tomorrow at the Pasadena Casting Club.  Friday it will be back to fishing.