I fly a bunch and I appreciate how incredible flying is.  I love it.  And this is a good thing for me.
At 4 PM I finished the bulk of my speaking tour at the Midwest Fly Fishing Expo in Warren, Michigan.  The shows were excellent this season and the people and the amount of fun I've had was incredible.  But I was a little tense today because tonight I start the ridiculous schedule of flying all the way back to Idaho then leaving home tomorrow morning for West Africa.
The fine folks running the Midwest Fly Fishing Expo knew my schedule and the minute the show ended they took me to airport to catch my 7:10 flight.  Along with us was one of my speaking companions, 87-year-old Joe Humphreys.  Joe is a childhood fly fishing hero of mine and longtime friend.  To be working on the same stage as Joe this weekend was surreal.  Best of all we got to the Detroit airport with time enough to enjoy a couple drinks together while waiting for our flights.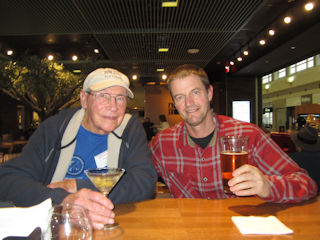 I said goodbye to Joe then boarded my 7:10 flight.  The weather was dismal in Detroit.  Rain, rain and heavy rain – enough that I could just feel a delay.  Fortunately, my Delta flight was on time and we left the gloom of rain in Detroit to the sunset above the clouds.  There's nothing more fantastic than exchanging horrible rain for a sunset gleaming off puffy clouds minutes later.
I'm presently high in the sky over Iowa.  My schedule for the next 48 hours goes like this:
In two hours we land in Salt Lake City.
Then I board the 9:50 PM for Idaho Falls.
At around 11:30 PM I should be in my 91 Exploder with my luggage headed for home dodging elk, deer and moose.
March 14
At 1 AM I should be hitting the bed at home in Victor.
I'm 95% packed for Gabon but will sort things out one last time around 6 AM over coffee with Granny.  She'll head to work and I'll head out to do some last minute vitals for the trip.  This weekend I got an email from Africa requiring I arrive to Gabon with a certified copy of my passport.  I didn't know what this was but have arranged to get my passport copy notarized at my bank tomorrow in Victor on the way to the airport (cutting things way too close).
There's a winter storm warning for tonight and tomorrow back home so "knock on wood" I get in tonight and out tomorrow.  I'm scheduled on the direct flight from Jackson Hole, WY to Atlanta at 12:58 PM.
Land in Atlanta at 6:30 PM.
Depart Atlanta for Paris at 7:15 PM (cutting it close!) (If all goes well and I make the flight – at 8:15 I should be cruising at 40,000 ft., sipping red wine, watching a movie and getting ready for my first good sleep in days)
March 15
Arrive in Paris at 6:30 AM.  Meet up with one of my best friends, Mike LaSota.  (Get some good Euro coffee!)
Depart Paris for Libreville, Gabon at 10:45 AM.
Arrive in Libreville at 5:20 PM
March 16
Spend the day in Libreville.
At 5 PM head back to Libreville airport to
meet up with my arriving South African friends and immediately board a flight for Port-Gentil, Gabon.
Arrive in Port-Gentil at 8 PM and overnight.
March 17
Leave the hotel early to fly to Gamba, Gabon.
Meet boat taxi and then a 90-minute boat ride to Sette Cama Camp.
Then finally – six days of fishing!!!!!!!!!!!!!!!!
I will struggle with internet on this trip but as always expect day by day accounts to appear when internet is available.  Now begins the journey to a new country and hopefully several new species.  Number one on my list for this trip is the giant African threadfin!
Like many times before – this trip is possible because of my South African friends of Tourette Fishing – Fight it in Africa.  These guys are the best!