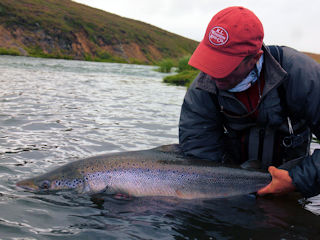 After hours of delays leaving the USA yesterday Granny and I arrived in Reykjavik, Iceland this morning.  We're here to Atlantic salmon fish with our friends of Icelandic Fly Fishermen.  You may remember I fished here in 2014 with my friend Ingo Helgason.  It was an epic trip where I caught one of the most memorable fish of my life.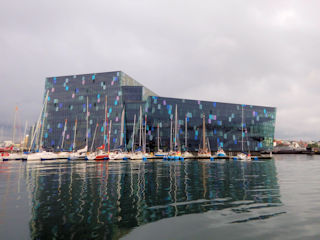 This is Granny's first trip to Iceland.  She does few cold water fishery trips because her job rarely allows her to leave during summer.  But this is Iceland and on this trip my friends invited her too – there was no way she was missing this.  Furthermore, last summer she went to Labrador and did extremely well swinging flies for landlocked salmon.  Atlantic salmon fishing just might be one of her sneaky forte's!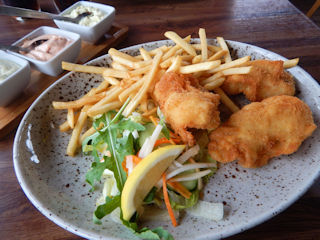 After a scrumptious fish and chips lunch with Ingo and our other friend Siggy who is a guide and partner in Icelandic Fly Fishermen, Granny and I checked into a room in Reykjavik for the night and hit the town.  As you know from reading this blog, life of Currier leaves no time for jetlag!
The weather today in Reykjavik was cool and drizzly with some scattered rains.  I showed Granny around the city and each time the rain got hard we ducked into a pub.  After a few tasty drafts Granny returned to the room.  I decided to get in a little saltwater fly fishing on the public docks.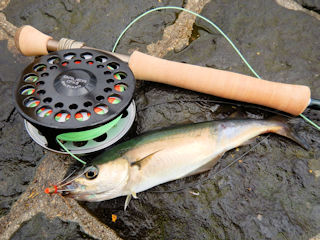 I rigged my 8-weight Jungle rod and my 300 grain and headed for the docks to loosen the shoulder.  For kicks I put on a traditional Atlantic salmon tube fly Ingo gave me last trip.  I hooked several fish and landed my first ever pollock (ufsi in Icelandic) on the fly.  As a kid growing up near Plum Island in Massachusetts I caught hundreds of BIG pollock off the beach on Hopkins Lures.  Those mighty schools of the 1960's I'm sad to say are gone.
Granny and I hit the town for a few hours again tonight and ended with some filling Thai food.  I speak for the both of us – we are flat out exhausted.  I just read over this blog and can't remember writing the last paragraph.  That's what 20,000 miles of travel in fifteen days will do to you.
We'll drive north and east tomorrow with Ingo and Siggy to begin our salmon fishing escapade.