Fly Fishing the Wisconsin Driftless Area
Categories: Uncategorized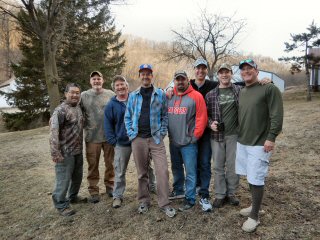 Morning came early today in the Wisconsin Driftless Area with my college friends.  Most of us haven't seen each other since my 50th on the Henry's Fork back in 2015 so we got a little excited last night.  So excited we stayed up until 4 AM playing cards and catching up.  It was a heck of a good time but this bunch of old guys were feeling it today.  Nonetheless we've been down this road together and after a breakfast to die for we headed out on one of the most little-known trout fishing regions in the USA.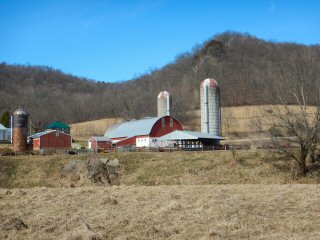 The Driftless is an area that encompasses North East Iowa, South East Minnesota and mostly South Western Wisconsin.  I lived in Wisconsin for four years and return to fish almost every year yet I've never fished the Driftless.  The secret of the region is that its home to some excellent, overlooked trout fishing.  My friends fish here often and have been inviting me for years.  With speaking in MN over the weekend this was an opportunity that couldn't be missed.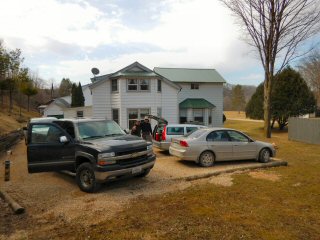 We're somewhere an hour south of La Crosse, WI staying in a house my boys rent often for fishing here.  Due to the number of us we split up in groups.  I went with Mark Rieser and Dave Kittaka both of whom have fished with me back in Idaho several times.  Mark lives in Iowa and fishes here often.  Dave came up from his home in Indiana.  We drove a short ways and must have crossed four different tiny rivers.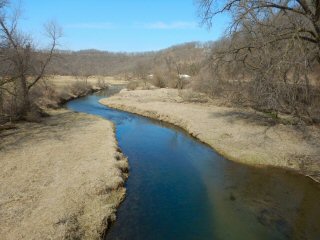 Normally there would still be snow on the ground but Wisconsin's winter has been mild.  The leaves haven't popped on the trees yet and the grasses are still dead.  Things look more like late November than springtime.  But when we stopped to rig up the sounds of singing birds brought the place to life.  No doubt it was spring.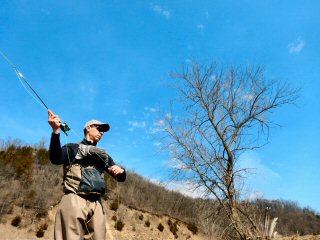 Mark led the way down to the river and went into action.  As I always do in a new fishing place, I kicked back and observed to begin my day.  Mark was chucking two small nymphs below an indicator.  He was fishing at the base of a riffle dumping into a deep hole.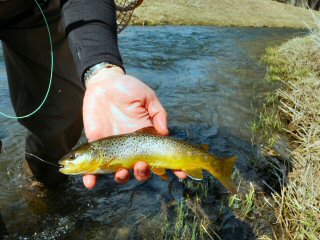 It didn't take long.  Marks indicator dove and he set the hook.  I didn't know whether to expect a huge Wyoming size brown or a brook trout.  In came a handsome little brownie that reminded me of fishing on a European trout stream.  I love fish like this and after the photo I went to work.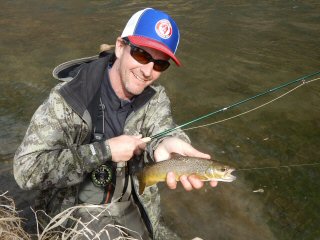 I was using a new Winston today.  I was fishing the 9' 4-weight Air.  This is the ultimate dry fly rod so rather than nymph I opted to toss a dry fly.  I'm rusty so I tied on something I can see – a size 16 Parachute Adams.  This time of year, no matter where you fish there are blue-winged olives and March browns.  The Adams covered that and sure enough, in the first fishy looking lie I landed a brown of my own.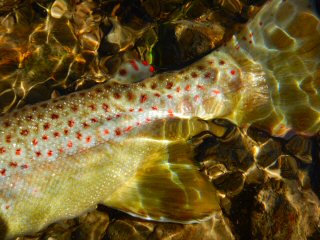 The brown trout here are mostly small but all wild and gorgeous.  Mark and the others that fish here have indeed taken a few 20" beasts over the years, but in general, the trout here run 10 to 12 inches.  The small size doesn't bother me at all because there were no other anglers on the stretch we were fishing – a situation so uncommon these days out west on my waters.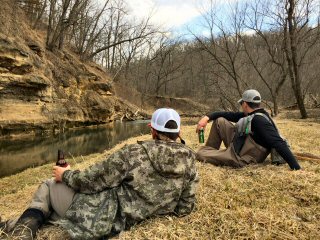 Me and the fellas moved slow today.  We were undoubtedly hurting from our craziness last night.  But catching fish wasn't what this was all about.  We took turns watching each other fish.  We drank a couple beers and smoked cigars.  Life was good.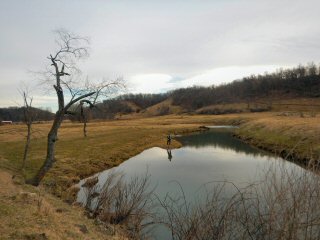 We fished till 7 PM which is about an hour before pitch dark.  It was an unseasonably warm day which I'll take with a smile.  But when the sun set the chill took over.  I took some photos like this one of Dave on the last pool.  Then we headed for the house.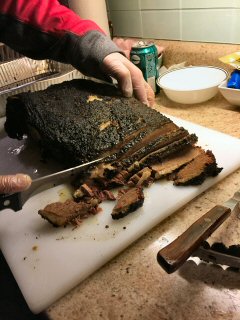 At the house, yet another college friend arrived, Brian Ezman.  I haven't seen Brian since May of 1987 the day I graduated from Northland College up in Ashland.  Brian and I were partners in a five-week outdoor skills class where we paddled canoes straight through the Boundary Waters of Minnesota and the Quetico of Ontario.  It was an incredible test of survival skills that neither of us will ever forget.
We ended the brilliant day with an insane feast of smoked beef brisket brought by Brian.  Brian works with the WI DNR but also has his own catering business with access to the finest of foods.  Let's just say, it doesn't get any better than this!
We're fishing again tomorrow.  A different river about an hour drive away.  Should be another special day for sure so be ready for some new pics and stories.