A Fly Fishing Day in Africa to Remember
Categories: Uncategorized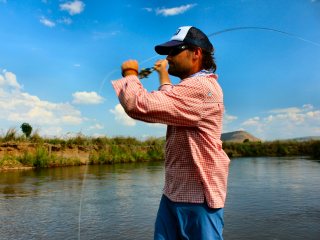 I've known Oliver White for about 15 years.  Not well however.  Oliver moved to Jackson, Wyoming and worked for the fly shop down the street from the one I managed.  He became a well known Snake River fishing guide but like most, eventually left Jackson for the "real world".  But he hit the real world differently.  Oliver remained in the fishing business and is a managing partner in several fishing lodges in the Bahamas.  By now you may have seen Confluence Films latest, "Waypoints".  Oliver was the star on the Venezuela segment fly fishing for payara.
Oliver and I have been stoked to spend some time together since he signed on to the trip.  Stoked to finally become more than acquaintances.  And no better way to do so than by sharing a fishing day that could rival most in our lives.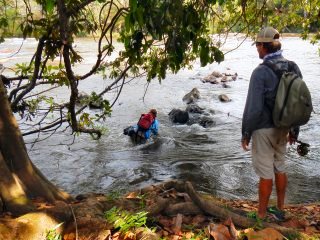 As you've seen, I try to fish with everyone on my trips.  I've already spent a day with Steve and John so today was with Oliver.  Today was planned as an intense day of angling, a day that involved a hike through inhospitable bush, dangerous wading and a hardcore swim under the watchful eye of crocs and hippos.  A day where hopefully, the rewards would outweigh the risks.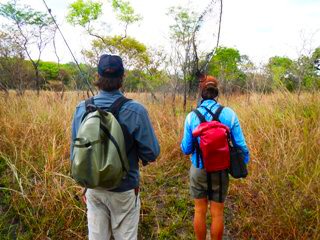 Our adventure took us back to the rapids.  Only today we'd tigerfish the entire rapids.  Not just one side of the river like last week, we planned to fish up one side then swim across and fished down the other.  The other side of the river has only been wade fished once before.  That's because it's difficult to cross the river and there is a lot more wildlife to contend with.  As you can imagine, African wildlife is the kind you don't particularly like to walk up on while on foot.
Our guide was Andrew.  I introduced Andrew last week.  He's a young 21 years yet has the most experience in the bush thanks to a dad that taught him well growing up in Zambia.  Along with us was Sven.  Sven also, being born and raised in Kenya, was a superb addition to the day's adventure.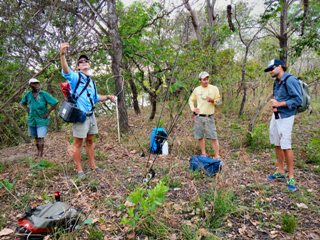 We took the boat up to the base of the rapids.  The four of us climbed out while our boatman stayed behind.  At 5PM he'd have the boat ready for us on the other side of the river for our return.  We sucked down cokes and packed our waterproof day packs.  Then followed Andrew to our first fishing spot.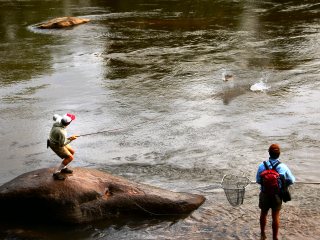 When we got there I told Oliver to have at it.  I insisted but he insisted back, "Go for it Currier".   What the heck, as Andrew and Sven scoped the area closely for crocodiles I ventured down the steep embankment and waded nervously to a precarious rock.  I was relieved once up on the rock although a croc could likely still ripped me down from there.  Andrew got in position to help me land a tiger and then I made a cast.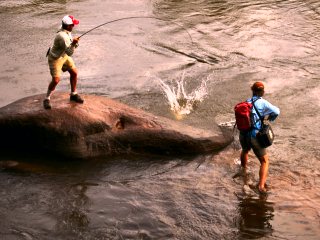 Three strips and I had a beaut.  This day has been on my mind all week and with amazing adrenalin flowing I yanked in the 10lber like he was a cutthroat trout (thanks 40lb shock tippet!).  Without hesitation I launched another cast and in two more strips I had a much bigger tiger.  I brutalized this pig as well only just as Andrew went to net him my hook broke.  The tigerfish have bit through two saltwater hooks this week.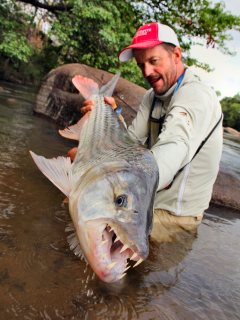 My third fish came after about five more casts.  This one was another dandy and I got him to the net.  Another common occurrence is that after these big tigers are in the net, they chew through and run off again with your line now through the tattered net.  Sure enough this had to happen and Andrew and I had a laugher of a rodeo.  Between the two of us we finally corralled the trophy, photographed and released him.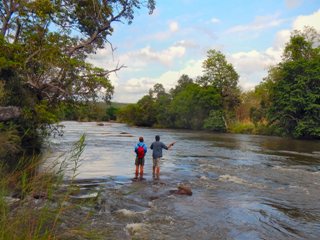 After my exciting start it was Oliver's turn.  Surprisingly the first couple spots he tried went fishless.  Tigerfishing is weird in that just because one place is on fire, doesn't meant they all are.  Eventually we were in the exact spot that I caught the monster in the movie "Connect".  I recommended that Oliver cast and hang on tight.
It's a good thing he held on tight.  The "Connect" pool was smoking.  Oliver stuck and lost a couple fish then landed a 16lber.  I stepped in and got a 12lber.  But when Oliver stepped back up one of the most amazing fly fishing events of the trip would unfold.  Oliver hooked a vundu!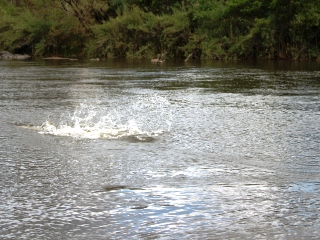 The most well known characteristic about vundu is their power.  I've felt it twice in my life, once in Egypt and yesterday slinging bait on the lower river.  Vundu are so strong it's frightening when their connected to you and your equipment.  Oliver's vundu hit with such power that our first thought was he'd hooked a crocodile.  But Andrew was quick to identify the explosion and yelled, "VUNDU"!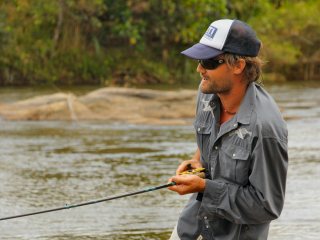 I and Sven nearly jumped out of our skin.  Honestly, crocodile crossed my mind and I thought someone was about to get munched.  I was relieved when Andrew identified the chaos as a vundu.  By now, ten seconds into the fight the vundu was pilfering backing upstream at an outrageous pace.  Upstream is the key, in the rapids if this dude went downstream it would have been all over in an instant, but this was the miracle vundu.  A vundu meant to be caught on the fly rod.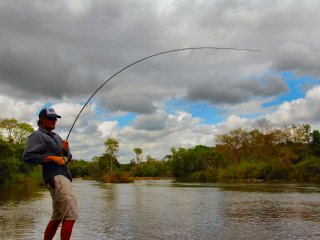 After a exhilarating 200yd run upstream, the vundu stopped and showed signs of tiring.  One thing about catfish is they are strong to start, in fact in this case like a jet taking off, but then they lose the stamina fast.  Once the big vundu stopped his upstream run Oliver started cranking him in.  There was still plenty of weight there but the fight for the most part was over.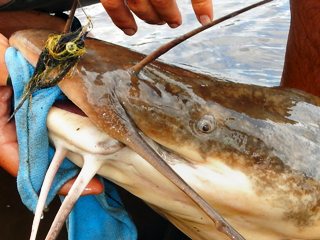 Once the fish was close there remained danger of losing him down the rapids.  It wasn't the fight of the hefty cat we worried about it was the fact that the dead weight of the fish could easily catch a ride in the current and head downstream anyway.  If that happened he was a goner.  Oliver knew exactly the dilemma and wisely backed upstream and rather than fight the fish, he steered him into a back eddy without letting out any more line.  Andrew grabbed the vundu by the mouth using a cotton rag.  The immense vundu was landed!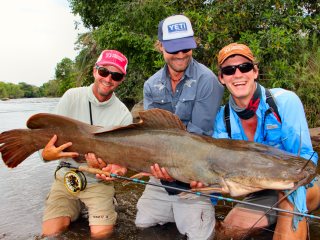 We must have photographed the spectacle of a fish for fifteen minutes.  We'd click away then look at him.  His adipose fin amazed me because it was the size of a canoe paddle.  The vundu is about as cool a fish as you can catch.  We posed with the beautiful cat many ways but this is my favorite shot.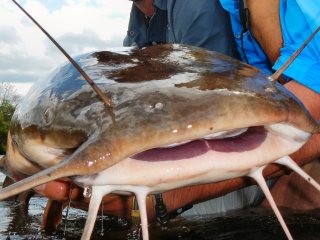 It was hard to move on after that fish.  I believe we broke out some more cokes and a little lunch before continuing our journey upstream.  I'm not even sure if we landed more tigers right after lunch.  We probably did but we continued to relive the vundu experience.  Finally that came to an end when it was time to cross the river, the rapids that is.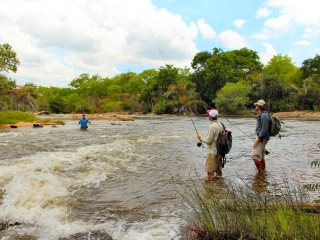 The river was flowing a bit higher and faster than Andrew expected.  We rock hopped around the rapids looking for the shortest route to cross but there wasn't a good option.  Andrew found an acceptable spot for a test run, but in testing it he got swept away and his only escape was to continue to the other bank.  It wasn't pretty but he made it.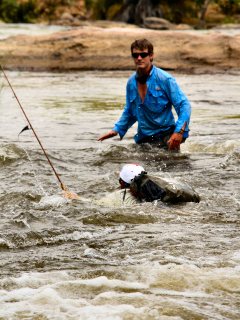 Andrew shouted, "Don't do it!"  We couldn't hear the words with the roaring rapids but we read his lips.  I looked at Oliver and Sven and we read each others mind.  We too had to cross now or never.  Without thinking about the two crocs we could see in the pool below I dove in and with my rod in my left hand and my backpack rolled up tight, I swam my ass off.  Being a little guy I got swept downstream badly but Andrew waded out and reached my way.  Purely by miracle I grabbed on and we both slipped our way to safety.
Next was Oliver.  He took exactly the same approach and he too got retrieved by Andrew.  Last came Sven like he'd done this before.  Man it would be nice to be 26 again!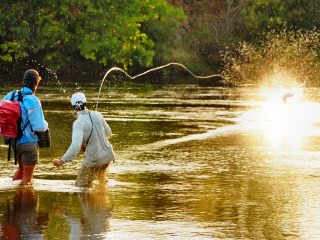 We looked like four drown rats.  But we made it to the unfished side of the rapids and we were about to experience perhaps the greatest tigerfishing fly fishers have ever experienced.  Oliver and I landed five more large tigerfish, four at 16lb and my last of the day, a 17lb fish that when he jumped resembled a fuming tarpon on a shallow flat.  I hate it when this term is over used, but today was EPIC!
As always we were later to the boat then we should have been.  Our boatman was there taking a nice nap.  If only he knew what we'd experienced today.  On the way back one more magnificent event happened.  We came up on a herd of elephants drinking, whole families from huge tusked bulls to babies.  Today will always be remembered as one of my top fishing days in Africa.
For information about this incredible trip feel free to CONTACT ME.
Be sure and visit Tourette Fishing – Fight it in Africa.
And ask about my future hosted trips through Yellow Dog FlyFishing Adventures.