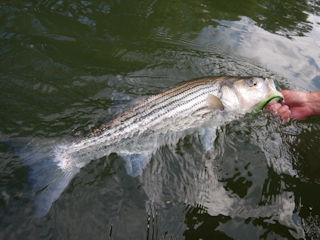 It's the last leg of my speaking tour winter 2016 and find myself in Georgia with a severe tooth ache.  I came down with radiating face pain while carping last week and attempted to resolve the ailment Friday with my dentist.  After all his tests nothing showed up.  Naturally, the next day I bit down on some cereal and it was like someone drove a nail in my back molar.  The pain has been electric since and I'm working to see a dentist down here in the south.
In the meantime, while eating Advil like candy, I'm sticking with the program which is to fish with Michael Williams for a couple days before speaking Wednesday night to Atlanta Fly Fishing Club and Thursday to the Cohutta Fishing Co. Michael is a longtime friend going back twenty years.  He's presently the Director of Travel at Cohutta and owner of Nomadic Waters and runs fishing trips to the Amazon.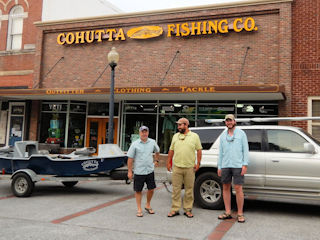 In addition to Michael, the fine staff of Cohutta will be hosting me.  Today I fished with well-known head Cohutta guide Garner Reid and Cohutta shop manager Conner Jones.  It only took about thirty seconds to feel at home around these guys then we loaded my gear and headed for the Etowah River.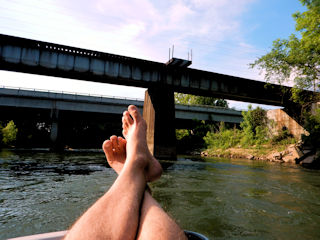 I can't explain how lucky I've been to fish new rivers this year.  Three weeks ago it was musky in Kentucky.  Two weeks ago was pike in Ohio.  This week it's all kinds of great warmwater species in Georgia.  I really appreciate the fly fishing clubs generously taking me fishing where ever I go.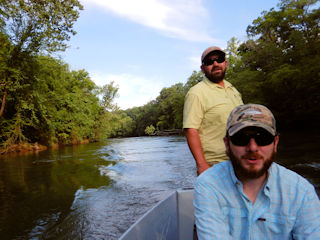 My new friends and I launched on the Etowah River near Cartersville, Georgia around 8 AM and motored upstream for 40 minutes.  The morning sun was hot.  There were turtles on every log and the forest gleamed in a million colors of green.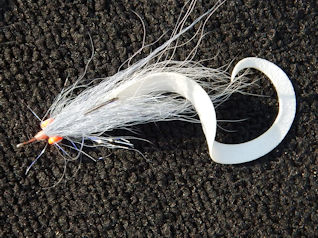 Today's target was striped bass that run up river from Lake Weiss.  I was armed with my 9-weight Winston Boron III and a brand new classy looking Bauer CFX 5.  My line of choice today was the Scientific Anglers 300 grain sink Sonar.  We stopped and Conner handed me a sexy striper fly with a rubber tail and into action we went.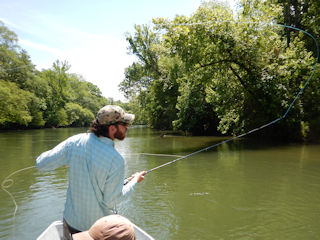 Though the scenery was different this was streamer fishing at its best.  I could've been on the South Fork at home or tigerfishing in Africa.  We chucked flies close to the bank and stripped them back fast.  Unfortunately for me every casting stroke livened the pain in my tooth and jaw and no matter how hard I fought through I took frequent rests.  It was a damn shame to say the least but something is very wrong in my mouth.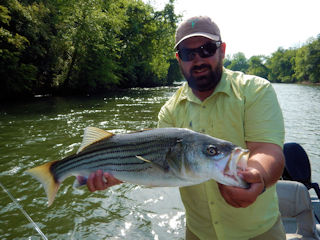 Conner and Garner took turns rowing and fishing.  Garner put the first fish of the day in the boat.  It was this hard fighting striper that did its best to free himself using dozen or so sunken logs.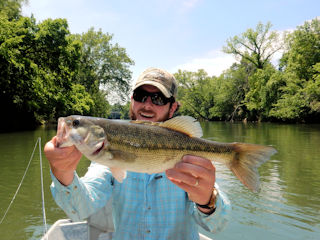 Conner caught the next fish and it was this above average sized spotted bass (Micropterus punctulatus).  Spotted bass look so much like largemouth that unless you really know better you'd pass one off for a largemouth.  A couple reliable ways to tell is close the mouth and notice the mandible doesn't go past the eye.  Or put your finger in the mouth and feel a tooth patch on the tongue.  Although I may have caught these I don't have them on my species list because I'm not sure.  That should change before this week ends.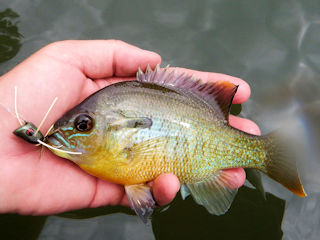 Although the tooth pain kept me from the heavy work needed to
roust up a striped bass, I could gently flick a small popper to the bank with my 5-weight.  Just to get a piece of the action I picked off a few bluegill and this tiny redbreast sunfish (Lepomis auritus).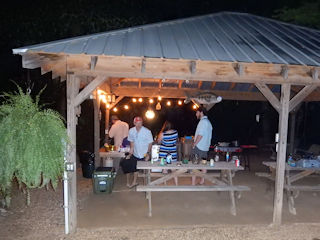 At 1 PM the guys returned to the fly shop for work.  Michael and I went to his house in hopes to get a call from his dentist.  I'm no less than dying at this point but unfortunately I couldn't get an appointment.  Tonight we went to a barbeque at the house of Andy Bowen, owner of Cohutta.  I couldn't eat hardly a thing but good news – I'm scheduled to see Andy's dentist at noon tomorrow.  This will not keep us from an early morning on the Etowah again – pain or no pain!  Stay tuned. . . .