Unseasonably Cold Temps put a Freeze on Fishing with Nieces
Categories: Uncategorized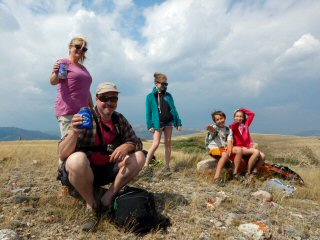 The forecast wasn't great going into Monday night for my brother Greg and his family's visit.  A drop from the 80°s to the low 60°s was predicted in Jackson, Wyoming for Tuesday and Wednesday.  That means even colder at our family-favorite camping spot up the Gros Ventre River.  And the forecast didn't lie.  For the last 48 hours I've been buried in layers and even sported my fleece hat at night and my ears are ringing from the wind.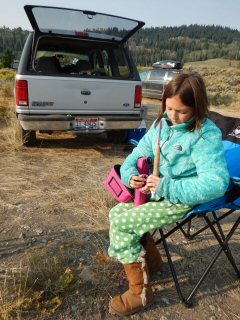 Greg and I see each other about three times a year if we're lucky.  He doesn't fish at all so we generally visit around the campfire.  Monday night we put away some beers and stoked the flames on the fire till 1 AM.  Staying up around the fire was the better option than freezing in my summer bag in the back of the Explorer.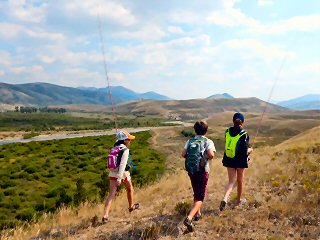 Early Tuesday as the sun peeked through the smoke (we have lots of forest fires) my nieces Sammy and Montana and their family pal Chase began to stir with their pink Ross Fly Fishing Outfits glowing in my sight.  Despite being in the low 50°s they were ready to give the Gros Ventre a go.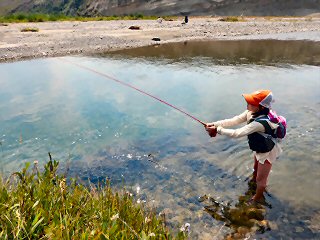 Give it a go we did but it didn't last long.  Wet wading was cool to say the least and cooperative fish were hard to find.  Young Montana had three small whitefish eat her fly.  They're not easy to stick because of their tiny mouths and of the three she managed one to her feet but he flopped off before she was able to smile with him.  As soon as that whitey retreated all three kids asked if we could go back to camp, put on some layers and climb a mountain.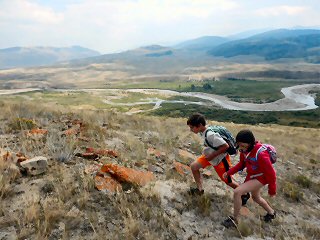 There's a great mountain near camp we hike every year.  I love the hike as it takes only around two hours to go up and down.  And the view up there, which gives you over 20 miles of winding river to see, is stunning.  Some years, and this was one, we kick back up top and take the view in for at least an hour.  We froze however because the wind was galling at about 25 mph!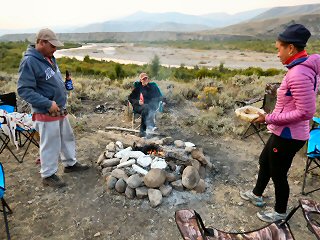 Tuesday evening entailed a monster feast of chicken, steak, corn, potatoes and a heap of healthy vegetables to go along with another night of celebrating around the fire.  Regardless of weather it's always fun around a campfire with good food.  We were a bit tired from last night so we hit it around 11.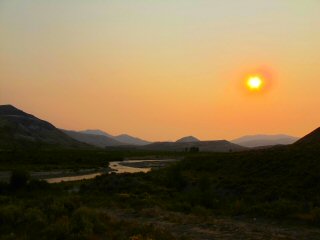 Greg, his family and their friends headed out before noon today.  He and his wife Kerry need to return to work on Monday so they have a long drive back to Massachusetts.  Before they left I took Montana out fishing in front of camp and she caught one more whitefish and a cutthroat.  Montana and Sammy are getting good with the fly rod and next year I'm hoping to take them on their first float trip.