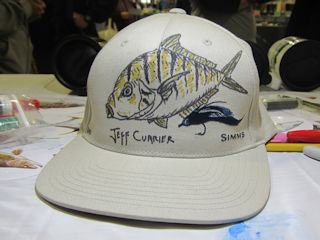 The hardcore show month of January is in the books.  I'm not a winter guy these days so I love the grueling schedule because it makes quick work of the cold dark days.  They fly by.
This past weekend was the first ever Edison New Jersey Fly Fishing Show.  Edison replaced the long time "Somerset" show.  The new venue is roomier and for the folks I talked to, in a better location to visit.  The only complaint I heard was about parking.  Evidently the show was so busy some folks parked nearly a mile away.  Next year there will be shuttles to prevent this.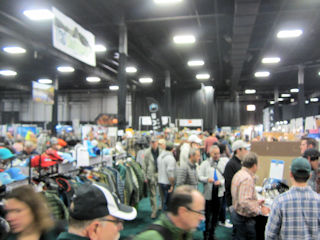 The show wasn't only busy with customers but for me also.  I gave five talks this week ranging from casting demos to PowerPoint presentations.  They all went well and after each I met many great folks that attended.  In addition to my speaking I did a heap of artwork on fly boxes and hats.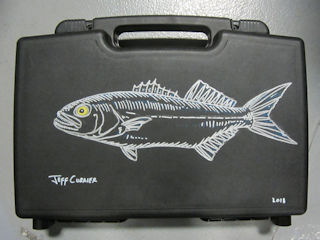 Its two weeks until my next speaking appearance.  This will be at the Indianapolis Boat, Sport and Travel Show February 17th & 18th.  This week I'll be home catching up on some art orders and preparing a couple new presentations and then off to Manitowish Waters, Wisconsin for my annual ice fishing trip.
As I do the shows I make many new friends.  Often times afterwards my new friends try to "Friend" me on Facebook.  My personal page reached the maximum years ago and doesn't allow me to accept more.   Its an easy fix however.  Simply "like" my business Facebook Page – Jeff Currier Global Fly Fishing.