Pike on Breedlove Guitars and Saskatchewan Moose
Categories: Uncategorized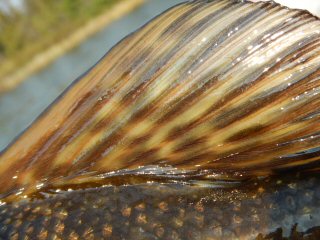 RA and Austin got so much great pike footage for the movie yesterday that it took the pressure off.  Everything on their list got shot and I mean SUPERB stuff.  And the epic day must have worn us out as well because I stayed in bed this morning till 8 and RA and Austin slept in till 10.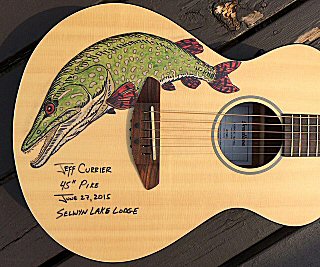 The day started calm, sunny and smoky.  The smoke from fires down south in Saskatchewan has arrived full force.  It's so bad the haze reminds me of the 1988 Yellowstone fires.  Once up we learned we were on our own.  Ron was flying all day and Brennan was guiding.  We went down on the dock and I broke out the sharpies and drew a pike on a guitar from RA's Breedlove guitar company.  RA and Austin filmed the hour long project and may piece it into the film on a speed frame type of deal.  The art came out pretty neat if I do say so myself!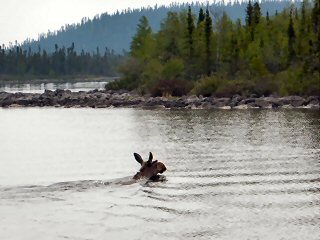 By the time the guitar was done some daunting clouds rolled in.  We did some quick casting footage then RA decided he'd download yesterday's footage and start editing.  Austin and I went lake trout fishing.  We fished for about three hours until a full on storm rolled in with tons of lightening.  Our fishing was over by 5 PM.  Strangely we only caught one laker.  The biggest highlight was this moose swimming island to island.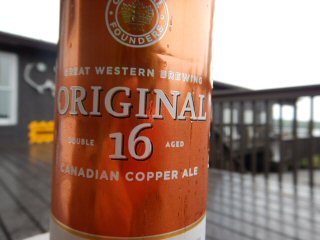 Today was a lazy one but just what I needed.  These trips catch up with you not to mention I've been traveling all year.  It was the first time I kicked back with a beer and thought to myself, "I'm ready to get home".  The beers by the way are called Original Copper 16 from the Great Western Brewing Co in Saskatoon.  I'll be sad to say goodbye to these because it's my new favorite beer.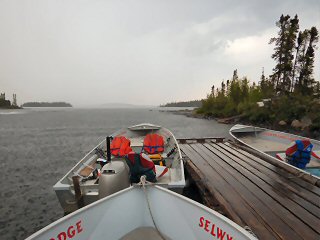 The other good reason for a lazy day is that tomorrow, our last day, we're flying to the Athabasca Sand Dunes Provincial Park and hitting Hunt Falls (largest falls in Saskatchewan) along the way.  This will be a full day of traveling on the Beaver as its two hours one way with a fuel stop in Stony Rapids to Lake Athabasca.  The flying is weather permitting.
A special thanks to RA Beattie Outdoor Productions and Adventure Destinations for bringing me along on this incredible adventure to Saskatchewan!