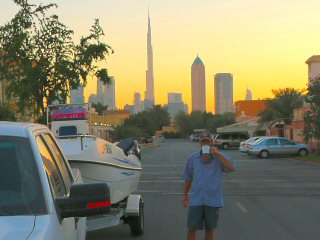 Granny and I had coffee at 5 AM with Nick Bowles and one of Ocean Actives guides, Cameron Mundy, this morning.  Cameron has been guiding in Southern Oman and returned when the season ended last week.  It was time to take Granny in front of Dubai for her first queenfish.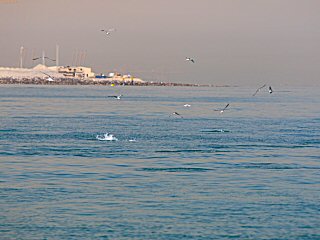 I'm not sure what the snafu was but the Coastguard wouldn't let Cameron launch us from the city.  We had to drive an hour to where Nick and I went last year the day we met.  It turns out it was a gift from the fish gods, the queenfish were busting everywhere two minutes out of the marina.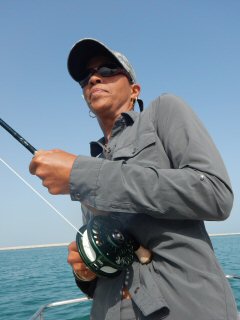 While Granny went right after the queenies with my 9-weight and a Clouser, I continued my pursuit of a golden trevally.  You may remember I made a serious attempt earlier in the month for goldens after a big boy followed in one of my queenfish.  According to Nick and Cameron, the golden trevally are somewhat lazy and feed less aggressively underneath the pillaging queenfish.  The idea is to let your fly sink deep and strip it in at a normal pace.
I hooked up to a heavy fish down deep instantly.  The tug got my heart going and I got towed around for nearly ten minutes.  Unfortunately it turned out to be a big queenfish snagged in the side rather than the sought after golden.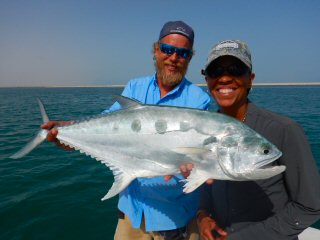 Granny meanwhile was chucking away and getting numerous visual queenfish follows.  Queenies have a habit of darting back and forth behind a fly and not eating it.  This went on the first hour before finally she hooked up and landed her first.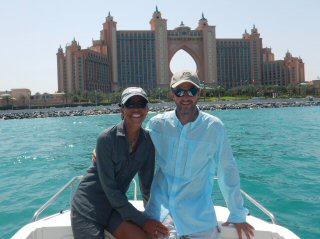 Next we broke the rule of all rules, we left fish to find fish.  We motored all the way in front of Dubai where we originally intended to fish.  The journey turned into a nice Dubai tour for Granny but no fish were found.  Here we are in front of the Atlantis the Palm Hotel.  If I was rich I'd stay here because there are glass rooms entrenched in an aquarium!
We caught a few more queenfish at our starting point then packed it up early to begin our last adventure of this trip.  For the next three days Granny and I are fishing with Cameron in the most northern part of Oman, the region called Musandam.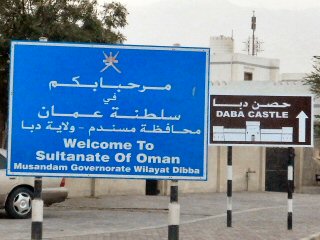 Musandam is unique in that though it is Oman it's actually separated from the rest of Oman by a sliver of UAE.  It's an exclave as you can see it as the red part on the map.  Musandam is so rugged it wasn't till just recently that you could access it easily by land.  It took us about three hours to get there driving from Dubai.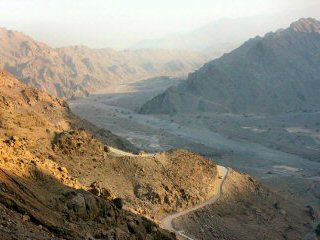 We are staying on the southeast corner in Dibba, Oman and tomorrow we'll travel by boat to the northern tip and fish the rocky shorelines and the islands in the Strait of Hormuz.  The Sea of Hormuz is the narrow entry into the Persian Gulf and is controlled by Oman and Iran.  This area is a specialty of Ocean Active and is home of the monster giant trevally!